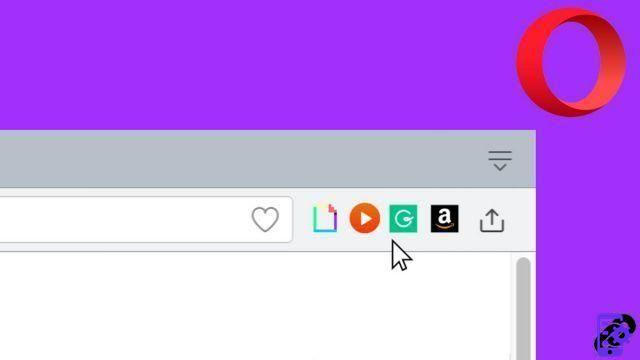 Like most of its competitors, Opera can bet on a large catalog of extensions. These provide the means to deeply customize the behavior of the Norwegian web browser.

From managing your passwords to protecting your browsing, these little programs can drastically change browsing comfort. You will only know how to use the Opera browser well by learning how to use these modules perfectly. That's good, that's what we offer you in this tutorial!


What is an extension?
Like Google Chrome and Mozilla Firefox, Opera was quick to embrace extensions. It was with the release in 2010 of version 11 of the browser that these appeared for the first time. In 2015, Opera receives an update that allows using extensions in the sidebar.
Most of these add-ons are free. They make it possible to widen the field of possibilities of the browser with numerous tools: ad blocking, price comparator, instant translator, etc. The choice is vast and the Opera catalog is well stocked with many modules.
Be careful though, the use of extensions requires a little caution. Some may be fraudulent, siphoning off your personal data without your knowledge. Installing many modules can also cause your machine to slow down, especially if it is not very powerful. Each expansion consumes some RAM and processor power. If one of them is poorly optimized, you will end up with more negative results than positive ones.
With careful and thoughtful use, however, extensions will become a real asset when browsing Opera. They are now essential to any self-respecting web browser.
Where to download extensions for Opera?
Like apps on your smartphone, you should not download extensions from unknown sources. By doing so, you run the risk of infecting your computer with malware. Cases of fraudulent extensions are legion on the Net, unscrupulous developers using their intermediary to carry out illegal operations.
Opera provides its users with a very complete and secure store. This includes all the modules you can dream of to customize your browser. A rating system separates the wheat from the chaff, each user can leave their opinion in the comments. By taking the time to read these reviews a little, you will quickly know if an extension is reliable or not.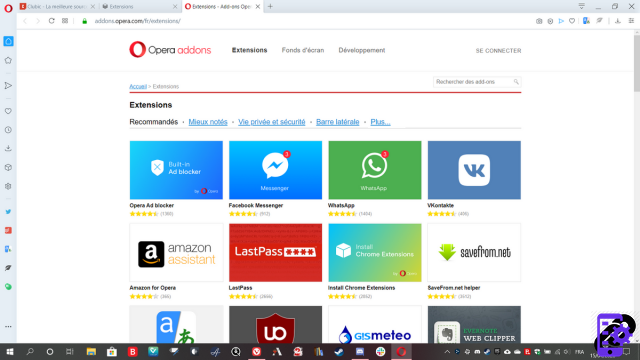 Opera has hundreds of modules to download from its store.
Another way to get healthy modules is to go directly through the site of a trusted publisher. For some extensions, it is even the only download source. This ensures that you benefit from a safe and generally well-designed program. Find out more with our tutorial How to install an extension on Opera?

A poorly developed extension can cause many inconveniences, ranging from a simple slowdown of the machine to its complete crash. Add-ons from unreliable sources can present great dangers: theft of sensitive personal data, advertising spam, infection via a computer virus... Without falling into paranoia, it is essential to pay attention to the behavior of the extensions you download . While some seem fully operational at first glance, they can carry malware that will work discreetly on your browser.


Organiser ses extensions
For the security of your data, it is important to organize your Opera extensions well. It is therefore your responsibility to know which add-ons are currently installed and activated within your browser. This will prevent you from missing programs installed without your knowledge.
To help you with maintenance tasks, Opera provides you with a very complete extension manager. This is the central point for optimal management of your navigation modules. If necessary, our tutorial How to remove an extension on Opera will tell you how to get rid of an intruder.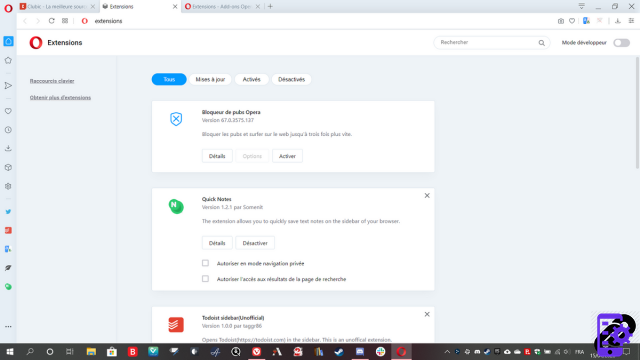 Opera's extension manager.
Just like any device, your browser will fare better with regular maintenance. Feel free to remove - or at least disable - extensions that are of no use to you. You will unload the RAM which will be allocated to more important tasks and you will avoid possible bugs.
We also recommend that you install and test your Opera extensions one by one. Test the behavior of your browser for a while, check that it shows no slowdowns or even crashes. When you are sure that everything works well, you can move on to testing the next extension and so on...
Knowing how to properly configure Opera is how you will get the best out of this browser. And this configuration phase also involves careful management of your favorite extensions!
Synchronizing extensions with Opera
As powerful as it is, Opera does not currently allow extensions to be transferred from one computer to another as with Google Chrome. This therefore means that if you change your PC, you will have to reinstall everything manually or go through specialized software.
We recommend using FavBackUp. This handy little utility can not only back up your installed extensions, but also all your other important settings like bookmarks, browsing and typing history, etc.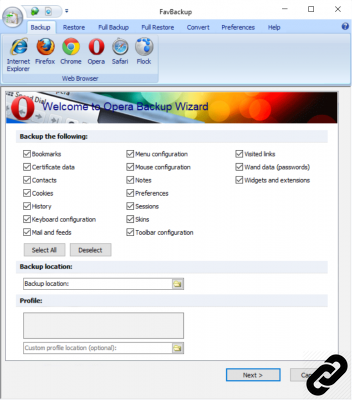 FavBackUp can back up many settings, including your extensions.
Its simple use makes it accessible even to neophytes. It will save you valuable time if you use a lot of extensions and need to reinstall your browser from scratch.
Extensions and private browsing mode
Designed to ensure maximum privacy, private browsing mode disables all your extensions by default when using it. This is only temporary, everything will turn back on when you return to normal mode.
If necessary, Opera allows you to activate extensions in private mode. This setting must be made on a case-by-case basis in the settings. The module then operates normally. This can be useful in certain scenarios, such as when using a password manager. Be aware, however, that you risk exposing important data by using such a module, especially if the computer is accessible to everyone.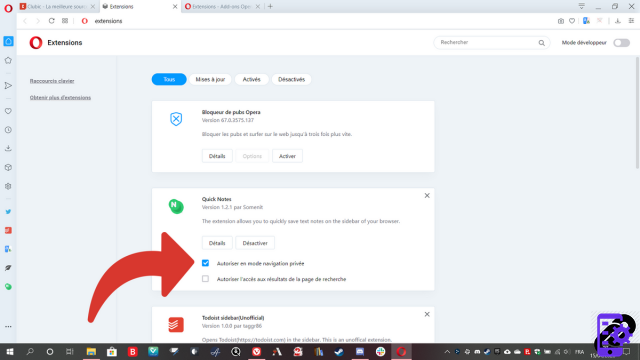 It is possible to enable extensions in private mode.
To read also:
How to protect your privacy on Opera?
How to properly configure Opera?
How to optimize your navigation on Opera?