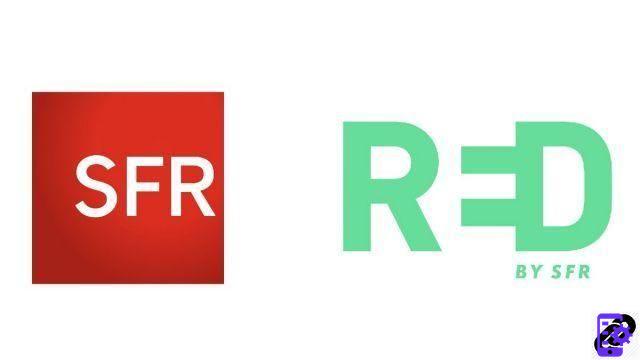 Are you an SFR customer and want to switch to a RED by SFR mobile plan that you find more financially advantageous? If you are no longer committed to SFR, handling is quick and easy. Here is the procedure to follow to leave the operator in the red square and discover the low prices of his offspring.

RED is a subsidiary of SFR. The operator operates the same network as that of its parent company, but is distinguished by offers with a much more attractive price-quality ratio and which, moreover, are non-binding. In return, customer service is less elaborate than at SFR (no telephone customer service or access to a physical store) and it is not possible to buy a subsidized smartphone via RED.

Also, if you are only looking for a low-cost mobile plan offering a large amount of mobile data, RED is much more interesting. To leave SFR and switch to RED, the only prerequisite is to no longer be engaged with SFR. If you meet this condition, then you can migrate from one operator to another quite easily, as you will see later in this tutorial.


Why migrate from SFR to RED?
To counter Free Mobile and its low prices, SFR has launched a low-cost operator: RED. The prices charged are much lower there than at SFR, even though the network is the same: download speed, upload speed, latency... you will have the same factors at RED as at SFR. RED offers excellent value for money for anyone who wants a hefty mobile data envelope and doesn't care about extra options or better customer service. In the end, the majority of SFR subscribers pay a high price for options and features that they never use.
In addition, RED mobile plans are non-binding, meaning you can easily cancel your subscription at any time. As soon as you see a better offer from a competitor, you can end your contract and subscribe to another operator. Finally, promotions at RED are very interesting and regular. We communicate them to you moreover in our section of the good plans. For cross-border workers or users who travel from time to time, you should also know that you benefit from 8 GB of data in the countries of the European Union as well as in the overseas departments with the single RED mobile plan. An argument not to be overlooked.
Migrate from an SFR mobile plan to RED
SFR and RED being closely linked, switching from one to the other is facilitated. Leaving SFR to go to a RED subscription leaves the possibility of keeping your telephone number, without even having to request a portability and enter your RIO number. Another advantage is that you do not lose your seniority at SFR by switching to RED.
Change an SFR plan to a RED plan from the customer area
It is possible to change your plan from your SFR customer area. After logging in, go to the "Offer and mobile" section and click on "Change plan". You then have the option of "Choosing a RED package" rather than an SFR subscription. All you have to do is enter your phone number, an advisor will call you later to finalize the line migration. The manipulation can be carried out on the web as well as on the SFR & Me application.
Changing an SFR plan to a RED plan by phone
You can also call an advisor directly on 1023 from your mobile phone with an SFR SIM card. This will guide you and take care of completing the migration to RED. This may be the last time you will have an advisor on the phone since RED does not offer this service. You have to go through the chat on the website or the RED & Me application to get in touch with a RED adviser.
Useful information at RED by SFR:
RED network by SFR mobile: what 4G, 3G and 2G speeds for the telephone operator?
RED network by SFR mobile: what is the RED network coverage worth in Spain?
Expertsconnecting accompanies you during your steps at RED by SFR:
How to cancel your RED by SFR mobile plan?
How to activate your RED by SFR SIM card?
How to retrieve your RIO code from RED by SFR?
RED sponsorship by SFR: how do the advantages of the offer for mobile plans work?
How to connect to your RED by SFR customer area and manage your account?
How to contact RED by SFR customer service?
How to configure your RED by SFR answering machine?
How to configure the APN RED by SFR on your smartphone?
How to unlock a smartphone at RED by SFR?
How to activate Wi-Fi calls at RED by SFR?
How to activate call forwarding at RED by SFR?