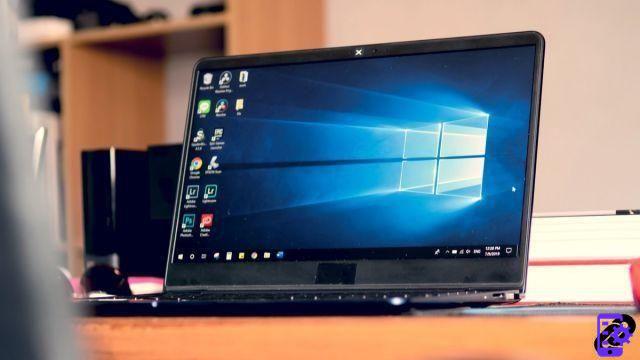 Windows 10 is highly customizable: take advantage of this and consider modifying your workstation according to how you use it to improve your experience with the operating system.

Organizing your workspace is essential to getting started with Windows 10 in the best possible way. Adapting the interface and features to your needs will allow you to save time and increase your daily efficiency, both for personal tasks and in a professional setting. To do this, you should learn to master certain basics, which Expertsconnecting wants to help you understand.


Gain productivity on Windows 10
Mastering certain features as well as a well-organized workstation according to your tastes is a profitable investment in the long term. You gain directly in productivity, but also in ease of use, which has a significant psychological impact. Who has never been upset because he couldn't find an option or a function didn't work as expected on his computer? We will tell you in the rest of this file many manipulations and give you advice to organize your PC as well as possible.
Windows 10 startup software
To save time, Windows 10 users have the option to schedule certain programs to launch automatically as soon as Windows 10 starts up, with no action on your part required. A very practical function when you have to systematically open the same software when you turn on the computer. Players can thus access Steam more quickly, other users activate their VPN in one click, or even connect to Skype, Slack or other in a more direct way for communication. So, how to program the automatic launch of software when Windows 10 starts? Well, by clicking on the link to our full tutorial.
Be aware, however, that this feature should not be overused unless you have a very powerful competition PC whose resources can easily handle many background tasks and perform a fast system start despite the launch of a multitude of applications from the first seconds of use. Indeed, the performance, especially at startup, of the machine can be greatly reduced because of all these programs. It is also possible to know their impact on the resources of the PC thanks to an option of Windows 10. If your computer is running slowly, we advise you to follow our tutorial "How to disable the automatic launch of software at startup Windows 10?" and to suspend the scheduled launch of software that is not essential to you.
File extensions
On Windows, there are a multitude of file types and formats: image, video, audio, executable, PDF, dynamic link library (.dll)... Even documents that may appear identical at first sight can be differentiated by their format: .jpeg, .jpg or .png for images for example. These standards supported by Windows allow software to use these files, each one having its specificities or being attached to a particular program, editor or consortium (Microsoft Word .docx for example).
Knowing the main file extensions is important for navigating through folders, but also for the security of your PC. When you think you have downloaded a video, but the file extension is an .exe (executable file), there is something fishy and possibly a threat to the integrity of the machine hidden in a malicious program. Too many users just rely on the icon of files before opening them. However, it is easy for pirates to apply a logo to which we are accustomed for a .mp3, .jpeg or .avi format on a file which is actually an .exe. It is a method used by hackers to infect PCs. To guard against this kind of danger and no longer fall into the trap, we explain how to display file extensions on Windows 10.
Recover accidentally deleted file
First of all, remember that there are several types of file deletion. The first is moving a file to the trash. This is then no longer displayed in the file explorer, but is not deleted from the hard disk: it simply disappears from the interface. It is possible to recover it in the recycle bin, and from there, restore it. The file is therefore set aside and absolutely not lost.
In the second case, the situation becomes more complicated and may vary depending on the case. But very often a deleted file can be recovered, even if it is not even in the recycle bin. This is particularly the case if you have enabled File History or created a restore point. We show you different possible methods to find a deleted file in our tutorial entitled "How to recover a deleted file on Windows 10?".
Keyboard shortcuts
Before going any further, let's make sure that our keyboard is configured in a French format. To do this, simply follow our tutorial "How to change a QWERTY keyboard to AZERTY", which details how to switch back to the French keyboard in the event of a bug or mishandling. Once your keyboard is in QWERTY, you can start using it to increase productivity.
A keyboard shortcut allows you to perform an action on the computer very quickly. The best known are undoubtedly the copy/cut-paste shortcuts, a more efficient manipulation with the keyboard than with the right mouse button or, even worse, the interface of the software used. But there are hundreds of them, and many are very useful in everyday life, such as the Alt + number combination to quickly insert a special character or a letter from a foreign alphabet (Alt+164 for the Spanish ñ for example). One of the best known is also the famous Ctrl + Alt + Del, which saved many of us during a system crash. Of course, memorizing a large number of shortcuts can be scary, but you gain in productivity in the long run. At least try to memorize the ones you are likely to use most frequently. Some shortcuts are universal and work both on the Windows interface and in third-party software. It is therefore all the more interesting to master them since they are used everywhere. We have concocted a list of essential Windows 10 keyboard shortcuts.
Organize and manage your files
It is unpleasant, inconvenient, uncomfortable and frustrating to live in a chaotic and untidy environment. It's the same thing on the computer: to be efficient and enjoy your PC in good conditions, it is essential to be orderly, and in particular to organize and manage your files.
Taking care of your PC in this way not only saves storage space, but also saves time when looking for a file on your computer, since the folders and subfolders have been organized logically. It also avoids mishandling: when you organize your computer, you end up knowing it like the back of your hand, and you therefore know what each folder or file corresponds to. Therefore, you make fewer mistakes.
On PCs with very little RAM, Windows 10 may need part of the hard drive as an extension of RAM to run properly. However, if the hard disk becomes full (approaching or reaching 100% occupancy), there is a risk of data loss or other memory-related problems.
One account per Windows user
This has been the basis on Windows for a long time: if several of you are using the same computer, you must create as many accounts as there are people with access to the PC. First, for a practical matter. Everyone thus has their folders, files and documents tidy where they want them, according to the organization they have defined, and their interface is not polluted by those of others.
Moreover, it is also a security issue. A bad manipulation on a session does not necessarily affect the other (it depends on the type of error committed of course). If children have access to the PC, it is better to remove the administrator rights from them. It is also possible to grant permissions to the card according to the accounts. Do not hesitate to use these options to restrict the possibilities of certain users.
To learn how to create or delete a user account on Windows 10, our tutorial will guide you step by step. You can also create a session for a user who will not use your PC regularly. It takes a little trickery because Microsoft doesn't like a session not tied to a Microsoft account, but there is a workaround. We detail all this in depth in our tutorial "How to create a guest session on Windows 10?".
Don't forget to protect each session with a password or other authentication method of your choice so that no one can access your account. The system then leaves to remove its Windows 10 password in case it is no longer useful.
Clean up your storage space
At home, we often pile up objects that we don't know what to do with, with no real goal other than not throwing them away. And comes a time when you finally decide to do some spring cleaning by getting rid of the unnecessary and starting to clean up. A fitting analogy for a computer, which needs regular maintenance to function properly and to its full potential.
Deleting files and software that you no longer need on your hard drive is vital to letting your computer breathe, which has limited resources. This will speed up the automatic file search, but also boost performance in general because the machine and the system have fewer elements to process and calculations to perform.
Also remember to remove residual files that remain on the PC after uninstalling a program with available cleaning tools and perform a scan to repair registry errors that may occur when removing software .
We answer the question "How to free up disk space on Windows 10?" in a tutorial of the same name which accompanies you in the procedure to follow to give a second life to your hard drive and your PC.
Find your documents and applications
If you are well organized, that you classify your files in folders and sub-folders, that you save your data logically on your different storage spaces, you can easily find your documents and applications manually. To do this, you will have to display the workstation on Windows 10 to navigate the interface and get your hands on your files. You can also go directly to the "Documents" section if you use it to store your files. We also remind you how to display your documents on Windows 10 in a dedicated tutorial.
.zip files
The .zip is a compression format that makes it possible to store and especially to transfer large files without them occupying as much space as normal on the hard disk and serving to speed up downloading and uploading. It has been used for many years, long before the introduction of Windows 10, and remains a very popular standard to this day for its convenience. But the latest version of Microsoft's operating system has brought native features allowing you to take full advantage of .zip without the need for third-party software such as the well-known WinrRAR, an almost indispensable program on older versions of Windows. Now, unzipping .zip file on Windows 10 and compressing .zip file on Windows 10 has become a piece of cake. Do not hesitate to abuse it.
The Windows.old folder
This folder is present each time you reset or reinstall Windows, or after an update to Windows 10. It is always at the root of the storage space in the interface. It contains all the files from the previous installation and is very important in the event of a problem during a reinstallation or an update of Windows in order to have the possibility of going back.
Problem: This folder contains absolutely all of the settings, programs, files, and documents that were on your PC previously. Needless to say that it weighs very heavy. Sometimes too heavy if your storage space is limited or if the Windows.old folder is really big. It's supposed to go away on its own one month after it's created, but you don't necessarily want to wait 30 days for it to go away on its own if it's preventing you from installing software or slowing down your machine .
If you are sure that Windows 10 is working fine and you don't want to go back to your old "backup", then you can delete it. Handling is more complicated than deleting a classic folder, which is why we suggest you accompany you by detailing the process to follow in our tutorial "How to delete the Windows.old folder?".
Personalize your workspace on Windows 10
As one decorates a room or an office, it is always more pleasant and practical to work in an environment which one has chosen oneself and which is not impersonal. So make Windows 10 your way with a few simple changes.
The dark mode
On smartphone, tablet or PC, this is one of the current modes: all operating systems and software are starting to offer a native dark mode. It must be said that the arguments in its favor are not lacking. Aesthetics first, many users prefer black and shades of gray to white. The latter is all the more detestable when one is in a low light environment, where it then attacks the eyes. Dark mode helps reduce eye strain, which is good for your physical and psychological health as well as your productivity. The impact on the battery on laptops is less than on smartphones, especially since it is technology screens that benefit the most from dark mode, and they are still very rare these days on computers.
To find out how to activate dark mode on Windows 10, it is through this link that we detail everything. Windows 10 dark mode changes the color of the settings menus and taskbar. But it also influences compatible third-party software and applications, such as browsers for example. However, some programs do not support this dark mode.
Modifier l'interface
When you connect to a session, you land on the Windows desktop. When you want to launch a software by its Desktop shortcut, you also go through this space. So might as well brighten it up a bit rather than settle for the classic blue background with the Windows logo. Instead, choose as wallpaper a photo with your family, your friends or your animals, a scene from a movie or series, the wallpaper of a video game... Anything you like, as long as the definition is good for get a quality result. Click the following link to learn how to change wallpaper on Windows 10.
If you feel that the text or the elements that appear on the screen are too small, or on the contrary too large, know that you also have the possibility of enlarging the font on Windows 10. For the visually impaired, there is even has a Magnifier option that lets you zoom in very far into an area of ​​the screen. Windows 10 also has many accessibility-related settings. And to see the screen better or on the contrary not to be blinded by it, don't forget to see how to adjust the brightness on Windows 10.
Finally, you can move, resize and customize an essential element of the Windows 10 UI, namely the taskbar. You can move it sideways or up, change its size and color... But to do that, you need to know how to lock and unlock the taskbar on Windows 10.
Two screens are better than one
Windows 10 makes it very convenient to use two screens, both to increase comfort and productivity. This makes it possible to watch a YouTube video while browsing or working alongside, to write a report on one based on documents displayed on the other without the need to constantly change windows, or to play to a video game while having Twitter or Netflix open at the same time. We explain how to use two screens on Windows 10. You can very quickly, via the options, change the projection possibilities of the display: only on screen A, only on screen B, the same display on both screens or even a different display for each screen. You will see, after having experimented with such a setup, it even becomes difficult and disappointing to go back to a single screen!
To read also:
How to configure and secure Windows 10?
How to properly manage your software on Windows 10?