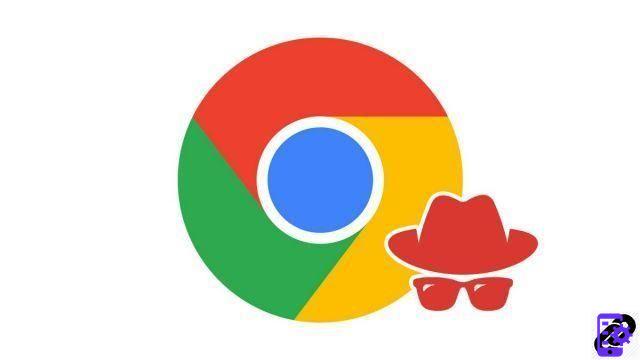 The Snowden revelations and more recent cases such as the collection of data by Chrome extensions can make us fear the worst about our personal data and the major stakes it holds. Indeed, the data can be exploited for malicious purposes, by advertising, States or hackers. While a series of mistakes in the past are tarnishing its image, work remains to be done. Google and its Google Chrome browser implement several solutions to protect users' private data.

Google takes many steps to protect its users' data. If third-party cookies will be removed by 2022 on Google Chrome, privacy is lacking with ad-trackers default permission. However, the user can use third-party solutions such as extensions to overcome confidentiality concerns.

The Chrome browser stores and uses personal data to simplify the user experience via cookies, history or cache to simplify authentication, site settings and pages already visited. This article provides an overview of the different features deployed by Google Chrome to protect and safeguard the private data of its users.

To go further, we invite you to read a summary of the different features to make the most of all the features of Google Chrome.


Control your activities recorded by Google Chrome
For a Google user, the personal data stored locally on Chrome and on their Google account may be different. Indeed, the browsing history recorded on his Google account includes searches and activities on all devices while a Chrome history will only take into account the activity on the device in question. Therefore, deleting its Chrome browsing history will not be effective on the one preserved by Google.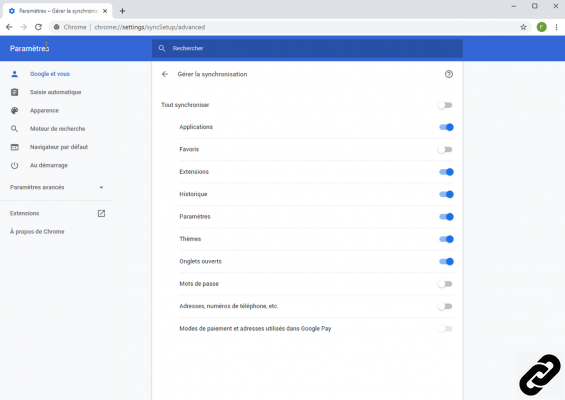 Data synchronization between Chrome and Google account
Among the data recorded by Google Chrome, let us mention in particular identifiers and passwords, browsing history, input history, cache, cookies but also web extensions.


Passwords saved by Google Chrome
Google Chrome has long been equipped with a password manager that allows us to store, at our request, the identifiers and passwords entered during online browsing. Although it is pleasant and interesting for the user to no longer have to enter his identifiers at each connection, it should not be overlooked that this data is potentially sensitive. It therefore seems important to have control over this data, which can have banking, professional and personal repercussions.
Google offers the possibility of displaying its saved passwords on Chrome, a practical feature when forgetting but which can prove to be a double-edged sword for the security of its accounts. Indeed, anyone with access to the computer in question or to the device is likely to display the identifiers as well.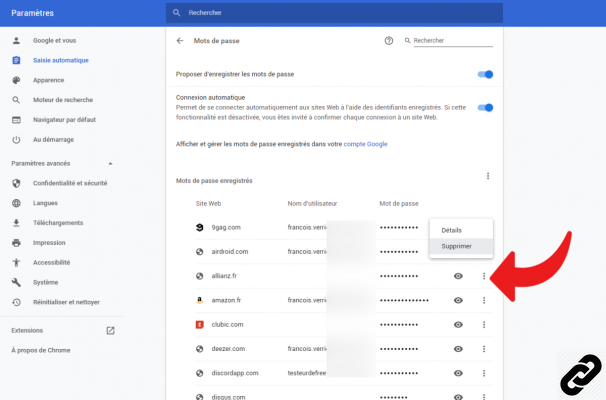 Managing Passwords in Chrome
Of course, for people who want to take the lead, it is also possible to go through a password manager or to delete Chrome passwords manually or automatically.
As part of trusted and family use, it is possible to change a saved password on Google Chrome if a user decides to change the password.
Browsing history
Like other browsers, Chrome stores all the sites visited on the computer and on the Google account. This makes it easier to find a site visited in the past, in particular via the search bar equipped with automatic entry.
There are several ways to access the browsing history on Chrome: either via the keyboard shortcut
Ctrl + H
or by going through the Chrome menu via its icon symbolizing three points and located in the upper right corner of the window and then selecting the History option.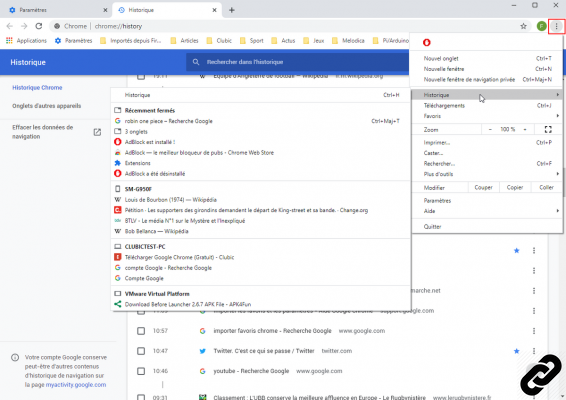 Google Chrome browsing history
On this point, the browsing history is installed on all web browsers and has several interests to simplify the user's daily online browsing. In addition to typing, the history allows you to trace web browsing according to a date and integrates its own search engine to find results that can go back several years. In short, the history used locally is not a feature that is harmful to the user, provided that some precautions are taken.
Let's imagine a family computer where a family member wants to research for a gift, it can be very convenient to clear the Chrome browsing history in its entirety or in parts.
Note also that the Chrome start page, displayed when opening a new tab, the browser displays the list of most visited sites. Whether it is an unimportant site or a little confidential, the user has the means to delete the frequently visited sites on Google Chrome.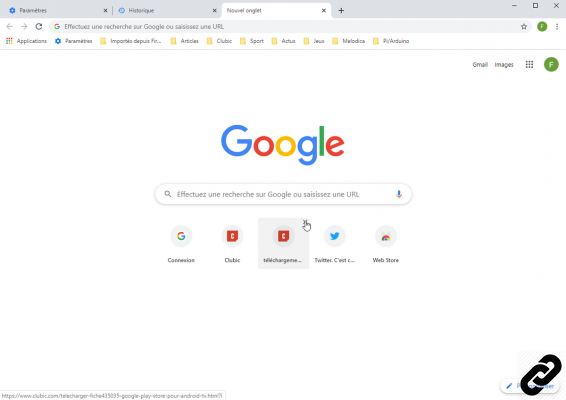 Google Chrome homepage
For occasional and confidential browsing, Chrome has a private browsing mode that does not save browsing history, cookies and information entered in forms. There are several ways to enable private browsing on Chrome, the easiest of which is the keyboard shortcut
Ctrl + Shift + N
.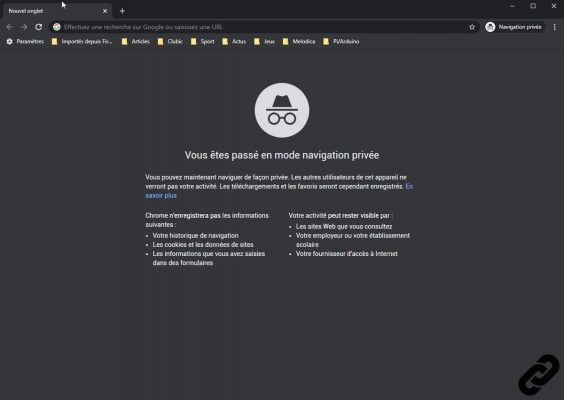 Chrome incognito mode
Entry history
Chrome also has a feature that allows it to save form data. It allows you to click in the form input areas and display a list of previous user inputs. This function is welcome in many cases and in particular for filling out an online form.
However, it happens that among the previous entries, there is several sensitive information such as a password accidentally entered in the wrong field or bank details. It is then possible to delete the previous entries from Chrome, taking care to note this information which will be lost.
The memory cache
Chrome, like all browsers, has a cache system to speed up page loading. To do this, it saves certain files of the site so as not to download them again, these may be options, interface elements or even form data. Among its advantages, the use of the cache simplifies the connection, the display and the loading of the pages already visited.
However, it may be worth emptying Chrome's cache from time to time to avoid using old form entries, to protect private data or to simplify freeing up disk space. When a website updates, the browser may continue to use old cache files. If not purged, the user may see old form entries and outdated files that can cause display and authentication issues.
Third party
During web browsing, Chrome saves a lot of connection information in the form of cookies. These cookies track and retain a lot of personal information such as identifiers, geolocation and site preferences. Some information such as advertising content may then be used by third parties for advertising purposes. Apart from the commercial aspect, cookies are also problematic for privacy when using a public computer.
Cookies are also files vulnerable to possible attempts at theft and computer attacks in order to use them in a fraudulent context. In order to protect privacy and personal data, it is advisable to regularly delete cookies on Chrome.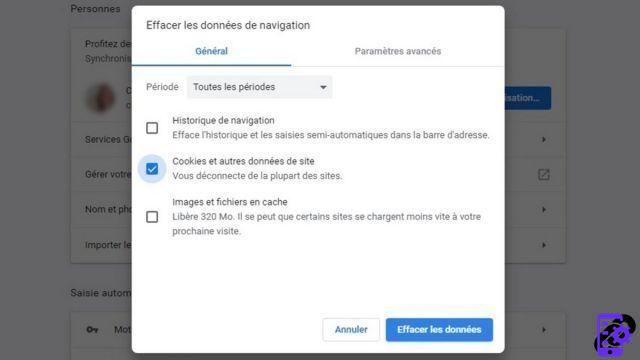 Deleting cookies on Chrome
Extensions to protect personal data
Installing extensions on Chrome dedicated to managing your personal data is also a good way to complete the privacy features of the browser. Examples include:
Password managers with Dashlane, Bitwarden or LastPass Password Manager extensions;
The fight against ad trackers with the Ghostery extension;
Security tools such as to monitor the integrity of the sites consulted.
For optimal confidentiality, it is important to regularly clean up the installed extensions because it is possible that a malicious extension is installed following incorrect handling. Some extensions are indeed responsible for tracking and leaking activities and personal data. In order to protect our personal information, it is essential to know how to manage your Chrome extensions.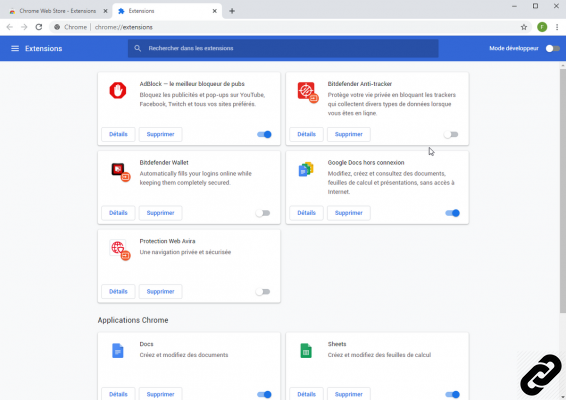 Managing Chrome Extensions
Correctly configure Google Chrome to control its privacy
To have control over your personal data, it is important to properly configure Google Chrome since its installation. It is therefore advisable to always download the browser from the Google site and always keep it up to date. Each new update correcting security vulnerabilities then used by malicious people to attack devices that have not yet been updated.
Le
regular cleaning
is also a good method to prevent the leakage of personal data. To do this, just either perform the keyboard shortcut
Ctrl + Shift + Del
or to go to the
Chrome menu
(icon symbolizing three dots), choose
More tools
then the option
Clear browsing data...
. This menu allows you to clean the browsing history, cookies and cached files.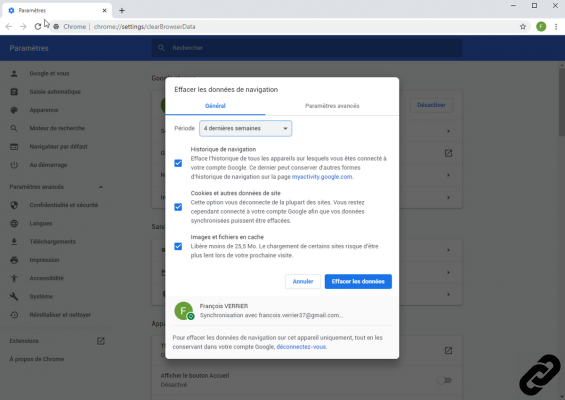 Cleaning personal data on Chrome
To read also:
How to properly configure Google Chrome?
How to manage Google Chrome extensions?
How to optimize your navigation on Google Chrome?