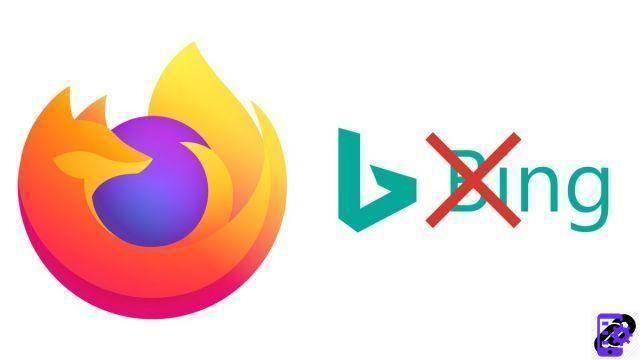 After installing certain Microsoft software, Bing can be set, unnoticed, as Firefox's primary search engine. Although it is a powerful tool, Internet users are often more comfortable with Google. It is therefore useful to know how to remove it.

Let's see together how to properly configure Mozilla Firefox by removing Biing from its search engines.


Delete Bing from Firefox
Head to the icon Menu at the top right of your Firefox page. Click on the symbol then select Options.





In the page that opens, choose Search in the left panel instead of General then go down to Default search engine.


Click on Bing to bring up the directory of available search engines. Select Google or the search engine you prefer.


Scroll slightly until One-click search engines and select Bing from the list.


Then click Remove.
You have finished ! Bing is no longer on this list, nor on the list of default search engines.
Notes
: To restore Bing among the accessible search engines, just click on
Restore Default Search Engines
. You can also search for new engines by clicking on
Discover other search engines
.
So that Bing is not inadvertently redefined as your default search engine, be vigilant when installing new Microsoft software and remember to read and uncheck suggestions that do not interest you.
Find other tutorials to help you configure Mozilla Firefox:
How do I remove a synchronized device from my Firefox account?
How to create and synchronize a Mozilla Firefox account?
How to synchronize its settings on Mozilla Firefox?
How to install a theme on Firefox?
How to update Firefox?
How to switch to Firefox in French?
How do I set Firefox as my default browser?
How to remove Yahoo from Firefox?
How to change the home page on Firefox?
How to change the search engine on Firefox?
How to reset Firefox?
How to activate or deactivate the synchronization of my account on Mozilla Firefox?