Would you like to sell used items but don't feel like paying commissions from popular internet sites like eBay? Are you considering expanding your business by opening an online store but, at least for the moment, since it is an investment, wouldn't you want to spend money to do it? Don't worry, I think I have solutions that are right for you.
There are ad sites and services for creating online stores that allow you to sell your items on the web at no cost. In fact, you will not have to pay either the advertisements or the commissions on any items sold. Clearly these services have some limitations - more than a few limitations to tell the truth -, but to take the first steps in this world they are just fine.
If you want to know more about the services that will allow you to sell online for free, all you have to do is take five minutes of free time to read this guide. You will thus be able to discover how to sell online for free thanks to the indications I'm about to give you. But I recommend: if you intend to open a stable business, after this first run-in period at no cost, consider the possibility of contacting a professional in the sector (there are many good ones in our country): you will be able to create an online store more complete and professional. Before we begin, I would like to wish you a good read.
Index
Ad sites
Online stores
Other services to sell online
Ad sites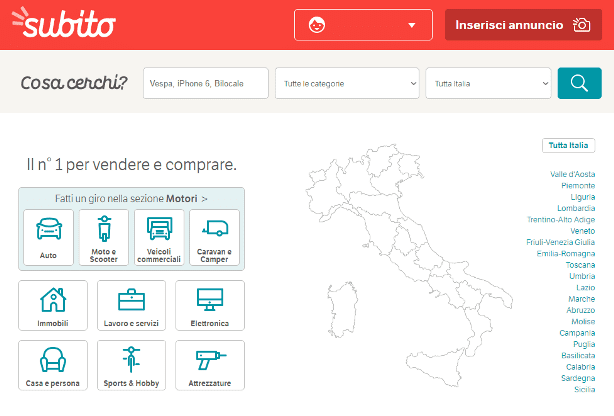 If you want to scrape together some money by selling used items, you can rely on online classifieds sites, which, as you may already know, allow you to sell any type of item at no cost ... or almost. I say "almost" because the insertion of the ads is free, there are no commissions on the sale of objects, but to make your ad stand out in searches you often have to buy "options" with variable prices.
Among the most popular and reliable services in this sector, I would like to point out Subito.com which allows you to sell any type of object at no cost. To use it, all you have to do is connect to its home page and create a free account using the button Sign Up. In reality, registration is not mandatory but I recommend it as it allows you to better manage your ads.
Once you have filled out the Subito.com registration form and put the check mark in correspondence with the items that will ask you to accept the terms of the service, click on the button Confirmation to confirm the registration. A link will be emailed to you and you will need to click to verify your account. To publish a new announcement you will have to click on the button Post Ad.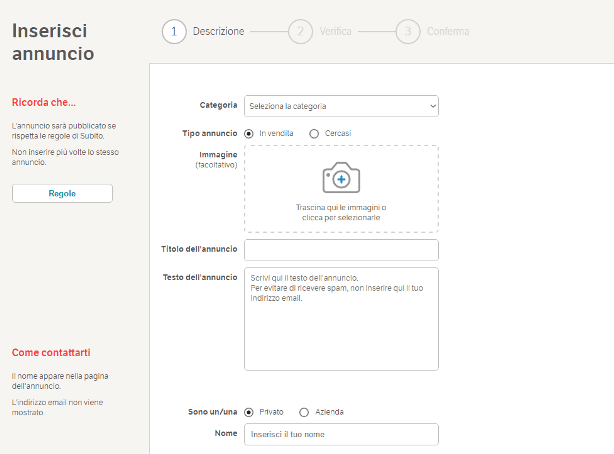 Adding a free listing to the Subito.com website is super easy - just pick one category for the announcement from the drop-down menu of the same name, select the type of announcement (for sale o wanted) depending on whether you are coming for a product / service or if you are looking for a specific product or service.
Optionally, you can also add images to your ad by uploading up to 6 images to the box Images (symbol of a camera).
You will then have to enter the title of the ad and a description; the latter will be inserted in the text field of the announcement. After indicating if you are a Private or anCompany, enter your name and phone number in the appropriate text fields. Accept the terms of service by ticking the appropriate item and clicking on the button Continue.
Confirmation of the announcement is required for it to be approved by the site staff. Once you pass this step (it usually takes a few minutes to complete the verification), the ad is posted online and made available to potential buyers.
As mentioned above, emerging on online classifieds sites isn't easy. There are thousands of advertisements that are published every day on the latter and therefore there are paid options that you can use to make your ads stand out. You can find more information about it on the Subito.com support page.
Subito.com is also available as an app for smartphones and tablets. You can find them easily by searching the store on your device. Alternatively, if you wish, you can download the application by clicking on the link I share with you below.
subito.com - Download the app for free on Android from the Google Play Store
subito.com - Download the app for free on iOS from the Apple App Store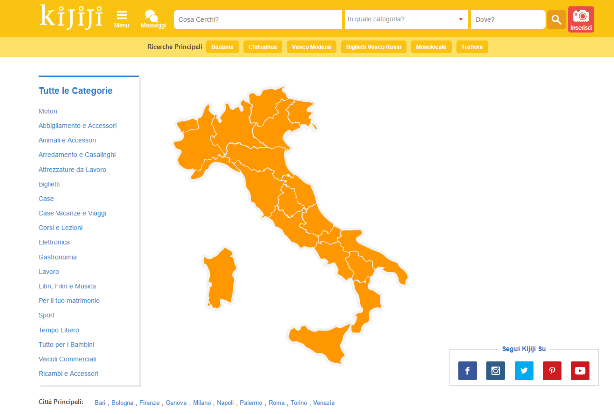 As an alternative to Subito.com, one of the most popular classifieds sites that you can use to sell online for free is Kijiji, a web portal formerly known as Ebay Classifieds, as the owner of a subsidiary company of Ebay.
To use Kijiji as a website to view online for free, first connect to its main page to be able to register for a free account. Also in this case, even registration is not mandatory, in order to better manage your advert published, you need to register for the service.
To register, click on the button Menu that you find in the top bar of the main page of Kijiji. In the sidebar that will open, press the button Sign Up. Then type your name, email and password in the respective text fields. Accept the terms of service by placing the check mark in the appropriate box and then press the button Sign Up to confirm the registration. Then complete your profile by typing a name that will be used as a nickname that will appear in your ads and then press the button Confirmation.
Alternatively you can register an account on Kijii through your Facebook profile, to do so, click on the button Accedi con Facebook. Once you are logged in to Kijiji, you can post a new ad via the button Post Ad.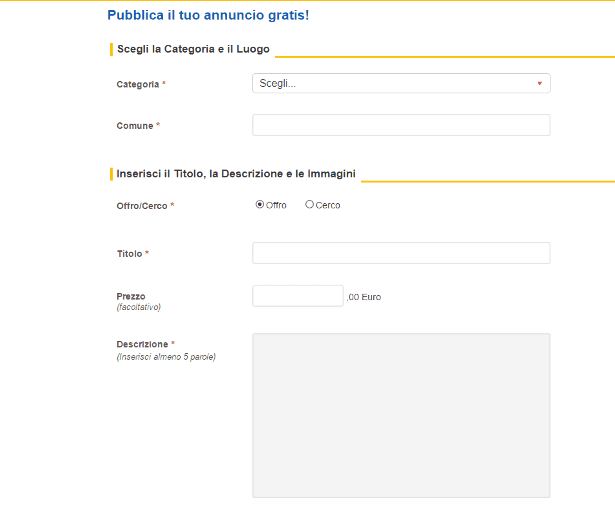 To sell free online on Kijiji you will therefore have to fill in the ad form in detail. The voice Category which, with a drop-down menu, allows you to indicate the category of your ad; the indication Common instead it serves to geographically position the ad.
You will then need to enter the title, description and images of your ad. As you can see when filling in the form, the fields marked with the symbol * () **, only some fields are required to be able to publish your ad online; in any case, my advice is to fill in all the text fields to complete the ad to the best of your ability. On Kijij you also have the possibility to upload up to 8 photos for your ad.
When you have finished writing your ad, you can check its accuracy by clicking on the button Ad preview. You can then publish it for free by clicking on the button Post your ad. I also point out that Kijiji is available as an application for Android and iOS.
Online stores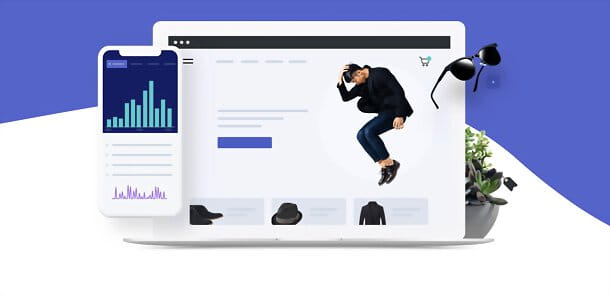 It's possible sell online for free even opening its own shop. In this regard, I would like to talk to you about Shopify: a service used by over 1.000.000 stores around the world that allows you to create professional e-commerce even for those who have no knowledge of programming and Web design (just choose a theme, add the products to sell and the game it's done). Shopify offers unlimited hosting, free unlimited bandwidth, free SSL certificate, blogging, the ability to add unlimited products to your store, and a free shopify.com domain name, with the option to purchase a custom one or use an existing one.
With Shopify you can easily manage everything: orders, payments, shipments, inventory, customer lists, marketing campaigns (on Google, Facebook, via email or SMS) and analyze sales data in detail. The service can be used for free for a trial period (without entering payment data and without obligation to renew), after which you can choose between various paid plans, starting at $ 29 / month.
To try Shopify at no cost, connected to the official website of the service, type yours email address in the appropriate text field and click on the button Start your free trial. He then continues entering the Password you want to use for your store, specifying the name you want to assign to the latter and pressing the button Create your shop.
Then you must indicate, using the appropriate drop-down menus, if you have already started selling, what your current income is e if you are creating a store for a customer, provide the rest of the information requested, click on the button NEXT (or your Salta, to skip the step) and provide theaddress to receive payments.
Once the store management panel is displayed, you can access all the Shopify sections using the menu located on the left: Home allows you to access the main dashboard; Orders, Products e Clients allow you to manage the content in question; Analysis allows you to view sales data; Marketing to set up marketing campaigns; discounts to set up discount codes; App to expand e-commerce with additional functions, while Online shop allows you to customize the appearance of the pages.
Finally, I point out that Shopify is also available as an app for Android and iOS / iPadOS, to create and manage e-commerce from smartphones and tablets. More information can be found in my tutorial on how to create an e-commerce with Shopify.
Other services to sell online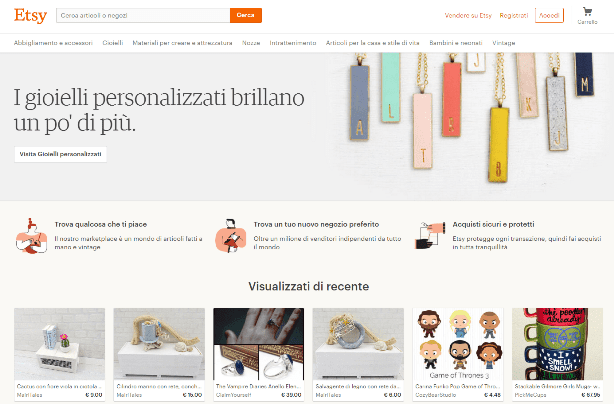 Thanks to the Internet it is possible to sell your products online for free, in a very simple way. In fact, platforms and applications that allow you to sell your products or services are increasingly widespread. I want to tell you below about what are, in my opinion, the best platforms that will allow you to sell online for free.
Etsy: if you have passion and creativity to sell, I suggest you take a look at the popular site Etsy, a well-known sales window for artisanal or homemade products; you can sell everything, the categories of the site are numerous and you can find jewelry, dolls, clothes, household items and items with a slightly vintage look.
eBay: certainly one of the best known worldwide that hardly needs any introduction. eBay is in fact a very popular and professional site where you can sell your products online. However, we must consider that selling on Ebay is not free as commissions are applied on the sale of products. If you decide to sell an item on eBay you must also know that you are charged a fee for the publication of the advertisement. A commission is also charged based on the price at which the item is sold. Like many other platforms, you can also pay to promote the item on eBay. The total cost for the sale of an object is therefore given by the sum of the fee for the publication of the advertisement, the commission on the final value to which the purchase of an option for the promotion of the sale must be added. It should be noted that the rates vary according to the category in which the object is offered for sale. For more information, see the eBay Help section.