Passwords protect our access to various online services (banks, emails, telecommuting, streaming stations and much more). On PC they are the privileged way to identify us, yet biometric identification (through fingerprints, iris, etc.) is not very widespread.
For security reasons you should never use the same password on multiple services and our keywords should be made up of upper and lower case letters and symbols (check the security of your most important passwords).
It therefore becomes increasingly thefficult to remember all our passwords and for this reason all modern browsers offer a service for saving credentials (password manager) with the possibility of export saved passwords (as we will see later with Google Chrome).
Chrome also has a password manager and it is for this reason that every time we log in to a new site, it invites us to save the password.
For many of us who use Google Chrome on a regular basis, all these saved passwords are a fundamental component of our life online.
In case you want to use the passwords saved on Chrome also on thefferent browsers, such as Firefox and Opera, you will have to export Google Chrome passwords and import them to other browsers.
In this article: export passwords from Chrome | to import passwords in Firefox | import passwords to Chrome

Export passwords from Chrome in CSV format
CSV format is a format for spreadsheets, exporting in this format i password manager other browsers can conveniently import passwords.
The procedure is very simple, you have to: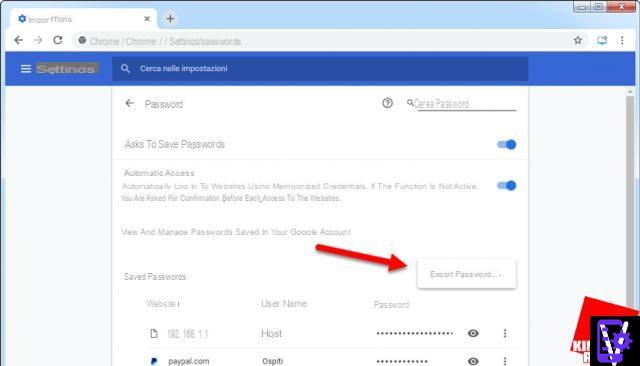 Please pay special attention to the saved file, because it contains unencrypted all passwords that you have saved in Chrome.
Once exported, the file can be used in various ways: it can simply be opened via a spreadsheet app (such as Excel and Calc), or, as already mentioned, it can be imported into another browser.
How to import Chrome passwords to Firefox
If you want to switch to the well-known free browser (maybe right after the introduction of Quantum) and you want transfer passwords the export procedure described in the previous paragraph is not necessary, it is sufficient instead: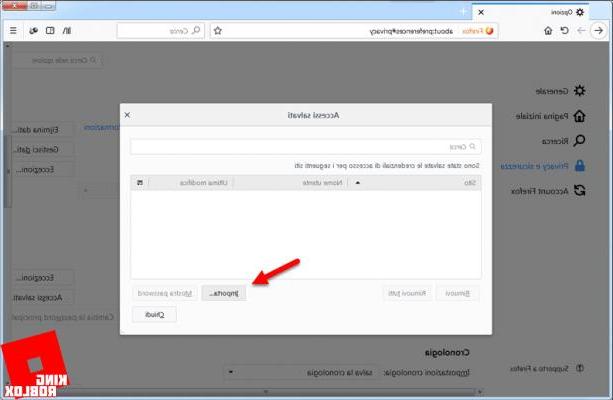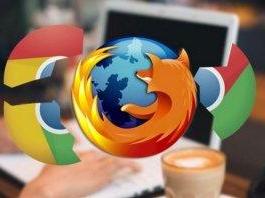 How to transfer data from Chrome to FirefoxHow to transfer data from Chrome to Firefox Have you tried the Mozilla Firefox browser and it convinced you that you want to replace Google Chrome? If you think moving all your data from Chrome to Firefox is a challenge [...] Read on
How to import passwords to Chrome
To import passwords saved in a CSV file into a new Google Chrome installation you need enable import.
Enabling is very simple: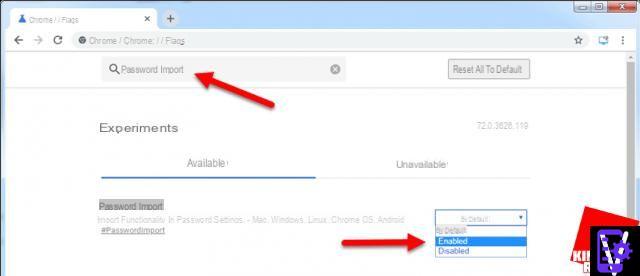 At this point the function is enabled and therefore to use it you need to:
How to transfer saved passwords to Google Chrome