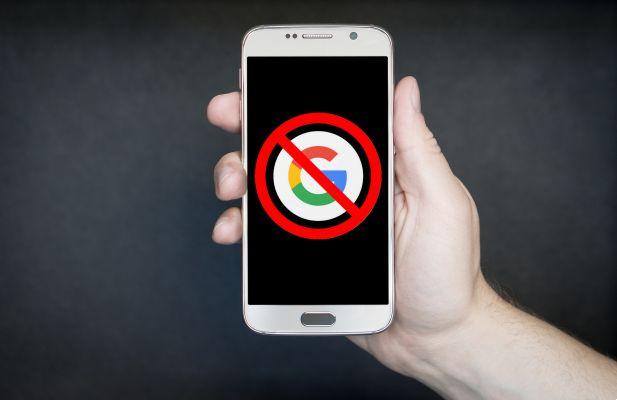 Using Android without Google services is absolutely possible. For that, you just need to find an alternative to the products and services offered by Google, such as the Play Store, Google Calendar and others. We have listed the alternative applications that will allow you to get rid of Google.
Following a decision by the European Commission, Google has decided to charge Android manufacturers for the use of its applications. In the years to come, we can expect to see smartphones landing in Europe that do not benefit from the services of the net giant. Doing without Google will sometimes require getting your hands dirty and especially familiarizing yourself with new applications. The game can possibly be worth the candle if you are curious and want to protect your privacy.
1. How to uninstall Google services
Google services are currently preinstalled by default on Android smartphones and tablets. In other words, if you want to delete them, you have to go through the root of your smartphone. That said, contrary to popular belief, it is quite possible. You can even jump at the opportunity to uninstall manufacturer applications and, if necessary, those imposed by your operator. Isn't life beautiful? For this, we invite you to refer to our tutorial on how to uninstall system applications on Android where all the operations are explained in detail.
2. Applications and services
Before downloading the applications below, you are invited to authorize your smartphone to open and install the applications of unknown origin. To do this, follow the maneuver below (it may vary depending on the version of Android installed and the overlay).
Go to the menu Parameters from your smartphone
Go to Apps and notifications
Go to Apps: special access (at the bottom of the page)
Press Installing unknown apps
Allow necessary applications to install from unknown sources
Alternative application stores to the Google Play Store
Let's start at the beginning, the applications! Without apps, you obviously can't do much on your smartphone. That said, doing without Google is also doing without the Play Store. There are several alternative application stores to the Google Play Store, such as the Amazon App Store, F-Droid or APK Mirror. We recommend especially the Amazon store, which stands out as the most complete alternative, with promotions or apps that go free for a limited period of time.
Music and video
If you don't use Google, you also don't use Google Play Music, or the app offered by your manufacturer. But that's okay because VLC media player has been available on Android for several years. It can be found on the Google Play Store and the Amazon App Store but also on F-Droid. It has the advantage of supporting almost all audio and video formats. Best of all, it is very easy to use. You can also opt for a music streaming service, such as Spotify, Apple Music or Deezzer, whose APKs are easily found on the web. Again, no need for Google!
Research
Obviously, Google is above all a search engine that we use on both PCs and smartphones since it is directly integrated into Android. But if we want to do without it, what to do? Well, quite simply by using DuckDuckGo, the search engine that protects your privacy. In addition it incorporates a Web browser, you can consult the target pages of your search directly within the application. You can even install a widget right on your desktop.
Web browsing
There are tons of web browsers for Android, especially Firefox, but the one we find the most relevant to replace Chrome is Opera. Why ? Quite simply because Opera now offers a free and unlimited VPN that will allow you to surf completely anonymously. In addition, you will also be able to take advantage of geographically limited services like Netflix and surf more securely on public Wi-Fi networks. For its part, Opera Mini makes it possible to limit data consumption.
GPS navigation
What would we be without Google Maps, that's what you tell yourself when it comes to GPS navigation. Well, there are dozens of GPS apps out there, starting with Mappy or Waze. We will not present them all to you, however, we suggest you consult our selection of the best GPS applications to replace Google Maps. You will inevitably find the one that suits you.
Mail
There are tons of alternatives to Gmail if you really are allergic to even Google's mail client. Obviously, most of them are offered in the Play Store and there is quite a bit to eat and drink. If, however, you are looking for a simple and efficient mail client, then K9-Mail could make you happy because it offers the essentials in an interface that could not be more uncluttered. K-9 is an open source email application that allows you to set up multiple accounts.
Notes
Again, there are plenty of note taking apps but some are better than others. One of the best alternatives to Google Keep is SwiftNotes, which offers the essentials in a fairly simple and well-designed interface. For more seasoned users, we also invite you to try Evernote, the most complete and successful note-taking application.
Calendar
There are many alternatives to Google Calendar. For the busiest, we recommend Business Calendar, which gives you a very complete overview of upcoming events over a long period of time. For an even more original and complete solution, opt for Digical, which will inform you, for example, of the distance between you and your meeting point using the geolocation of your smartphone.
3. The operating system
Once you have deleted all of Google's services, you might get a taste of it and the desire to replace your smartphone's basic operating system with a new one. Custom ROM. One way to go even further in personalization and give yourself a little more freedom. There are several, here are the most interesting.
CyanogenMod
The most popular Custom ROM, CyanogenMod is the very definition of Android without Google, moreover the American giant's services are not even present within the ROM and need to be installed separately. That said, rather than installing Google's private services, why not install the alternatives that we have proposed to you above? You will thus benefit from a fully open source OS, although for various reasons CyanogenMod uses certain APIs from Google. In addition on manufacturer smartphones, it allows you to benefit from the latest versions of the OS almost at the same time as on the Nexus. To learn more, do not hesitate to consult our presentation and installation file of the Custom CyanogenMod ROM.
Repeat
In principle, Replicant is almost the ideal solution for those resistant to Google. Derived from CyanogenMod, it only contains free codes instead of Google's. The only problem is that only a few devices are compatible and they are not very young devices. In addition, updates are infrequent. The most recent date of May 13, 2021.
omnirom
Competitor of CyanogenMod and serious alternative to the Custom ROM, OmniRom is an open source Custom ROM based on the Google OS. However, it supports fewer devices and its functionality remains limited. In fact, it does not offer anything more than Android in its stock version but without Google.
Read also: Google will charge Android manufacturers
Share
Tweet
Share
Envoyer à un ami