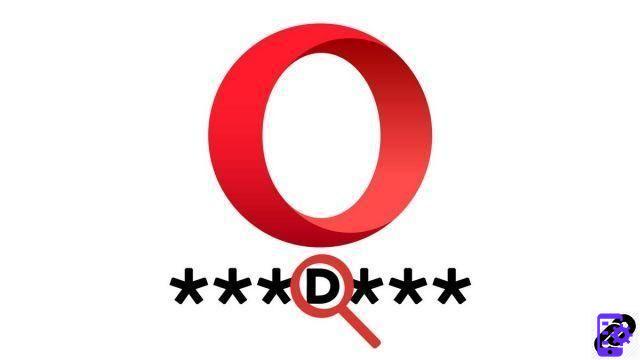 Passwords are essential to protect accounts created on the web and, as we know, it is better to have a different combination for each account. As it is not easy to retain all these precious codes, Opera offers to take care of it for us. But it is still necessary to be able to consult these passwords afterwards!

Saving passwords on your browser is a widely used service and indeed, it is quite practical. In this tutorial dedicated to learning "how to protect your privacy on Opera", we show you the procedure to follow to find and display your passwords on Opera.


View saved passwords on Opera
Open the menu by clicking on the icon Opera at the top left of your browser, then tap Settings.



In this settings page, select Advanced in the left panel, then click on the mention Privacy & Security which appears just below.


Scroll down until you reach the category Automatic filling. Then click on the mention Passwords which is on the first line.


On the lower part of the page, at Saved passwords, you can see your identifiers as well as your passwords which are currently hidden.


To view a password, click the open eye icon. The symbol appears crossed out when the password is visible.
Notes
: You can now display as many passwords as you want, by pressing each time on the corresponding icon. To hide a password again, simply tap the crossed-out eye again.
To protect yourself from malware, remember to
regularly change your passwords
. A good password has at least 12 characters and must contain a lowercase letter, a capital letter, a number and a symbol.
Do not use personal information
, such as your date of birth for example, because this data is easily found. Finally, do not hesitate to use a sentence and modify it, you will remember your combination more easily!
Find other tutorials dedicated to protecting your privacy on Opera:
How to configure Opera's VPN?
How to activate and deactivate VPN on Opera?
How to delete passwords saved on Opera?
How to activate private browsing mode on Opera?
How to delete frequently visited sites on Opera?
How to delete previous entries on Opera?
How to change a password saved on Opera?
How to clear the history on Opera?
How to clear the cache on Opera?
How to delete cookies on Opera?