You are looking at yours smart TV, when suddenly your favorite show is reduced to a small window to make way for one interactive advertising. Has this already happened to you? You are not alone. In recent years, television manufacturers have incorporated two technologies into their devices that make this type of commercial possible. On the one hand there is ACR and collects data on everything you watch. On the other there is HbbTV, which allows TV channels to enter interactive content. In this article we try to understand what these advertisements are and what they are for. And how to block them, if you want to.
How advertising works on smart TVs

How ACR works
What is HbbTV?

How to block interactive advertisements on smart TVs

Disable ACR
Block interactive ads

Bottom Line: Is Interactive Advertising the Future of TV Ads?
How interactive advertising on smart TVs works
Those who often surf the internet know that there is more and more advertising "Targeted". This term alone is why companies like Google and Facebook can offer free services and still bill billions of dollars. To simplify a complex phenomenon in a nutshell, the websites you visit collect information about you: which articles you have recently read, which products you have searched for, which posts you have liked on social networks. This information is then used to offer you some targeted ads: if the data says you're looking for a new high-quality TV, they'll bring you the latest OLED commercial.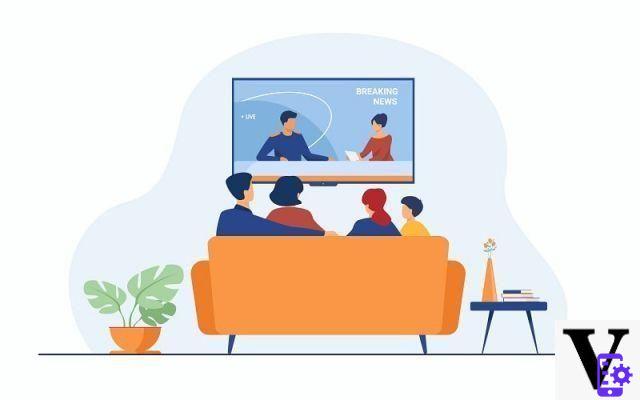 Until now the television worked (and for the most part still works) with advertising "Contextual". During the advertisements in the middle of a cartoon advertising a new game or products for the school, in the breaks of a historical documentary you find the advertising of books and magazine subscriptions, and so on. There are though two technologies that are changing this advertising approach.
How does ACR (Automatic Content Recognition) work
The technology behind the ACR is quite sophisticated but the goal is simple to understand even for the layman: identify what you are watching on TV. To do this, the ACR uses two methods:
THEsound signature of the contents, that is the characteristics of the soundtrack and of the dialogues that allow you to recognize what you are watching. This technology was first used by Shazam, born as an application to recognize songs in seconds.
I digital watermarks, transparent information that is inserted in the videos to indicate the author and who owns the rights of the content, to avoid counterfeiting.
Using these two identification methods, TVs can recognize what you are watching. A bit like i cookies su internet who can get information about what you read on the sites.
This is why when you arrive on a channel that asks your smart TV for information, you sometimes find a small pop up asking to accept the processing of your data. Sorry to tell you, but even if you choose not to accept it on that channel, the ACR will continue to record what you watch. Recording does not only happen on classic TV, but also on Netflix and other streaming services, and even on your DVD or Blu-Ray. In short, the ACR applies to all contents.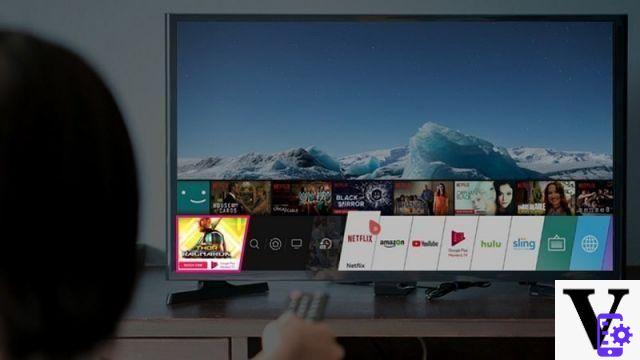 What is HbbTV?
The abbreviation HbbTV stands for Hybrid broadcast broadband TV and is the technology of interactive TV apps. HbbTV not only allows you to receive the channel through digital terrestrial or satellite but also to integrate internet functions. In essence, this technology enriches the channel by allowing you to click a button to find extra content o information, rather than opening the program in an on-demand app to review it all over again.
In fact, ACR and HbbTV aren't just used for advertising - some channels may use them for show you the biography and filmography of an actor (when you ask yourself "but where have I already seen it?"), or to give extra content impossible to exploit before the arrival of smart TVs.
Having said that, however, we must be aware of the fact that HbbTV also, and above all, serves to insert content interactive advertising. When you are watching a sporting event on TV and the image shrinks, to ask yourself if you want to find out more about the new unmissable promotion car: that is a HbbTV content.
Coupled with ACR technology, this new type of advertising allows you to sponsor targeted products, also connecting you to the ecommerce site. We are talking about commercials and targeted ads that are very profitable for companies that produce TV and for those that broadcast content.
Discount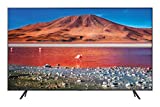 Samsung TV UE55TU7190UXZT Smart TV 55" Serie TU7190, Crystal...
Crystal display: the viewing experience is even more immersive, vivid, intense and realistic colors
Crystal 4K Processor: The processor that transforms everything you watch into excellent 4K definition
HDR: ultra-defined details and nuances not to be missed, thanks to the high dynamic range technology
549,00 EUR −25% 409,94 EUR Buy on Amazon
How to block interactive advertisements on smart TV
While targeted, many users find interactive ads annoying because they do not replace classic advertising. In fact, they add up to it. And after paying a lot for a smart TV and watching commercials every half hour of the movie, seeing the screen shrink during the final duel with the villain to advertise the electric toothbrush you've been looking for can be downright frustrating.
If that's your case, here's what you can do for block side advertising on smart TVs. Or at least limit its impact.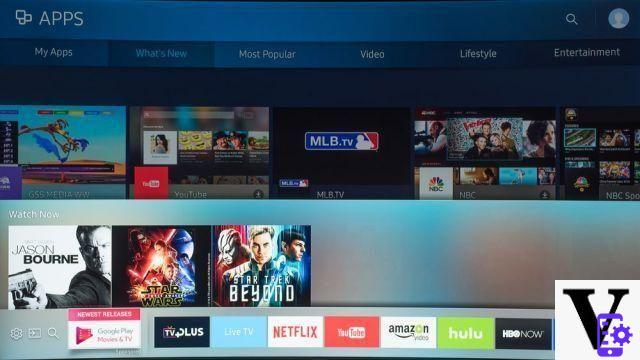 Disabling ACR: Is It Possible?
The technology of tracking what you watch on your TV is actually a limitation of yours privacy As such, it is reported in terms of use of your TV: if you read the very long legislation the first time you turned it on, you noticed it. If you haven't, we can tell you that no one reads that documentation, so don't worry.
All smart TVs that have ACR use it default, not only for advertising but also to provide extra content. If you want to disable it, the exact procedure varies not only from smart TV brand to brand but even from model to TV model. So here is a practical guide to disabling ACR on main smart TVs.
ACR Smart TV Samsung: go to Settings> Terms and policies> disable display of information services (you can also disable voice recognition).
ACR TV LG: go to Settings> All Settings> General> disable LivePlus.
ACR Fire TV: go to Settings> Applications> "Collect app usage data and over-the-air" is the item to disable.
ACR Roku TV: go to Settings> Privacy> Smart TV Experience> deselect Use information for TV inputs.
Many other smart TVs (Sony, Sharp, TCL, Element, Sanyo, Toshiba, Philips and almost all those based on Android TV) they use Samba TV. To disable it, go to TV Settings and disable "Interactive TV Service" (the item may be under another menu).
The instructions provided are valid for the latest operating system. In other versions, the names of the menus may change. If you have any difficulties, feel free to write us on Facebook.
Block interactive advertising on smart TV
After disabling the ACR, the second step is to block the interactive ads, that is the side ads that annoy you while watching movies or sporting events (or whatever you are enjoying). These commercials are broadcast from television broadcasters. So this procedure does not necessarily solve the problem entirely: you may still see extra advertisements on smart TVs. However, the commercials displayed should be fewer in number and non-interactive.
Again we go by brand, with the premise that the menu name and location may be different based on the operating system.
TV Samsung: go to Settings> Terms and Policy> disable "view information services".
TV LG: go to Settings> All settings> General> About this TV> User Agreements> disable "personalized advertising".
Fire TV: go to Settings> Preferences> Advertising ID> then disable "internet based ads".
Of the TV Year: from the menu go to Settings> Privacy> Advertising> "Limit ad tracking".
Televisions that use Samba TV (Sony, Sharp, TCL, Element, Sanyo, Toshiba, Philips and almost all those based on Android TV) they may have several menus. In general, however, they should be located in Settings> Interactive TV Service> Privacy> "Limit Ad Tracking".
Bottom Line: Is Interactive Advertising the Future of TV Ads?
As you have seen, limit the ACR tracking and the ability to see interactive advertising on smart TV it's possible. But as has happened with web advertising, unless major regulatory changes are made it is likely that we will see more and more of this type of advertising. side announcements in our TVs. They are a great economic advantage for companies, even if they are not the only way to go.
As we have explained in this article, there are some sites that are coming back to contextual content (advertising of toys during cartoons, etc.) avoiding the use of cookies but still earning well. So we can't say if interactive smart TV ads are the future: unfortunately, or fortunately, we are neither seers nor predictive algorithms for ads.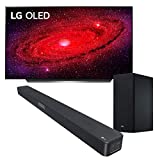 LG OLED TV AI ThinQ OLED55CX6LA.APID, Smart TV 55 '', ...
OLED technology with over 8 million self-illuminating pixels for perfect blacks and perfect colors
Spectacular images and sound thanks to the new third generation α9 processor with Artificial Intelligence
True Cinema Experience with Dolby Vision IQ, Dolby Atmos and FILMMAKER MODE give you an audio video experience ...
1.249,99 EUR Buy on Amazon TagsAdvertising Smart TV Interactive advertising on Smart TVs: how it works and how to block it