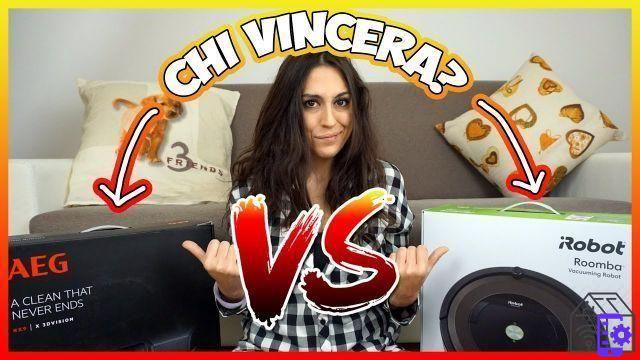 iRobot Roomba 896 ed AEG RX9 they are two robot vacuum cleaners, valid allies for daily cleaning and more. We tested both of them, at the same time, to understand what are the substantial differences between the two helpers of the smart home.
Two aesthetically very different devices
iRobot Roomba 896 has a circular shape while AEG RX9 is a triangle that should be able to reach every area to be cleaned smoothly. Both are equipped with a small brush that helps to capture dust in every corner of the house.
The AEG robot, being a top-of-the-range model, boasts the presence of one video camera which allows you to take advantage of the system 3D vision to perceive the surrounding spaces. iRobot Roomba, on the other hand, relies solely on its proximity sensors to move around the rooms to be cleaned.
The weight of both is average, this makes it easy to lift the filters and brushes during maintenance. Charging bases are quite different. The Roomba 896 has a rather small stand, while that of the RX9 is about twice the size.
I tanks are easily removable and with neither of the two robots I have ever risked dropping the collected dust. When it's time to empty them, an icon on the Roomba 986 and RX9 displays indicates that a brief maintenance is required before continuing to clean.
The 3D Vision system is not necessarily an advantage
The 3D Vision system allows RX9 to "see" what surrounds him and be able to move between spaces without risking accidentally hitting obstacles. Indeed, with this technology the chances of the robot colliding with furniture and walls are very limited. However, AEG's home helper is much slower of its opponent iRobot Roomba 896 precisely because it "looks around" before moving. This translates into extended cleaning times and the final result no higher than that obtained with the Roomba 896, which is faster while managing the spaces in an optimal way.
Furniture and carpets
I furnishings, even quite low, they are not a problem neither for the iRobot robot nor for that of AEG. Thanks to them contained heights, they can easily remove dust even from surfaces that are difficult to reach due to the presence of furniture.
I carpets more rigid do not represent an obstacle for both helpers of the house. The softer and thinner ones, such as those normally placed in the bathroom, can create some difficulties. Roomba 896 almost always manages to climb on it, otherwise it moves it and continues its journey. RX9 instead could, due to the camera, detect it as an obstacle after moving it and - consequently - get stuck.
Suction power and suction quality
Both robots enjoy excellent suction power e "spot" mode, which allows the device to concentrate on a certain area to be thoroughly cleaned. However, in some situations, iRobot Roomba 896 showed superior cleaning capabilities. In particular, he managed to vacuum - without blocking any of them between the brushes - a series of large beads. On the contrary, AEG RX9 - in the same situation - after trying to vacuum them dragged about 30% around the floor.
I obtained a similar result by placing a decidedly voluminous pile of dust in front of the robots. Roomba's smart home helper managed to take most of them away, while the RX9 hooked it from a corner and dragged it on its cleaning journey. Of course, these are extreme situations. However, the difference in results between the two robots is considerable.
Management from smartphone
[
The Roomba 896 setup took just over a minute to complete. The smart vacuum cleaner automatically memorized the Wifi key and became immediately manageable from a smartphone. Unfortunately, with the RX9 app I had difficulty in initial connection. After a dozen unsuccessful attempts, I finished the procedure and from then on it worked perfectly.
Which one to prefer between iRobot Roomba 896 and AEG RX9?
Before deciding the winner of our comparison it is good to dwell on the price ranges of the two robots. iRobot Roomba 896 it is sold at approx 600 / 650 € and AEG RX9 has a price that fluctuates between 1200 and 1300 €.
In the various tests, the iRobot smart vacuum cleaner showed its muscles. The house cleaning assistant is a caterpillar. He will hardly get stuck in front of obstacles and will be able to vacuum even heavier and more voluminous bodies than the "standard" dust.
[
iRobot Roomba 896 therefore wins the victory in comparison with AEG RX9. The iRobot assistant is certainly the ideal investment for those looking for a device with simple configuration, manageable from a smartphone even from a distance and - above all - with high performance. In short, a reliable ally for house cleaning, even if it is definitely dirty!