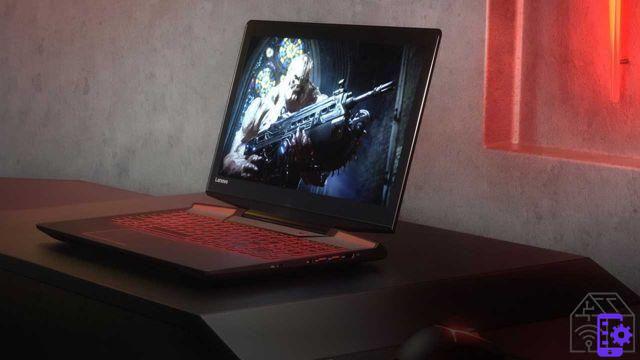 I confess: the first time I saw it Lenovo Legion Y720 I was a little shocked. Not for the design, for its technical specifications or for its being clearly devoted to gaming, but for weight and size. Legion Y720 is not exactly a "portable" PC and the idea of ​​having to take it with me to Los Angeles didn't particularly appeal to me. Yet, in the end, it won me over.
A legion of super-soldiers
Before telling you what theE3 2017 in the company of this monster of power, let me take a step back.
Legion is Lenovo's line of laptops dedicated to gamers and designed to offer them truly excellent performance. The goal is therefore to ensure a better gaming experience by focusing on first-class hardware and a truly aggressive design. Thus were born the 3 super-soldiers of this unusual legion, that is Legion Y520, Y920 it's ours" Y720.
To characterize Lenovo Legion Y720 we find un IPS display of 15,6 pixels with Full HD resolution, the processor Intel Core i7-7700HQ da 2.80 GHz, 16 GB of RAM and a graphics card NVIDIA GeForce GTX 1060 with 6 GB of dedicated memory. To accompany all this two drives: the first is a 256 GB SSD, while the second a more classic 1TB hard disk.
In short, on paper there is really everything you need to make the most demanding users happy, but how will they have behaved while traveling?
Lenovo Legion Y720 - a powerful and versatile companion
A post shared by ??? Princess Castle ??? (@princesscastletv) on Jun 14, 2017 at 09:25 am PDT
I could tell you that Lenovo Legion Y720 really amazed me, but that wouldn't be true. We are talking about a computer that not only boasts cutting-edge components but that was designed by a company with years of experience behind it. In short, that this notebook behaved excellently during daily use, I almost took it for granted.
With him we edited most of the videos from E3 2017 without ever experiencing a slowdown or hesitation, I harassed him to attend lectures that I couldn't attend personally and ran out for days trying to write as many articles as possible with the little time available to me.
The Legion Y720 performed admirably even when rendering the heaviest videos, thanks to the new thermal design that allows heat to be dissipated thanks to the double metal fan and the air intakes on the back. In addition, the aluminum case allows this laptop to always stay pretty cool, avoiding unpleasant overheating.
However, these performances require a sacrifice. No, not human, but in terms of autonomy. During the most intense work sessions, both at the fair and at home, Lenovo Legion Y720 forced us to plug it in after about an hour and a half of use; things improve a bit by activating the energy saving and putting aside Adobe Premiere Pro, which allowed us to reach the 3 hours of autonomy. So don't expect to use it all day without ever recharging it. In fact, our soldier needs to periodically feed on electricity to be able to fight.
Gaming: the entertainment corner
Between one appointment and another, I tried to take the time to play with this Lenovo Legion Y720 and understand how suitable it is for gaming.
Thanks to the 10th generation Intel Core processor and the GeForce GTX XNUMX series graphics card, this notebook manages to give a smooth gaming experience even with the latest games, including the much-loved Overwatch to which we have dedicated a lot of hours. Blizzard's game indeed performs extremely well with Lenovo's Legion, guaranteeing gamers a smooth and fun experience. THE 60 frames per second with the Y720 model they are practically a guarantee, obviously also thanks to the software NVIDIA GeForce Experience which automatically optimizes the game. Not satisfied with the result? No problem: just enter Overwatch's graphics options to adapt it to your needs, confident that you can count on the state-of-the-art performance of your new gaming laptop.
For controller lovers there is even support for that of Xbox One, while anyone who loves a mouse and keyboard will have access to the Lenovo Nerve Center to customize the backlight and thus make the notebook even more aggressive; there is also the possibility of customizing the buttons to adapt them to your in-game needs, that of activating the Dolby Atmos technology for even more immersive audio and to better manage the network to make sure you have a stable connection during your online gaming sessions.
Playing on the Lenovo Legion Y720 is certainly an incredible experience, but keep two things in mind: first of all, the 15,6-inch display - while comfortable and with excellent visibility - does not offer the same degree of immersion as a monitor and, secondly, remember to always carry a mouse. The touchpad in fact it is responsive but very uncomfortable to use with practically any video game (including the very quiet The Sims).
On the other hand, it surprised me the keyboard, reactive and surrounded by a rubber-like surface that makes it soft to the touch. The only problem is with the edge of the notebook: keeping your wrist there for hours, whether it's for gaming or writing, won't exactly be exciting. Don't worry though: it's not that different from using a keyboard without a palm rest.
Free gymnastics
Carrying the Lenovo Legion Y720 is not for everyone. This notebook I weigh more than 3 kg and that makes him the worst enemy of your back.
Obviously the problem does not arise if you find yourself traveling short distances. In short, taking this soldier of the legion from the parking lot of the Los Angeles Convention Center to the press room set up for E3 2017 was not an impossible undertaking. On the contrary, you can almost think of it as healthy physical activity.
Things got complicated for me on the return trip. My first flight, Los Angeles - Newark, left much later than expected, forcing me to run once I arrived at the New York airport in order to avoid losing my coicidence. Nothing special under normal conditions, but with the Legion Y720 weighted backpack I arrived at the gate with some back pain.
Portable but not too portable
[amazon_textlink asin='B072HNBFCR' text='Lenovo Legion Y720' template='ProductAd' store='gamspri02-21' marketplace='IT' link_id='3f94b2f6-63cb-11e7-b130-97509a23329e']Lenovo Legion Y720 it's a purchase perfect for anyone looking for a powerful notebook, capable of withstanding any type of workload and offering a videogame experience that does not fear comparisons with the ever-loved Desktop PCs.
But be careful: keep in mind its weight. In fact, we are not faced with the typical laptop to put in the backpack and then forget about. The movements must be quick and well calculated if you care about your back. Add to this the fact that you have to bring at least one mouse with you if you plan to use it to play since - as I explained above - no video game is manageable with the touchpad.
Finally, I remind you that Lenovo Legion Y720 is already available on the market starting from 1.899 Euros, a price definitely honest for a computer that not only uses a latest generation processor but boasts a video card with 6 GB of dedicated memory and a truly unparalleled build quality.