Big Sur, the new version of macOS, has been available for download for a few days. In the last few weeks we have been able to try it out and savor all the changes that have taken place with the latest update. But what are the news of Big Sur? Is it worth updating your Mac to the new operating system?
macOS Big Sur, the new era of Apple
Big Sur la version 11 of macOS: a number that might seem unimportant to most of you, but it's a real revolution. In fact, macOS abandons the number 10, which lasted from the very first version of 2001, thus marking one new era. This change also goes hand in hand with the release of the new products of the bitten apple with Apple's proprietary processor on board, launched together with Big Sur.
But macOS Big Sur is not only dedicated to new Macs with the M1 chip, in fact it is compatible with:
MacBook: 2015 or newer
MacBook Air: 2013 or newer
iMac: 2014 or newer
MacBook Pro: late 2013 or newer
Mac mini: 2014 or newer
Mac Pro: 2013 or newer
iMac Pro: any model
The innovations that make Big Sur great
But what has really changed in macOS Big Sur?
macOS 11 is full of new features, but by updating your Mac you will first notice a great redesign job from Apple. A completely redesigned interface, with a desk formed by a suspended and transparent Dock, along with a completely new top bar, also transparent. Application icons have also changed, assuming one style very similar to iOS, a symptom of Apple's desire for uniformity. An ecosystem worthy of the name. Which is also confirmed by the fact that the new Macs with Apple Silicon will also be able to run iOS applications.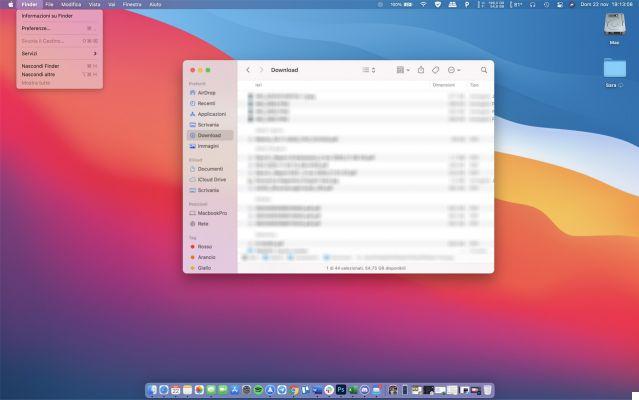 Even the windows of the Finder, which allows you to navigate between documents and your files, have been updated, with a much lighter design with even more rounded corners. File display settings and other parameters have become a lot less obvious and more elegant, also the sidebar is now transparent. The thing that stands out is a great one graphic consistency, which was sometimes missing before. The symbols have in fact been redesigned and now, for example, the symbol of the mailbox in the "Mail" app is the same as in the "Calendar" app. These are all small changes that make your workspace look nicer overall.
New wallpapers and new sounds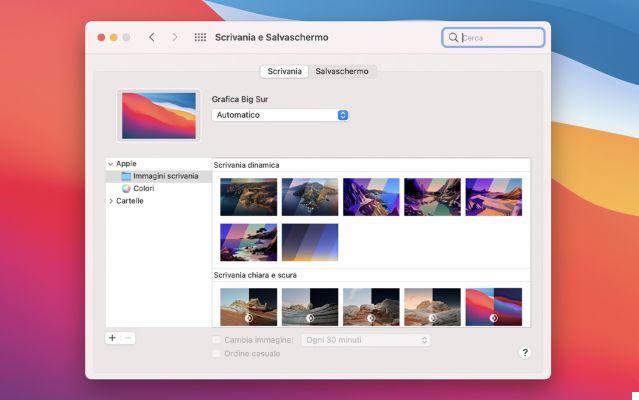 They were added many new Big Sur themed wallpapers. These include static images, images that change according to the light or dark mode, and dynamic images that follow the hours of the day. As for the small changes, the sound effects of the operating system have also been updated. We warn you: if you are a long-time macOS user, it will take a while to get used to the new sounds, for example the one played when you empty the trash.
The Control Center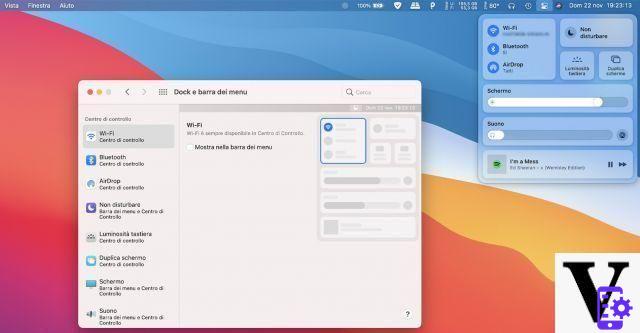 And here we are at one of the main innovations of Big Sur: the Control Center. It is located inside the menu bar, and like the iOS version, it allows you to control the device settings. This therefore includes the screen brightness, keyboard brightness, volume, Wi-Fi and Bluetooth connections and much more. The use of the Control Center is at the user's discretion: in fact, he can choose whether to display the individual icons on the menu bar as in previous versions.
even the Notification Center change look: notifications are now grouped by application and widgets are also present on the same screen. These are available in three different sizes and are very reminiscent of those found on iOS 14.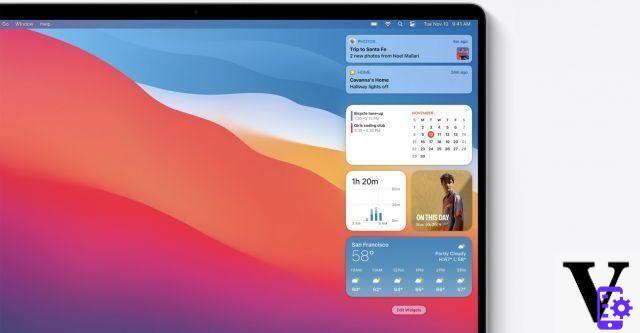 Discount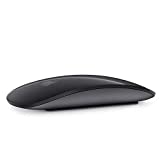 Magic Mouse 2 - Space Gray
Magic Mouse 2 is fully rechargeable: you don't need traditional batteries anymore.
It has fewer components because the battery is integrated and the bottom of the shell is made of a single piece.
The result is a lighter mouse with an even more stable base: it has less friction and glides on the ...
109,00 EUR −23% 84,00 EUR Buy on Amazon
Safari
Obviously, Safari could not fail to change too. Now it is possible set a background image for the home page, which is now fully customizable: you can in fact decide whether to enter your favorites, Siri suggestions or the tabs open on other devices in the ecosystem and much more. Now it is possible watch videos with quality up to 8K on YouTube, stops at 1080p with Catalina, and also supports i HDR content.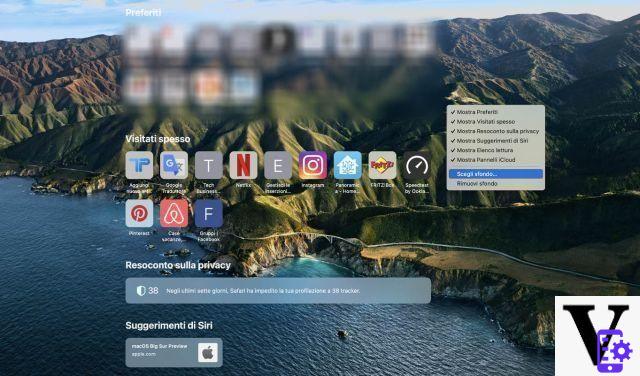 But the news of Big Sur on Safari does not end there. Now the icon of the site you are visiting will automatically appear on the card, making it much easier to select the desired card. Also, by opening many tabs within Safari, the site title will disappear showing only the icon. Selecting the right card becomes even easier thanks to the new functionality that allows hover your mouse over a tab title to preview the site and then select the right one.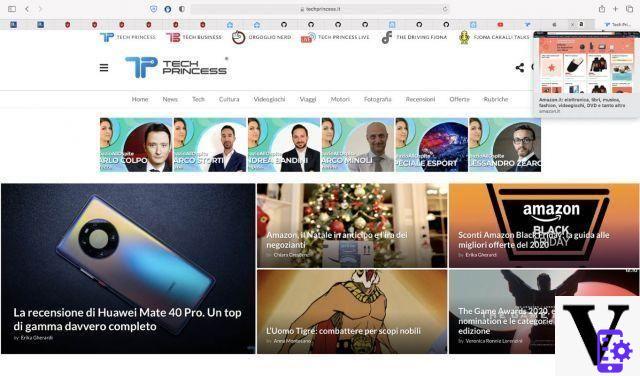 Safari allows you to start a real-time translation of the entire web page, with a single click. But this feature is only available in seven languages: Chinese, English, Spanish, Portuguese, Russian, German, and French.
The browser is now even more focused on privacy. In fact, Safari communicates if the saved passwords have been compromised in a data breach and asks the user to change them. In addition it also provides a privacy report: thanks to an intelligent anti-tracking system, it prevents the various activities on the web from being tracked and the report shows all the trackers blocked in the various sites. A weekly privacy report is also available from the home page.
Messages
Apple's messaging application now allows you to stare at one or more conversations (up to a maximum of nine), to always find them, just like you can do on iOS 14. Now you can also share your name and photo so that they appear when you write to someone. You can choose whether to show this information to everyone or only to your contacts.
The direct responses within groups, which allow you to start a new thread under the original message. It is also possible to mention people within groups and your name is highlighted when someone mentions you. Still talking about groups, now it is possible to set an image for the group chat, choosing a photo, a Memoji or an emoji.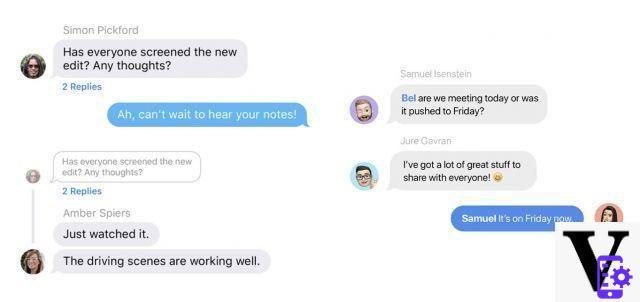 The functionality #images allows you to quickly search for images and gifs to send within the conversation and effects for messages have also been added, which have been present on the iOS application for several years. Instead the "Memoji" allows you to send Memoji in sticker format.
All the other little news
Among the other novelties we have theMaps application, which introduces new features such as Guides that show information about a specific destination, such as restaurants, shops and the most interesting places. Furthermore, it is now possible to have a dedicated bicycle route and internal maps of the main airports and shopping centers have been added.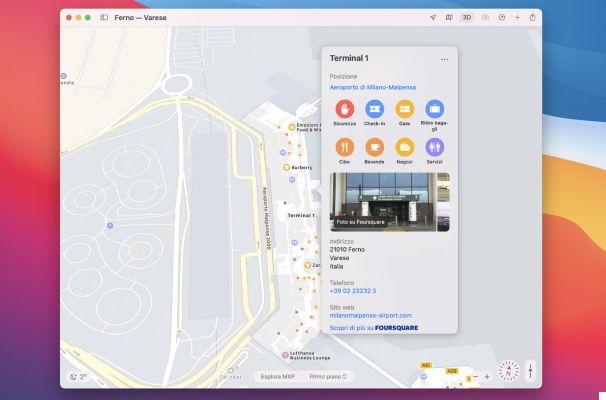 THEApp Store shows very clearly how your data will be processed and what authorization a particular application will need. Changes have also been made to the Photos application, HomeKit and Apple Music. And now it is also possible to automatically change the device for the AirPods, which identify on the fly the source from which to play the audio.
Is it worth upgrading your Mac to Big Sur?
The innovations introduced by Big Sur are really many. It wasn't just the design, but a lot of important features were introduced. Furthermore, during our use we have noticed many improvements in terms of performance, for example Safari is much more performing and consumes less energy, thanks to an optimization work by Apple. And in general, all the proprietary applications of the bitten apple have been improved, for an increasingly higher quality user experience. Our advice is therefore to upgrade to Big Sur, obviously informing you if the programs you use most are compatible with the new operating system.
Discount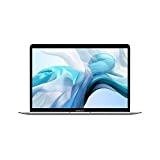 2020 Apple MacBook Air (13", Processore Intel Core i5...
Spectacular 13,3 "Retina display with True Tone technology
Backlit Magic Keyboard and Touch ID
5th Generation Intel Core iXNUMX processor
1.369,00 EUR −32% 930,97 EUR Acquista su Amazon Tagsapple Big Sur macOS Big Sur Let's upgrade the Mac to Big Sur