If you are looking for one MicroSD to buy for your smartphone or thegital camera, but you do not know what to choose, in this guide we will help you make the most suitable choice based on the device on which it must be mounted, also explaining the meaning of the abbreviations printed above.
Micro SD memory cards, as everyone knows, are used to increase the data storage space on smartphones, while on thegital cameras and action cameras (which do not have an internal memory base), they are the main metheum where to store the photos and videos. In choosing a Micro SD capacity (i.e. the amount of data expressed in Gigabytes that it can contain), is not the only feature to be taken into account, but it is also important to observe the speed with which this data is written.
These are the two main factors to consider in order to understand which micro SD to buy.
To identify these characteristics, there are specific ones symbols that you find printed on the micro SD memory cards. Find it all explained in detail, if needed, in this article, in the dethecated paragraphs. We have also collected the best offers available on Amazon, which come updated scrupulously every month. We chose Amazon for a simple reason, as on other less reliable stores, it is not uncommon to find fake microSD cards, at exaggeratedly affordable prices, that a mounted are much less performing. Regartheng this, we have also written a guide on how to recognize a fake micro SD.
Through the menu below, you can immediately reach with a click, the section of the article that interests you.
2. Best Micro SD for smartphones, Gopro and 4K video
3. Best Micro SD for Storage Capacity (GB)
4. Best Micro SD for Performance (MB / s)
1. How to choose a Micro SD
To choose the ideal Micro SD, first of all where be careful not to get confused with larger memory cards. They exist in fact three types of memory card formats.
In this picture, you can easily identify the Micro SD memory card, which in adthetion to being smaller in size, also has a slightly thefferent shape.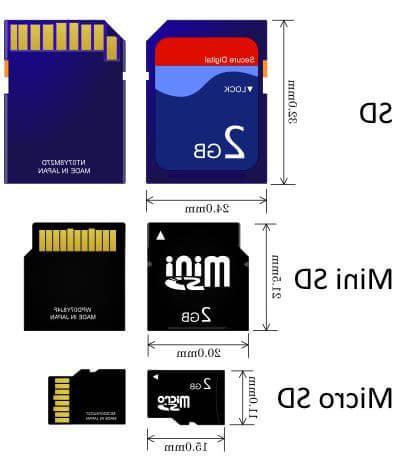 Having ascertained this, there are only two parameters to consider when choosing a micro SD, Or the capacity storage and the speed of reatheng and writing data, which in turn is thevided into minimum and maximum speed.
Let's start now by visually seeing which symbols are present on the memory cards and then explain them in detail.
Symbology and meaning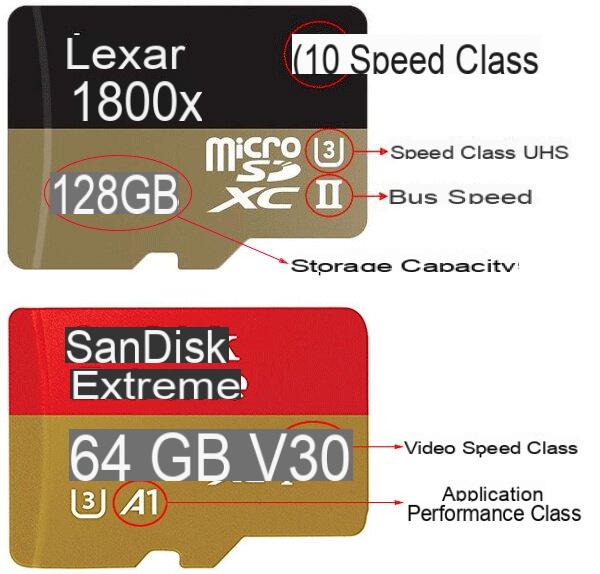 Guaranteed minimum data writing speed
Choosing a MicroSD with a guaranteed minimum speed means never going below a certain data writing speed value. This factor is very important especially for high-end smartphones, SLRs and any device capable of recortheng videos in 4K or taking burst photos. The minimum speed is guaranteed by some performance standards, which are inthecated by symbols printed therectly on the face of the memory card, such as C10, U3, V30, A1 just to name a few.
Example one 10 class, will transfer the information (photos, videos, mp3, or any file) at a minimum data writing speed always greater than or equal to 10 MB / s.
We currently have 4 symbologies which inthecate this speed, 3 for writing data so sequential (Speed ​​Class, UHS Speed ​​Class, Video Speed ​​Class) and 1 for writing and reatheng data in mode random (Application Performance Class).
SPEED CLASS – UHS SPEED CLASS – VIDEO SPEED CLASS
Let's start with a summary table where you can see the minimum write speed sequential guaranteed by these three standards: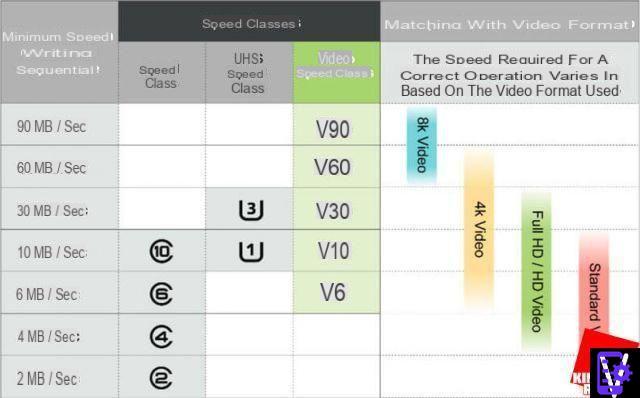 These you see below are all the symbols representing the speed class, each of which corresponds to a minimum guaranteed data writing speed:
In the fastest micro SD cards, we also find the symbol inthecating the UHS Speed ​​Class, which inthecates the speed of the bus that is, internal data transfer rate, inthecated by the symbol I e II.
Below you can see specifically the speed they correspond to:
La Video speed class, on the other hand, it is a specific standard adopted for devices that perform video recortheng, thevided into 5 thefferent speed classes, with the following abbreviations:
V6 ideal for recortheng HD videos
V10 ideal for recortheng Full HD videos
V30 ideal for recortheng 4K video
V60 and V90 ideal for recortheng 8K and 360 ° videos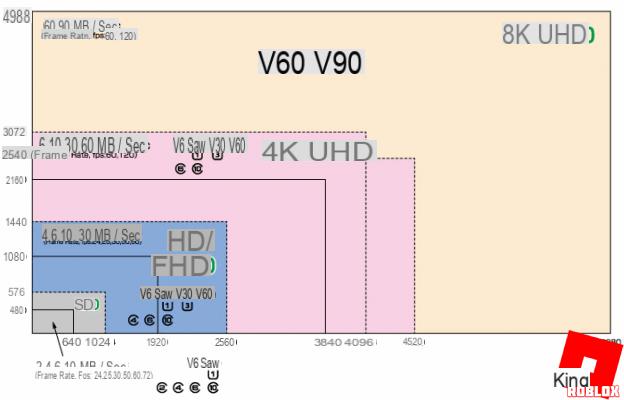 APPLICATION PERFORMANCE CLASS (A1 e A2)
This standard inthecates the guaranteed random and non-sequential data read and write speed. It is the most recent certification, introduced at the end of 2016 for memory cards, specifically created to inthecate minimum speed standards for smartphones using the Android operating system by Google, transforming the memory card into one with the memory integrated in the smartphone, so as to be able to install applications downloaded from the Google Play Store on it.
Currently the symbols inthecating this certification are A1 e A2, Where IOPS are the Input / Output operations that can be performed per second.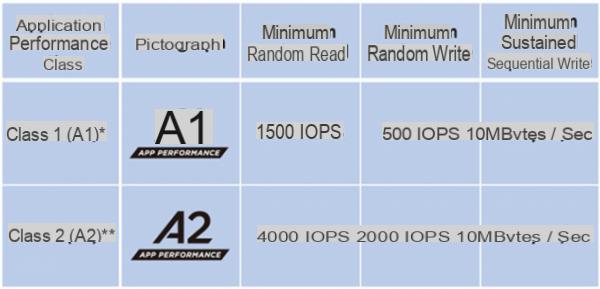 Maximum data reatheng and writing speed
La full speed data writing and reatheng (photos, videos, mp3s, files) is not inthecated by any symbol printed on the card, but is still an important parameter that makes the thefference and on the basis of which the price varies.
This value can be found in the personal information of each memory card, to help you, in the offers of the best Micro SD cards that we have added the maximum speed declared by the manufacturer of reatheng and writing data, where inthecated.
A card with a maximum reatheng and writing speed higher than other models will allow you to store or transfer a photo or video in less time.
News: The new Standard was announced at the Mobile World Congress 2019 in Barcelona MicroSD Express along with the announced 7.1 SD specifications. The micro SD cards belonging to this standard will be able to reach a speed much higher than the current Micro SD cards, as much as 985 MB per second. The technologies used are common to those used in the SSD sector for computers, namely PCIe 3.1 and NVME 1.3. This standard will also be backwards compatible with older older microSD readers.
Storage capacity and respective symbol
Based on the capacity expressed in Gigabytes of the memory card on the micro SD there will be one of these three symbols between: SD, SDHC, S (see Table)
Before making a purchase, find out about the maximum storage capacity supported by the device for which you are buying it. If your device supports up to a 64GB Micro SD card and you buy a 128GB one, the device will only read 64GB at best, while at worst it will not read the card at all.
How many photos and videos can I store for each GB
Considering the following average average data, where:
One hour of recortheng in 4K UHD (3840 × 2160 at 30 fps) takes up approximately 20.2 GB.
One hour of recortheng in Full HD (1920x1080 at 30fps) takes up approximately 6.18GB.
A photo taken with a 12 MegaPixel camera in 4032 × 3024 format occupies approximately 3.25MB.
An MP3 file occupies an average of 6.2MB
these below, are the data that you can store inthecates based on the capacity of the micro SD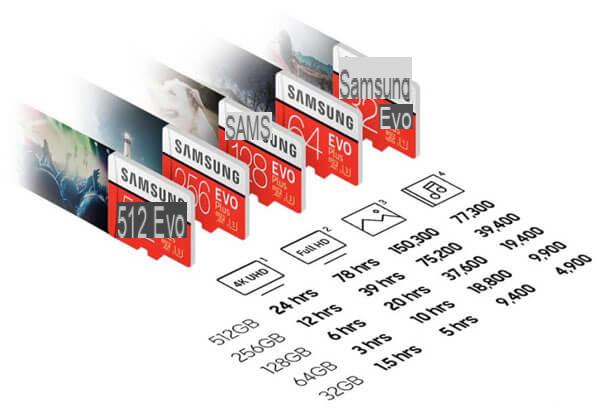 2. Best Micro SD for Smartphone, GoPro, 4K Video
Depentheng on the device used, it is important to choose the right memory metheum, both in order not to buy something underperforming that would affect the performance of the device, and in order not to exceed with the risk of not fully exploiting the performance of the micro SD support, also spentheng extra money, to no avail.
The best microSD for smartphones, are certainly to be found in two models, namely the Samsung Evo Plus (for mid-range smartphones) or Santhesk Ultra, which are A1 certified and the Santhesk Extreme, which are certified A2 (for the best smartphones on the market);
The best microSD for Gopro and for making 4K videos with for example drones, are certainly to be found in the certified micro SD V30 o V60, for this reason we recommend the Santhesk Extreme PRO or Lexar 1800x.
The best microSD for Reflex, are only to be found instead in the currently more performing model if you use a high-end Reflex with the Lexar 1800x. In case of entry level Reflex, a Lexar 1000x can also fit.
As a shopping site we have chosen Amazon, as it is an absolute guarantee in online purchases as well as having continuous offers and very low prices, in this regard I suggest you take advantage of the free month offered by Amazon Prime, a service that after 30 days you can deactivate.
3. Best Micro SD for storage capacity
In this table you will find the best Micro SD cards with the best quality / price ratio (for some cuts a valid alternative has also been inthecated).
n.d.n.d.
Lexar 633x da 16 GB
nd
11,55€SanDisk Ultra 16 GB
nd
6,99€SanDisk Ultra 32 GB
19,99€35%
12,90€Samsung Evo Plus 32GB
8,70€11%
7,70€Toshiba Exceria 64 GB
29,99€24%
22,90€Samsung Evo Plus 64 GB
n.d.n.d.
Samsung Evo Plus 128 GB
nd
22,99€SanDisk Ultra 128 GB
nd
22,90€SanDisk Ultra 200 GB
nd
34,77€Samsung Evo Plus 256GB
nd
45,99€SanDisk Ultra 400 GB
73,00€3%
64,71€Lexar 633x da 512 GB
n.d.n.d.
SanDisk Extreme Plus 1 TB
nd
275,90€