MobileGO per Android is the best software solution to effectively and safely manage your device (mobile or tablet) Android. This software has several features, but the main one is that it allows you to backup and restore any Android device in just a few clicks. The data that can be managed through this Android Manager are: SMS, Contacts, Photos, Videos, Apps, Music and all system files.
Download the free demo version of MobileGO Android now to start managing your device and discover everything you can do with this powerful tool.
Download the program on your Windows or Mac PC from the links below


If you are interested in the FULL version, without limits of use, click here to request the license at a truly exceptional price!
Support Windows 10/8/7 / Vista / XP. If you have a Mac OS X go to MobileGO Android for Mac
MobileGO Android functionality for Windows
Here are the main features of this "Android Manager":


MobileGo Android allows you to easily transfer songs, videos, playlists, photos, SMS, Contacts, etc ... from your Android device to your PC for backup purposes.

Import files (e.g. photos, videos, music) from PC to your Android mobile / tablet

Automatically converts music and video files to the format compatible with your Android device.


Support music sync between iTunes and Android device

It allows you to manage contacts and applications directly from your PC

Easily transfer all data from an Android mobile / tablet to another Android device.

Allows you to download movies and songs from the Internet directly to your Android mobile / tablet

MirrorGO function that allows you to project and view Android screen on your PC
These are just some of the features available in MobileGO Android for Windows.
How to backup and restore data on Android
How to import / export multimedia files (photos and videos)
How to manage contacts, SMS and applications directly from your PC
MobileGO VIDEO TUTORIAL
Guide: How to Backup and Restore Data on Android
Step 1. Download, install and launch MobileGO Android on your PC. The first thing the program will ask you is to connect your Android device to your computer via USB or Wi-Fi:
Step 2. Connect your Android to your PC via USB cable or connect it with MobileGO via Wi-Fi (scanning the QR Code with your mobile phone to download the mobilego app on your device and allow wireless connection). For your mobile phone to be detected by the program, it is essential that USB debugging is activated on it. In this regard, read the guide on how to enable USB debugging on android.
Below is the software screen immediately after the device is detected: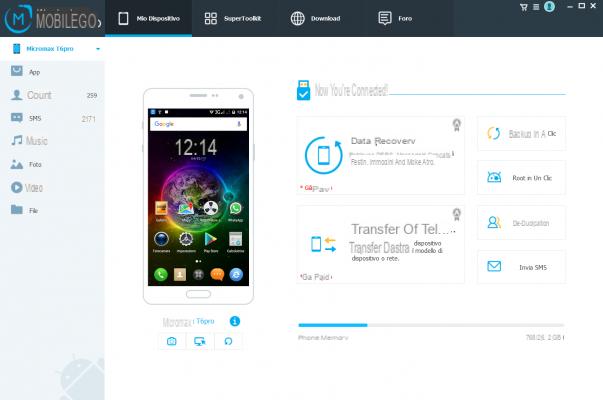 By clicking at the top on TOOLKIT you will access all the program features: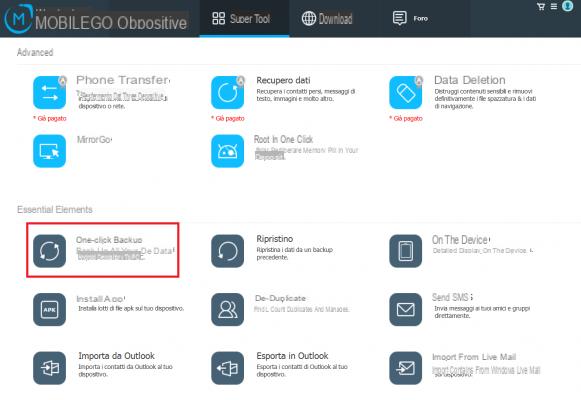 Step 3: Click on the button "Backup in un click"If you want to make a complete backup of the device and save it on your computer
If, on the other hand, you want to make a "selective backup" by choosing only some files, all you have to do is click on the left on the type of data (eg. Photos, videos, sms, contacts, etc. from the left sidebar of the program), select the files and finally click on "EXPORT"To export them to the PC.
Step 4: To restore the data, all you have to do is click on the "One-click restore"And select the backup file created in the previous step.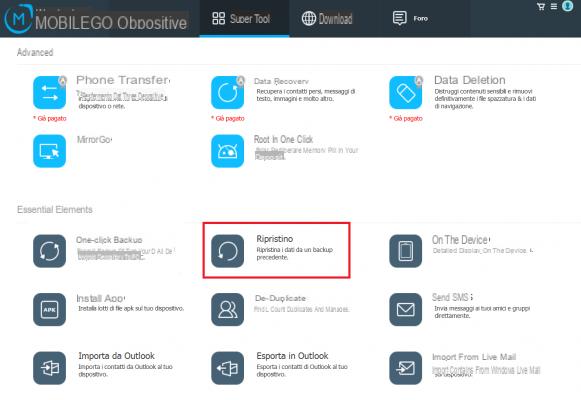 Guide: How to Import / Export Multimedia Files
Step 1. Download, install and launch MobileGO Android on your PC
Step 2. Import / Export files (photos, videos, audio)
To import multimedia files into your Android device, just select the folder of interest (from the left of the program) and click on the "ADD"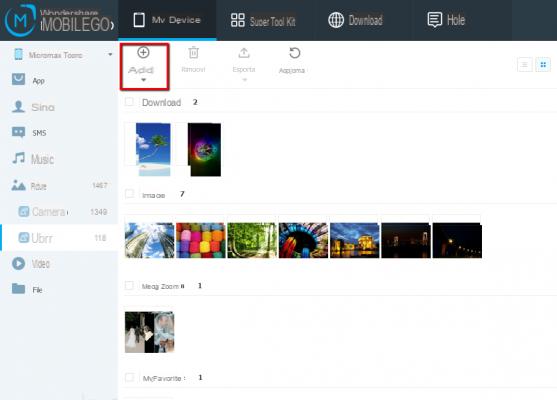 In the case of audio / video files, if these are not in a format compatible with the Android device, the program will ask you if you want to do the conversion, as shown in this figure: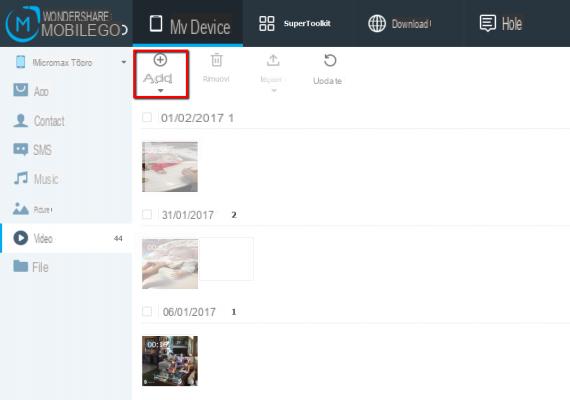 If you want to export photos, videos or music instead from Android to PC, just select the files of interest and click on the button at the top EXPORT.

Guide: How to Manage Contacts, SMS and Apps
Both SMS and Contacts can be easily Imported or Exported via MobileGO Android. In fact, just select the sms / contacts of interest and then click on the Import / Export button at the top to proceed as you wish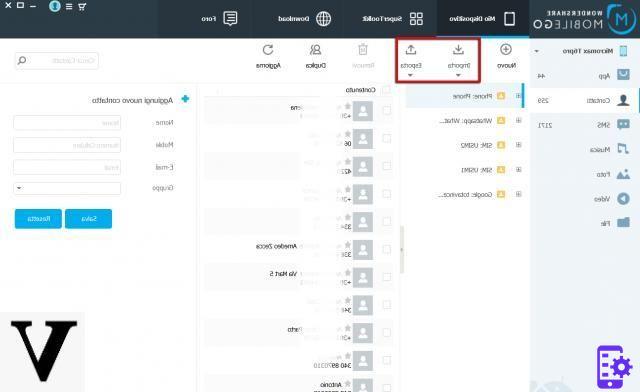 Both the exported SMS and Contacts can later be imported to another Android device, all you need is to simply use MobileGO for Android.
With this software you can also, directly from your PC, send SMS or enter new contacts in the device address book. Another very useful function is "De-duplicates"Thanks to which you can delete all duplicate contacts in the address book.
As for the management of Apps, through MobileGO you can install / uninstall the applications you want with a simple click!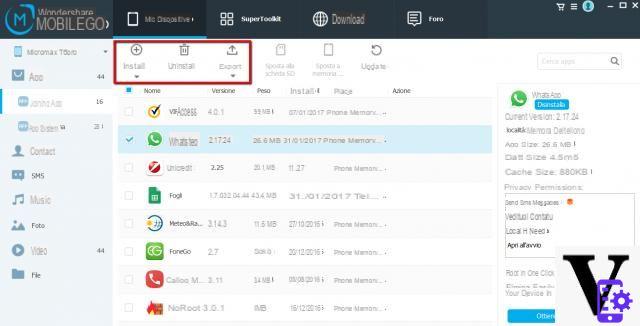 MOBILEGO VIDEO TUTORIAL (Video Tour)