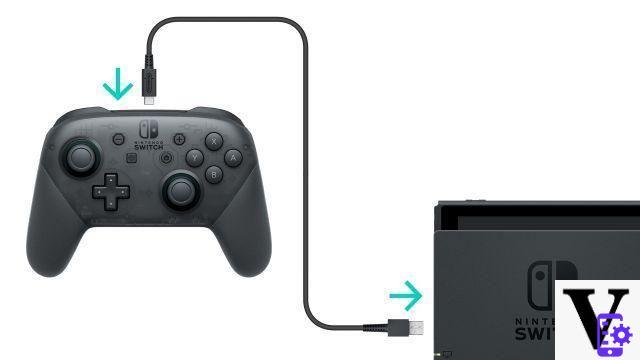 The Nintendo Switch controllers were at the heart of the console overview video. If we do not yet know everything about the machine, we know on the other hand the possibilities offered by the controllers thanks to an image given by Nintendo which sums it all up.
An image which groups together several in mosaics. The opportunity to distinguish what Nintendo called the "Joy-Con" and the classic pro controller. Hang in there, we will try to explain the different ways of playing with the Nintendo Switch as simply as possible:
The classic pro controller to play the Switch which is on its dock
The two Joy-Con on the "Joy-Con Grip" to form a controller when the Switch is in its dock.
The two Joy-Con hung on each side of the console in tablet mode.
A Joy-Con controller in each hand in tablet mode
One Joy-Con each to play on one or two Switch consoles (two- or four-player multiplayer).
It is also possible to play in local multiplayer with a console each in a more classic way. Now, we better understand why Nintendo has chosen to simply explain the concept of its console in the first video of the Switch which lasts three minutes.
However, we still have doubts about playing with several people on a single console with a small Joy-Con each. If four buttons and a joystick may be enough to play Mario Kart, we remain more doubtful about titles like NBA2K17 which is one of the first games presented on the Nintendo Switch. What about controller comfort and playability?
The idea seems very good to us and the possibility of playing the same games at home and on the go is a promise that no one has ever really managed to keep. The Switch could therefore be the first to achieve this feat thanks to an integrated custom Nvidia Tegra processor that delivers enough power. We are now eager to have answers to all the other questions we ask ourselves.