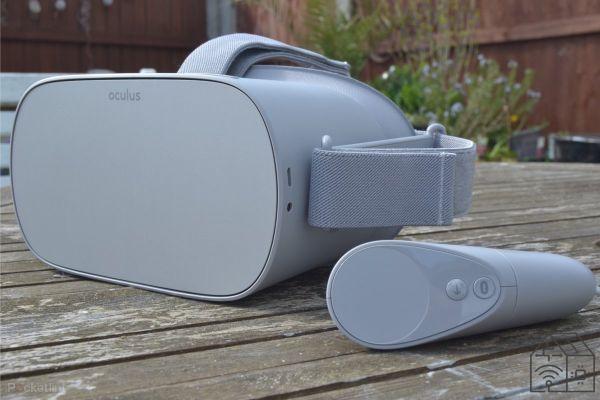 We have been previewing the new one Oculus Go, The first viewer for virtual reality "portatile"Produced by Oculus and made official today during F8, Facebook's annual conference dedicated to developers.
We have been trying it for more than a week and now we are ready to tell you everything you need to know about it standalone VR headset that promises to revolutionize the world of digital entertainment with 360 ° content available exclusively on the Oculus Store. Find our video review at the beginning of this article.
Oculus Go, essential and very "gray" design
Oculus Go, it is not really an absolute novelty. Facebook had already announced its launch some time ago (i.e. in October 2017). But what is the revolution of this VR viewer? First of all, it does not have to be connected to a PC or smartphone to work (it is totally portable), it is equipped with a battery and can be used in any place.
This means that you can enjoy virtual reality content (i.e. in 360 °) specially designed to be compatible with this technology, from anywhere and in total freedom.
The design of Oculus Go it is very essential: light gray in all its parts, this visor is light and made of breathable fabrics. On the top we find the on and off button together with the volume rocker. While on the side we find a Micro-USB input for charging and a 3.5mm jack for headphones.
It is really comfortable to wear and does not weigh even after long hours of playing / watching content.
Finally, the presence of the logo is intriguing Xiaomi on the left side of the viewer. Yes, because the new Facebook VR device (which acquired the Oculus company in 2014 for $ 2 billion), was developed in collaboration with the Chinese brand Xiaomi.
Xiaomi for its part, will launch a twin device (in every sense) intended only for the Chinese market which will be called Mi VR.
The controller instead - which looks a lot like that of Samsung Gear VR - looks like a small portion of a console pad. On the front there is a joystick that can be clicked in any direction, the "back" button and the home button while on the back we find a trigger.
To the touch, the controller feels a little cheap, but I would say nothing earth-shattering.
Oculus Go also adapts to any type of head: thanks to the soft elastic bands it will be adjustable in 3 different points. All textile materials are removable and washable.
Inside the Oculus Go package, in addition to the headset and the controller, you will also find an interesting one spacer for glasses that will allow all those who wear eyeglasses to enjoy the contents of Oculus Go without hassle.
Oculus Go headset technical specifications
Not being an "empty box", in order to work, in addition to high quality lenses, this All-In-One Headset it needs internal components powerful enough to "run" all the content promised by Oculus / Facebook. So let's see what the Oculus Go technical features.
Display: 5.5 inches, 2560 x 1440 WQHD standard resolution with fast-switch to the LCD screen, with 60Hz or 72Hz refresh, depending on the app;
Sensors: supports 3 dimensions of movement;
Processor: Qualcomm Snapdragon 821 Mobile VR Platform;
Audio section: Integrated speaker and microphone;
Battery: built-in lithium-ion battery.
how does oculus go work? And the first configuration?
Ma how exactly Oculus Go works? First you will need to charge the battery of the VR headset and then download the Oculus application on your mobile device (iOS or Adroid).
The application will be used for the first configuration (it will help you to connect to WiFi and to your phone via Bluetooth) and then to browse and download the contents you want to use in a more comfortable and immediate way.
Once the first configuration is finished, the smartphone will no longer be needed to use the viewer, which thus turns out to be totally independent.
Once you put on the headset, you will be ready to dive into the magical world of virtual reality.
The first screen you will come across will be this, that is a room from which you can choose what to do: whether to watch content in 360 °, play VR games or set every single setting on your viewer.
How is the audio visual quality?
The quality of the display is really excellent and the images incredibly sharp especially if we think we are dealing with a really low cost product. The 3D audio emitted by the internal speakers (without the need to use headphones) is engaging, it is "personal" but above all it does not completely isolate us from what surrounds us. And this, in my opinion, is good as you will always be aware of what is happening around you. In case you share the living spaces with other people, and do not want to disturb excessively, no one forbids you to use headphones.
Finally, I remind you that to use the viewer you will have to stand or sit. There will be no need to move in space as this viewer does not track spatial movements. In short, if, while playing, you want to advance your avatar you will not really have to do it with the body, but you will have to use the controller included in the package. What you can and should do is instead look around you by turning your head.
What content will you find on Oculus Go?
At launch, you can already benefit from over 1000 content compatible with Oculus Go (including video games, applications, films and interactive experiences). Some are content specially developed for the latter, while others are adapted to support cross-play with Oculus Rift and Samsung Gear VR. What does this mean? Simple: it means that some contents may be compatible with all three viewers.
Today - during Facebook's F8 conference - 20 new games were announced including "They Suspected Nothing","Anshar-Online"And"Republic VR".
https://www.youtube.com/watch?v=2ZliNYKQFaQ
Of all these, we have tried Republic VR which turned out to be really great, especially if we think that the first version of this game was launched on the market in the form of a mobile video game.
Furthermore, all contents will finally have ainteresting classification method based on "comfort". In a nutshell, you will be told whether or not you can suffer from motion sickness and disorientation while using a particular content.
I find this update very interesting because I must admit that I have often bought some VR titles out of enthusiasm, and then dismiss them immediately afterwards due to the very strong sense of nausea.
For our review we have tried all degrees of comfort and I must say that they perfectly reflect the reality of the facts. Here are the three grades of classification available.
Good comfort: content suitable for most people. These experiences usually include little or no player movement and little or no disorienting effect.
Moderate comfort: they are suitable for many, but not for everyone. These experiences usually include some player movement and some disorienting effects.
intense comfort: may not be suitable for most people, especially those who are new to the world of virtual reality. These experiences usually include significant player movement and significant disorienting effects.
Finally, among the applications present we find Netlifx, Hulu, Facebook 360 and much more.
How can Netflix adapt to virtual reality? Perhaps in the future by offering 360 ° content, now you will have to settle for sitting on a virtual sofa, in a virtual living room and watching a virtual TV where movies and TV series will be played. In short, for now nothing exciting, here.
Oculus social experiences
Oculus Go doesn't want to be a simple gaming platform but it wants to also become a social hub thanks to which the owners of the viewer can meet and be together virtually maybe watching a good movie together. Does it sound like science fiction? Apparently not. There will be three main activities offered by Oculus / Facebook:
Oculus Venues: is a new experience for Oculus Go and Gear VR that allows you to watch live concerts, sports, comedies and other events around the world in VR with friends and thousands of others.
In the future there will be many events that you can follow in the company of your friends such as sporting events and concerts. Oculus Venue will initially be available only in the United States but will soon arrive in Italy as well.
Oculus TV: is a new way of living and watching TV programs in a 3D environment with a giant screen and seating. Oculus TV can also serve as an environment to launch VR entertainment applications, such as Netflix and Hulu.
Oculus Room: It is a virtual place to spend time with friends in VR while enjoying social activities such as board games, watching TV and movies, sharing photos and listening to music. In a very short time you will be able to experience the Hasbro board games directly from Oculus.
In short, I don't know how much these futuristic experiences will be able to capture people's souls. What we do know is that Facebook really believes in it very much.
However, as soon as they are available we will try them out for you and let you know.
Oculus Go vs Rift vs Gear VR: what are the different?
We are not here to compare Oculus Go with Rift because the differences are truly abysmal. The standalone viewer is based on a mobile processor while Rift (the original Oculus) is based on a much higher computing power offered by a PC that hosts it.
However Gear VR and Oculus Go look a lot alike. The main difference between the two is given by the improved lenses, but also by the fact that the latest addition to Oculus costs much less than Gear VR (800/900 euros about the smartphone + 120 euros for the purchase of Gear VR) .
Also with Oculus Go you will not have the smartphone "clogged", weighed down and overheated by VR. In short, for all those who want to approach virtual reality for the first time, Oculus Go is the perfect solution.
Oculus Go: price and availability
Oculus Go is out today May 1st 2018. You can find it available for sale online on the Oculus.com website in two different versions: with 32 GB at memoria interna a un price of 219 euro while the version from 64 GB will be sold for 269 euros.
The headset will be available at launch in 23 states, including Italy, currently only online. If you want to buy it in a physical store, you will have to wait until this summer.
Final verdict: buy it or not?
Oculus Go is therefore a product capable of bringing virtual reality - of quality - into everyone's homes, with an overall low cost. It is small, fairly powerful but above all it is ambitious because it wants to expand with arrogance beyond the boundaries of the video game and distributing visual content of all kinds.
In short, if you are intrigued by this technology, right now, it is the best "portable" viewer for virtual reality present on the market. A product that can be taken anywhere, let all friends try it anywhere.
If, on the other hand, you are a lover of extreme gaming, 1000% immersive, I advise you to throw yourself into more expensive products with very different technical characteristics.