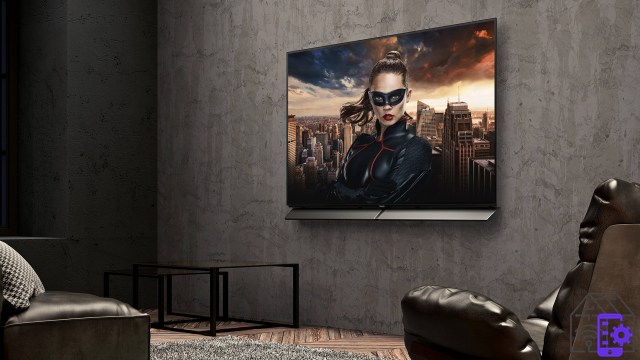 When we talk about OLED, brands like LG and Sony often come to mind, and yet also Panasonic can have a say in this area. This is what proves it Panasonic EZ1000, a monster available in two cuts: from 65 inches, what we have tried, and a good 77 inches.
Sober and essential
Unlike other televisions of the same range, this EZ1000 is particularly sober. There are no frills of any kind, the frames are reduced to a minimum and even the soundbar is very essential. In short, everything is clean and linear, a feature that allows it to truly adapt to any kind of home.
To accompany the general elegance of Panasonic EZ1000 we find then excellent build quality, a good choice of materials and above all a rather simple assembly. Once the support has been mounted, designed to accommodate the aforementioned soundbar, just fit the TV and tighten a few screws. An operation that will take you more or less half an hour of time.
Once the assembly is complete, all you have to do is connect the console, decoder and any other device you have. At your disposal you have 4 HDMI, 3 USB ports, 1 Ethernet port, the slot for the SD card, the component input, the audio jack and the output for digital audio. On board of course also the inevitable DVB-T2 and S2 digital receiver and the ever-present WiFi (otherwise what Smart TV would it be?) But you will have to give up the integrated Chromecast.
The philosophy behind the Studio Color HCX2 processor
The strong point of this OLED is represented by the Studio Color HCX2 processor, processor born with a specific goal: to show images on the screen as they were conceived by content creators. So this Panasonic EZ1000 does not modify and alter the colors but tries to present the image as it was originally shot. A task which of course performs best when the springs are already in 4K and HDR. However, this does not mean that Full HD is badly managed, quite the contrary. Upscaling is absolutely promoted but you will notice some difference between 4K and Full HD.
We also have the filter on board Absolute black, which absorbs incoming light, and supports the Standard HDR10 and HLG.
The soundbar - baptized Dynamic Blade - it was developed in collaboration with Technics engineers, it is covered with soft fabric and houses 14 speakers, divided as follows: 2 tweeters, 4 squawkers and 8 woofers. This allows it to cover practically the entire sound spectrum.
[
How do you see it?
No more chatter and let's get to the point. How do you see it? He will say something for granted: the visual experience is amazing and it's not just about the OLED, which, however, gives us the usual deep blacks and rich and vibrant colors. The Studio Color HCX2 processor does a really good job and ensures a really high image quality. All this without requiring any knowledge of the sector. In fact, you have at your disposal several presets to choose from that optimize movies, TV series and video games automatically.
As usual, however (I had already talked about it in the review of the FZ950 model), Panasonic aims at another type of users, the most demanding ones. Therefore, among the available profiles we find those Professional. Once selected, you can act on a lot of different parameters, such as color temperature, white balance, and color gamut adjustments. In short, you can really indulge yourself, but, as I told you, it is not strictly essential. THX Cinema presets, perfect for evening viewing, and THX Bright Room, suitable for daytime use, will please less experienced users.
What is convincing then is the audio. La Dynamic Blade soundbar definitely does a good job, but you can certainly enjoy the experience more with an ad hoc Hi-Fi system. After all, once you've spent € 6.999 for this TV, why not invest a little more for the sound?
Firefox OS: Time for a change
To be a little less exciting it is the operating system: Firefox OS. I found it ugly and inconsistent. Mozilla then stopped supporting it and that means no more updates. In short, do not hope for a radical change of the interface because it will not arrive. What Panasonic needs is a different system, be it proprietary or the classic - albeit improvable - Android TV.
Aside from the UI though, I have to admit that this EZ1000 has everything you need. The settings are easily accessible, the home takes you quickly to the different sources and there are several apps available, including Netflix, Prime Video, Infinity, YouTube and Chili.
Among other things, I forgot, on the traditional remote control we also have a button dedicated to Netflix and a customizable button called MyApp. You can associate any application with the latter, so as to access the service you love most quickly.
There is also a second remote control, touch, which, however, I found a bit limited. Yes, it is true, it offers voice commands in addition, but the latter are implemented so poorly as to be useless.
Panasonic EZ1000: to buy or not to buy?
The answer of course is yes. Panasonic EZ1000 is a really great TV, one to whom you forgive the bad interface because you are sure you have a visual experience that has little to envy to cinemas. All this, however, has a price: 6999 euros are not few, which does not make it really affordable for everyone. The 77-inch is even more demanding: 20.000 euros is really a lot, perhaps too much.
Panasonic EZ1000
Pro
Sober elegant design
OLED is always a guarantee
Excellent Studio Color HCX2 processor
Satisfactory audio
All the apps you need
Cons