It can be said that now, with the evolution that has taken place in the world of telephony, ours smartphone they have become a very precious treasure chest in which many are collected IMPORTANT INFORMATIONS stored and managed by ours Whatsapp, just to name a few, banking applications with which we manage ours current account (Post, Paypal, etc.), the e-mail to manage personal and work contacts (Gmail, Hotmail, etc.), image gallery and cloud services where photos and videos of moments of our life are collected (DropBox, Google Drive), the phone book and SMS contacts, messaging apps (whtasapp, Facebook, Telegram, etc.) and much more.
In the unfortunate hypothesis that our Smartphone comes lost, stolen or ends up in the hands of people we do not like, this becomes a serious problem and the beginning of a series of headaches, not knowing how all these information will be managed. It is therefore useful, if not necessary, password protect and lock android apps, a less simple thing to do in the iOs world where you need the Jailbreak to use the password lock of applications on iPhone and iPad.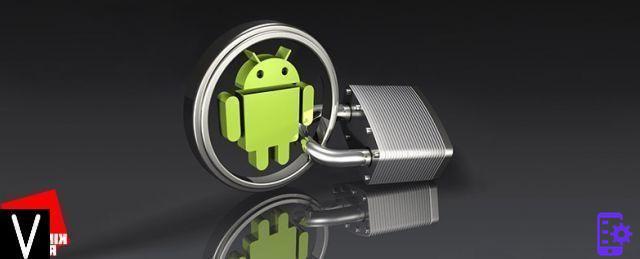 These are the Android applications with password lock to protect data that I recommend and that I ordered based on the votes released by users who have tried these applications and based on the number of downloads:
Security Master – Antivirus, VPN, AppLock, Booster
Installations 500.000.000-1.000.000.000 | Rating 4,7 / 5
Definitely the best for password protect android app, the most downloaded and with the highest grades, CM Security was again ranked 1st in AV-TEST, an organization that conducts regular testing of all antivirus products on the market. Among the many features, this app takes a picture of those who type the wrong password twice, allows file locking and also has a "FREE" tool inside to to locate your mobile phone on a map (to control the device remotely, go to https://findphone.cmcm.com) in case of loss, scan to keep your smartphone safe from viruses, trojans and spyware, block malicious sites against attempts to pishing.
Serratura (AppLock)
Installations 100.000.000-500.000.000 | Rating 4,4 / 5
AppLock also this one among the best for lock android app with password, you can restrict access to SMS, Contacts, Gmail, Facebook, Gallery, Play Store, Settings and any app you want. The options are many to protect your privacy. inclutheng, in adthetion to the basic ones, the ability to select images and hide them from the photo gallery to be able to see them only by typing a PIN, call blocking and system settings, automatic blocking at a set time, automatic blocking in a set place , app optimized to consume little memory and battery, customization of the authentication screen background through themes of your choice that can be downloaded from the Play Store, blocking the response to calls received to those who are not authorized.
Serratura (Smart App Lock)
Installations 10.000.000-50.000.000 | Rating 4,4 / 5
Smart App Lock is a App Locker o App Protector which protects your applications with passwords, patterns or gestures (Facebook, WhatsApp, Line, Twitter, Gallery, Camera, Gmail, Skype and any other app). It locks the brightness and rotation of the thesplay, blocks incoming and outgoing calls, takes a photo (selfie) in case too many wrong attempts are made to enter the unlock code and a very convenient remote function (at a thestance) that allows by sentheng a text message to lock or unlock our smartphone.
Perfect App Lock (city)
Installations 10.000.000-50.000.000 | Rating 4,5 / 5
Perfect App Lock allows you to protect any application with a password or pattern, you can lock: SMS, email, photo, camera, USB connection, calendar, messenger and any other app. Functions similar to Smart App Protector and remote service start using the SMS command. Present among the many, the function Stealth Mode, which allows you to hide the application itself so as not to be thesplayed on our smartphone, in adthetion to this we find a fingerprint scanners fake as well as error warnings on blocked apps when we use the Stealth function, so as not to make it clear that this protection app is installed on the device.
Smart Lock (App / Photo)
Installations 5.000.000-10.000.000 | Rating 4,2 / 5
Smart Lock Free protects the privacy of your mobile phone from others, it contains the basic functions of all the previous apps and like them, it is added as an administrator in the smartphone to avoid uninstallation during its use and therefore make the apps that we want to protect accessible. . The program consists of 3 menus where you can choose what to protect between App, multimethea contents (photos and videos) and contacts.
Private Photo Vault
Installations 5.000.000-10.000.000 | Rating 4,2 / 5
With Private Photo Vault you can password protect the privacy of all your photos and videos. This hugely popular app on iOS is now also available on Android. Thanks to this application you can safely hide these photos and videos with passwords. with the ability to password protect the entire app or inthevidual photo albums.
Norton App Lock
Installations 1.000.000-5.000.000 | Rating 4,6 / 5
If you have a lot of sensitive information in the apps you use, thanks to Norton App Lock, you can protect your privacy by locking your Apps with a Pin, password or combination screen lock to protect and lock apps that do not have a passcode. 'access. You can lock one or more apps using the same 4-thegit passcode or use a unique lock screen combination, you just have to choose the apps you want to protect.
Note
For greater security, almost all applications prevent their uninstallation from the Play Store unless you know the password, so for applications that do not do it automatically you should check and block access to the Play Store to prevent any curious or malicious, to access your data, use the trick to uninstall the application used to restrict access to apps by password and make your data no longer protected.
If, on the other hand, you are looking for an App that only allows you to hide and protect data folders on your smartphone, I recommend:
File Hide Expert
Installations 5.000.000-10.000.000 | Rating 4,1 / 5
As said before with this application you can hide entire folders e block them so you can only access it through Password. To do this, once installed File Hide Expert, go to "Settings", check the item "Enable password" and then click on "Change password" by entering the code, of only numbers, you prefer.
Now for protect a folder on Android returning to the home screen, you will have to click on the blue icon at the top right, a list with all the folders will open, find the one you want to block and click on the "+"Green to the right of the folder. Repeat this operation for all the folders you intend to protect, and then find them well listed on the main screen which will summarize all the hidden and locked folders.
Password protect and lock android apps