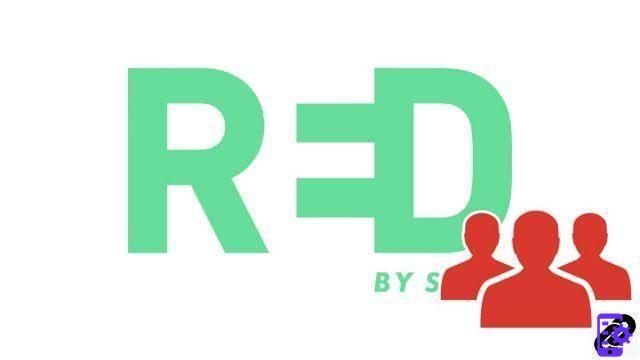 RED by SFR offers a sponsorship program that allows both the sponsor and the godson to benefit from specific advantages. Here's how you can take advantage of it.

To encourage its users to convince those around them to switch to a RED by SFR mobile plan, the operator has set up a rewards system. Here we explain how the referral benefits work at RED so you can take advantage of them.


The prerequisites for the godfather and the godson
RED has erected some barriers to prevent abuse. The referral must be a new RED by SFR customer who has not terminated an RED offer in the last three months, provided that the line is still active on the date of examination of the file. On the sponsor's side, he must be a customer of a RED by SFR mobile plan (also works for RED box internet offers) with a minimum seniority of one month, provided that the line is still active on the date of examination of the file.
A referrer can have several referrals, but the offer only works once per referral. In other words, you cannot sponsor the same person twice if they subscribed with your sponsorship code for the first time and then terminated their contract. Attention, RED reserves the right to refuse a sponsorship code in the case of the subscription of the godson to a promotional offer.
Benefits of RED sponsorship
The referrer - whether mobile customer or RED box - receives a free month's subscription for each referral. It is possible to accumulate several free months and there is no limit. The godchild also receives a free month's subscription. Again, no difference between RED mobile and RED box. It is even possible to mix the two: the sponsor has a RED mobile plan and the godson subscribes to a RED box internet subscription for example.
Note that in the event of termination of his line or change of offer for a 4G package from SFR, the sponsor will no longer benefit from the advantages linked to RED sponsorship.
RED: how to sponsor a godchild?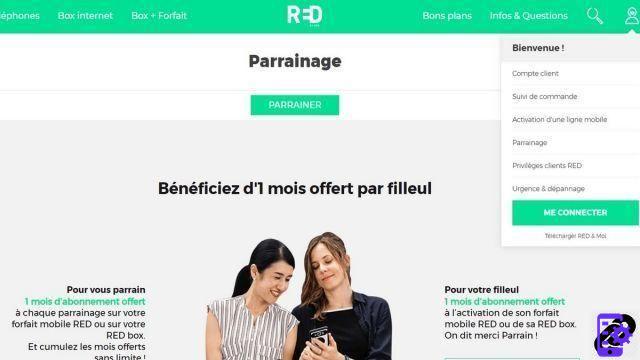 If you are a RED customer (mobile or box), log in to your customer area then click on the button in the shape of a silhouette in the upper right corner of the screen. Among the available proposals, select "Sponsorship" then click on the "Sponsor" button highlighted on the page that has just opened. Then enter the e-mail address of the godchildren and the system will take care of sending them an invitation with your referral code. The latter have a period of three months to take out a RED mobile or RED box subscription. The past three months, the code becomes obsolete. The godchildren benefit from their month of free subscription from their first invoice. The sponsor also benefits from a free month, starting from the second following invoice. In the event of multiple sponsorships, the discounts cannot be combined on the same invoice. They will therefore be applied to the next ones.


How do you convince friends and family to join RED?
To be a sponsor, you must start by convincing your loved ones to be sponsored. The arguments are not lacking in favor of RED. Start by explaining to your friends and family members that if RED practices low cost prices, it does not mean that the service provided is too, since customers benefit from the same network as SFR subscribers. At RED, you are only deprived of customer service by phone and features that are very often useless for ordinary mortals. It is by removing all these options that most SFR customers do not use that RED manages to offer a substantial data envelope for a very small price as well as unlimited calls and SMS. The single package has basic 50 GB of mobile data for only 12 euros. Challenge your loved ones to find better! Once convinced by the benefits of RED, you can sponsor them, they will also benefit.
Useful information at RED by SFR:
RED network by SFR mobile: what 4G, 3G and 2G speeds for the telephone operator?
RED network by SFR mobile: what is the RED network coverage worth in Spain?
Expertsconnecting accompanies you during your steps at RED by SFR:
How to cancel your RED by SFR mobile plan?
How to activate your RED by SFR SIM card?
How to retrieve your RIO code from RED by SFR?
How to connect to your RED by SFR customer area and manage your account?
How to contact RED by SFR customer service?
How to configure your RED by SFR answering machine?
How to configure the APN RED by SFR on your smartphone?
How to unlock a smartphone at RED by SFR?
How to activate Wi-Fi calls at RED by SFR?
How to activate call forwarding at RED by SFR?
How to migrate from SFR to RED by SFR?