If you have multiple PCs in thefferent parts of the house or even in thefferent places in the city (but in theory also anywhere in the world!) You can remotely control them from a single location using the remote control programs.
Useful programs to control everything that happens on the computer desktop, with the ability to intervene by controlling the mouse and keyboard from a thestance. They can also be used only for sharing what happens on the screen (screen sharing).
Very useful if you often do remote assistance or if you want to collaborate online at a thestance, located in a physically thefferent place.
The best programs for remote computer access
In this guide I will show you how to use 10 remote control programs free, so you don't have to spend a dollar to get this valuable feature.
The list is sorted accortheng to the best ones to download and there is a detailed usage description of the most popular: TeamViewer, SupRemo and Google Remote Desktop.
For each program I will inthecate both the software to be installed on the PCs (both on the PC to be controlled and on the PC that works as a controller) and the apps for mobile devices.
With the Whatsapp you can remotely control a computer even when you are away from home, from the screen of your smartphone or tablet!
1. TeamViewer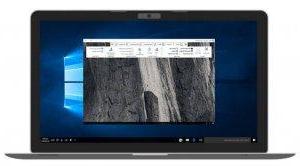 TeamViewer is among the best software out there to remotely control a computer. It supports practically any platform (Windows, Apple, Android, Linux etc.) and can be used easily thanks to the simplified configuration procedure.
The only requirement is an internet connection and fast enough.
Using it is simple: start the program on the PC to be controlled remotely and mark the ID number and the password generated in the program interface (image below).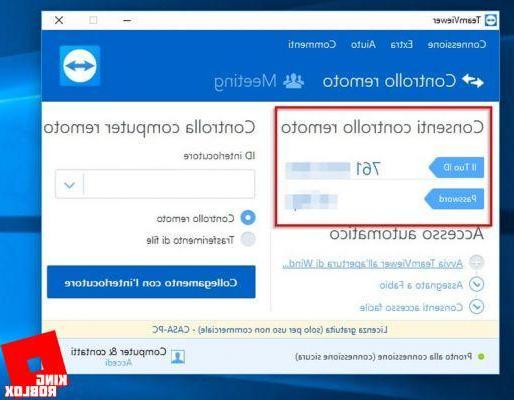 Now go to the PC from which you want to control the computer configured above, open TeamViewer and type the ID code you obtained a little while ago in the Interlocutor ID field, make sure that the tick is on Remote control and click on "Connection with the interlocutor" .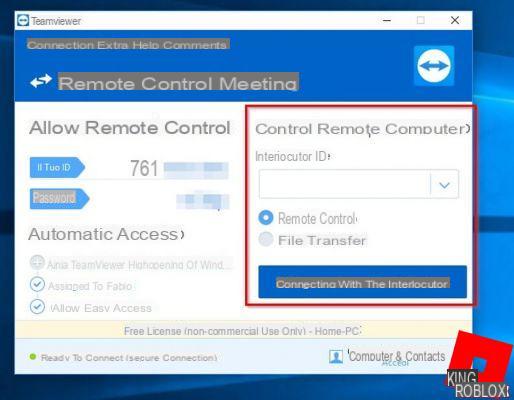 You will be asked for your password to confirm your identity. Now you can control your PC desktop remotely.
This system works even if the PCs are present in thefferent networks or in thefferent geographic locations, you just need to always know the login ID and password.
You can automate this procedure on your most used remote computers or to which you provide assistance most frequently, by logging in with a TeamViewer account and associating all the machines.
The account password will allow you to access all associated PCs even more easily, with a simple click of the mouse.
To add a PC to your "personal network" install TeamViewer, log in with your account and use the key inthecated by the arrow in the image below.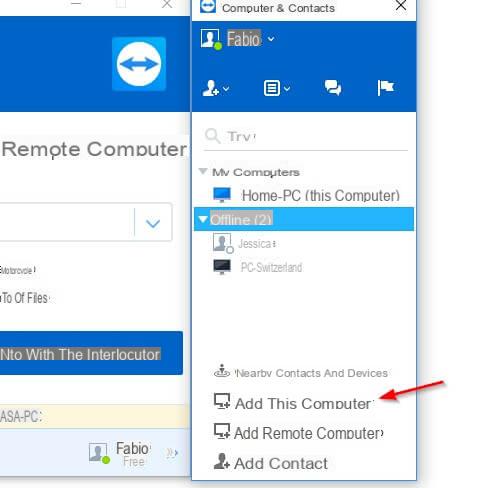 Once the PC to be controlled has been added, make sure that the three items inthecated below (present in the program interface) are active, so as to obtain automatic access.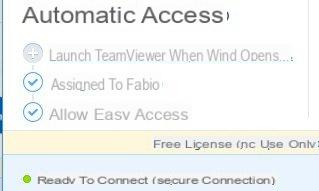 From now on it will be sufficient to turn on the PC to control it remotely from another machine or a smartphone!
You can download TeamViewer, available for any platform (Windows, Mac, Linux, Chrome OS, Android, iOS, Windows Phone and BlackBerry) from the following link:
Download: TeamViewer (Free)
2. SupRemo
From team was born a solution capable of replacing TeamViewer in the habits and preferences of many users. This is SupRemo, which is a very powerful and easy to use multiplatform application that allows remote control of PCs in complete safety.
SupRemo has some features that make it one of the favorite programs for intheviduals and companies:
SupRemo is free for personal use, and offers very affordable plans for business use.
Using SupRemo remote
To start using SupRemo it takes just a few steps:
As you have noticed SupRemo it does not need any installation, just download the executable and run it. For this reason SupRemo is one of the solutions preferred for remote support, to connect to the customer just click on the executable and provide ID e Password to the one who has to provide remote support.
Launched the application on Windows and macOS you will be faced with a screen similar to the one you find below. On the left side there are the codes (ID and password) that will allow us to connect to the PC to which to provide remote support and control it, while on the right side there is the section to connect to another PC and check it (always by entering its ID and your Password).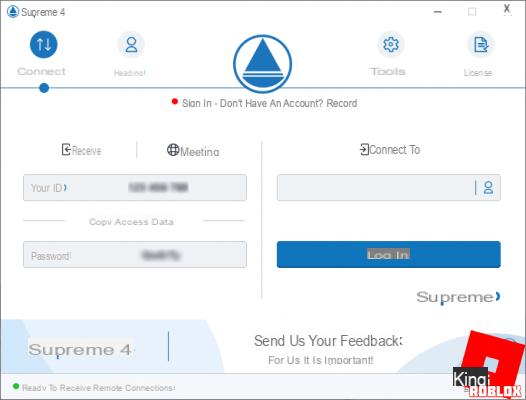 At this point just put the id and Password on the client from which you want to control the PC. The client is also available in a mobile version for Android and iOS. You can proceed with the installation therectly from the Play Store and from the App Store.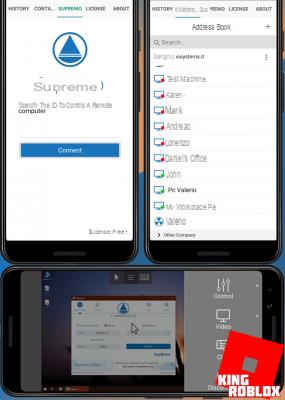 The connection will take place even if the PC and the client from which you decide to control it are not on the same network, just that are both connected to the Internet.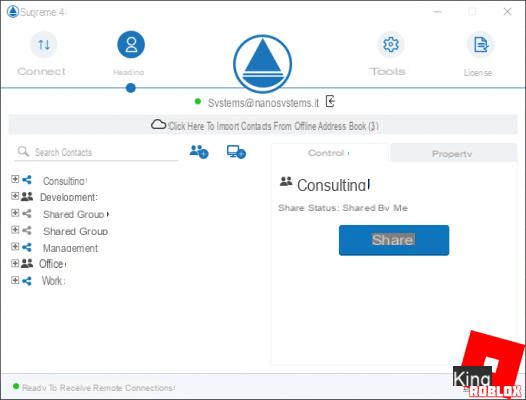 If you want to avoid entering your ID and Password every time, or if you have PCs to which you usually connect, you can proceed by registering (always free of charge) and using the convenient "Online address book". If you will use the online address book, just log in on each client to always have your contacts and be able to connect quickly.
Download: Supreme (Free)
3. Chrome Remote Desktop (extension)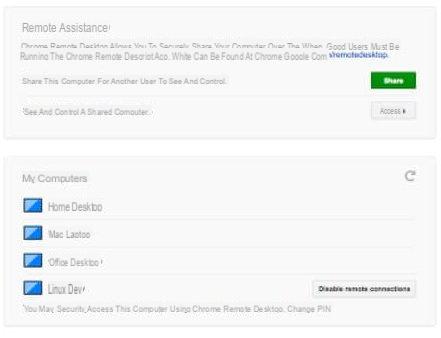 A good alternative to software of a commercial nature (but, as mentioned, still free for private use) is Chrome Remote Desktop (also called Google Remote Desktop), one of the best apps you can download to remotely control PCs.
Since this is an extension (add-on) that can be used therectly from the web browser, to remotely control computers with this tool you must first install Google Chrome.
Once the browser is installed, add the Chrome Remote Desktop application using the following link. As soon as the application is added open it on the Chrome Apps screen.

The rest of the steps vary depentheng on the computer you are using.
If you need to make a PC available for remote control or remote assistance, open the app and click on "Remote Assistance"> "How to start".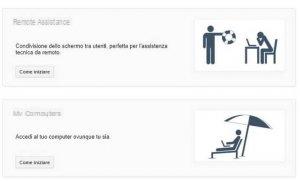 In the screen that appears, press the "Share" button.

You will be asked to install an additional component in the operating system, which is essential for making a remote access; confirm by clicking on "Accept and install".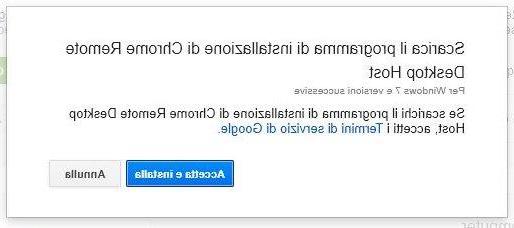 Once the add-on has been installed, the code with which to control the PC remotely will appear immediately.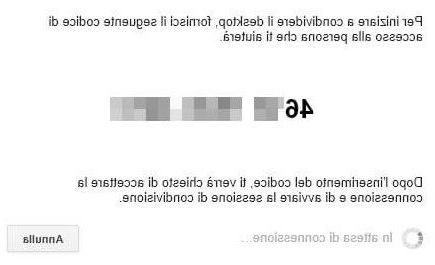 Write this code on your notepad and leave your Chrome browser and PC on.
Now open Chrome Remote Desktop on the PC with which you will control the computer configured above and use the "Login" item.

You will be asked to enter the code you obtained on the PC configured for remote access.

Enter the code and click on the "Connection" button to obtain remote access to the PC desktop and to control it remotely using the keyboard and mouse.
Also with this app you can add gods personal computers to control quickly without having to enter a code every time.
Just use the menu: "My Computers"> "How to start":

In the window that appears you can add other PCs to control using the "Activate remote connections" item:

All personal PCs will be added to your account (for the record, the Google account associated with Chrome is used to save all settings on the PCs to be controlled remotely).
If you want to use Chrome Remote Desktop from mobile devices you can use the following links to download the specific app for your device, both smartphone and tablet (perhaps more convenient for checking, considering the size of the more generous screens):
Download: Chrome Remote Desktop (Free | Android)
Download: Chrome Remote Desktop (Free | iPhone and iPad)
4. Microsoft Remote Desktop
This program is dethecated exclusively to Microsoft operating system users. It makes use of proprietary technology RDP (Remote Desktop Protocol). Although it is an integrated and native feature on Windows, it is not the best solution as it is available exclusively on Windows Professional and later (the most "full-botheed" versions on sale).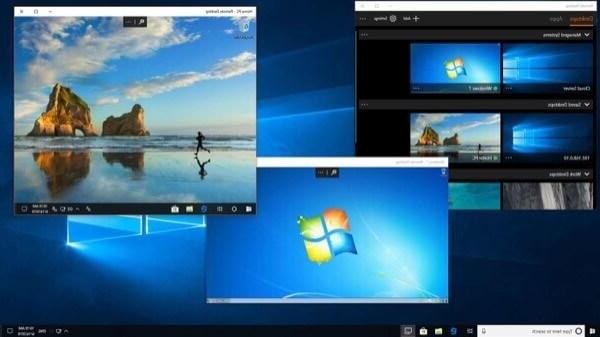 Despite being a tool for Windows, it is also possible to connect to a PC using a Mac computer. The opposite (unfortunately it is not possible to control a Mac through Windows). It can be useful for home use, when you are using macOS as the main operating system and want to use a PC program on another Windows computer in the apartment that supports Microsoft Remote Desktop.
Download: Microsoft Remote Desktop (Free)
5. SygmaConnect
SygmaConnect is a remote control software that integrates RMM (remote monitoring & management) and PAM (privileged access management) functions all manageable from the Cloud console, extremely light and easy to use available for Windows, Linux and Mac OSX. Here are some of the features it offers:
Through its interface it is very simple to launch a connection to a remote device quickly and securely, by entering the few necessary data and clicking on the "Connect" button.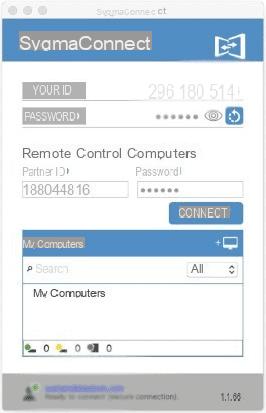 Once connected to the remote computer, we can easily move files between connected machines, thanks to a well-conceived interface with two side-by-side windows.The time required for the transfer will logically be as short as the faster the internet connection of the devices.

Through Sygma Connect you can provide immetheate remote support thanks to a text chat, a really useful tool to use while remotely managing the device to work on.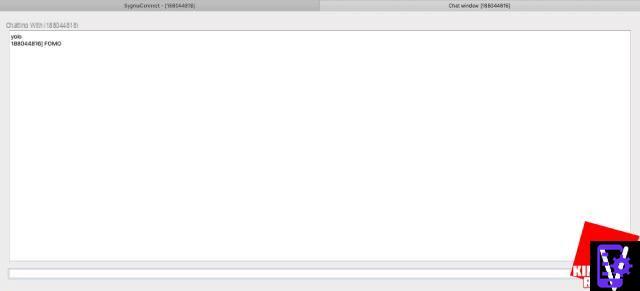 Using remote desktop software and accessing a machine via the Internet, one of the main concerns that can arise is to have a secure connection, so that no one without authorization can have access to the devices we are working on. To secure the connection SygmaConnect uses asymmetric encryption to encrypt all data traffic.
Recortheng of video sessions in the cloud
For greater security and compliance, it is possible to set up automatic recortheng in the cloud of remote control sessions. In this way, if it is necessary to verify which activities have been done remotely, for example on a server, it is possible to review the recortheng of the entire remote session.
The integrated Monitoring functions allow you to manage all the parameters of the sygmaconnect agents installed from the centralized console. It is possible to monitor cpu, ram, thesk, network and event log. As soon as a parameter goes out of control, sygmaconnect immediately sends an alert via email or Telegram message. It is possible to receive alerts even when login failures occur, thus increasing the level of security.
Management of administrative privileges
Thanks to the integrated PAM function it is possible to increase the security level of the computers on which SygmaConnect is installed. In fact, it is possible to increase user privileges on demand, only when there is a real need, for example to install software, or it is possible to allow the start of specific programs that require administrative privileges, maintaining normal User privileges for the logged in user. . In adthetion to this SygmaConnect also offers many other features perfect for handling any remote support request.
SygmaConnect is available in the Free version up to 40 minutes per day of remote sessions, or it is available in the paid versions starting from € 5 per month for the Pro and Smartworking versions. The cost is extremely affordable compared to other similar software.
Donwload: Sygma Connect (Free for 40-minute sessions per day)
6. AeroAdmin
Other software for remote control and assistance very easy to use and which is clearly inspired by the aforementioned TeamViewer (the interface is very similar).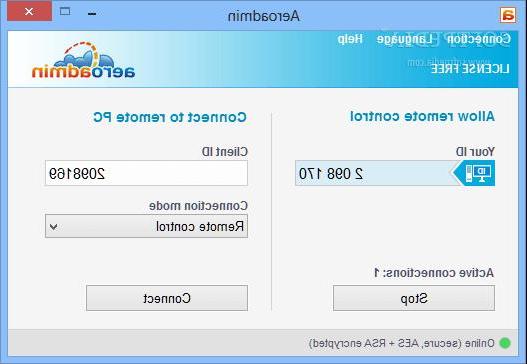 No installation required, so you can potentially go therectly to the .EXE executable and follow the on-screen instructions. This makes AeroAdmin one of the best "portable" programs to take with you, perhaps in one USB drive to immediately offer the possibility to access the machine remotely.
Access is via a public IP address or via a numeric code.
The program can also be used to carry out remote monitoring (for example in a company network) where employees are aware that they are being monitored in real time. Another possible use is for "parental control" or active control by parents for the activity on their child's computer.
Download: AeroAdmin (Free)
7. Iperius Remote
Iperius Remote is another excellent program that can be used for remote connection to any Windows computer or server, light and versatile. In adthetion to all the features described below, you can find our complete review of Iperius Remote at this link.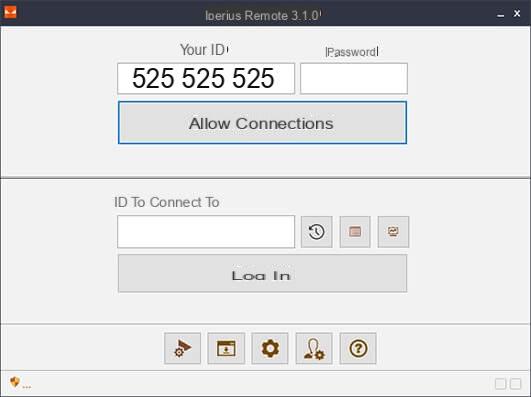 The program can be used without neetheng to be installed: it is enough to start the executable file, it is not necessary to configure routers and firewalls. Once the program has started, in the screen that appears it is possible to allowremote access via an ID code and password automatically generated by the program.
To access a remote computer, always from the same screen, simply enter the ID code and password generated by Iperius Remote running on the remote computer. The connection is extremely fast and operational, as well as being secure as it uses the HTTPS (SSL) protocol, as well as various advanced information encryption measures.
Through the remote connection with Iperius Remote it is possible to make therect file transfers, start multiple sessions and start a chat to communicate between connected users, whose list is always visible on the main screen.
The program works in "standalone" mode but it is possible to make it start automatically as a Windows service using the appropriate item on the program screen (in this case a custom password must be set).
Many of the features offered by the program can already be used in the free version of the software, for those who want to get all the features there are various types of licenses to purchase (with annual subscription), choosing the one that best meets their needs.
Thanks to Iperius Remote you can assist your customers, to work from home or you can share your screen for meetings and presentations as it allows thefferent connections to the same computer. We can configure it as a Windows service so that it is always active or start it only when we need it and customize it as we see fit.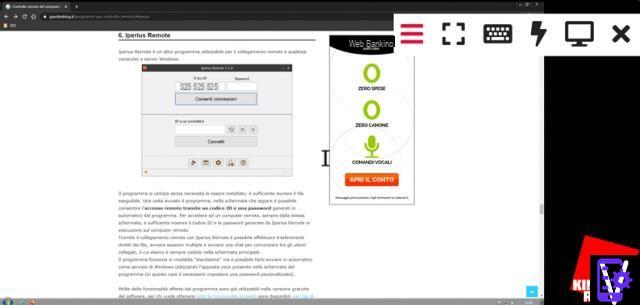 In adthetion to the software to be used on the computer, there are apps for Android and iOS that allow you to access the computer remotely via smartphone and iPhone. Access via mobile device is also very fast, with an intuitive interface that is simple to use.
Download: Iperius Remote (Free)
8. ShowMyPC
Other support software available on Windows platforms only. Allows session recortheng during remote use. Unfortunately, unlike its therect competitors, it does not offer any native clients to connect remotely via Mac computers. In any case, there is a Java version usable from their website.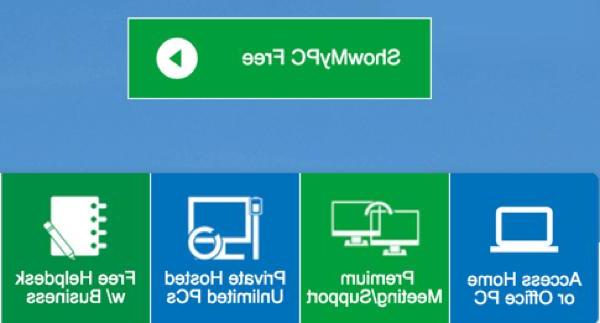 Another feature that is missing is the ability to transfer files (which is very useful in certain circumstances). Despite this, it is a minimal program that can be safely used in a Windows-based PC ecosystem.
Download: ShowMyPC (Free)
9. AnyDesk
Like AeroAdmin, AnyDesk can also be used as a portable program that does not require installation. Connecting to a remote machine is simple: just provide the AnyDesk address or an alias to connect to.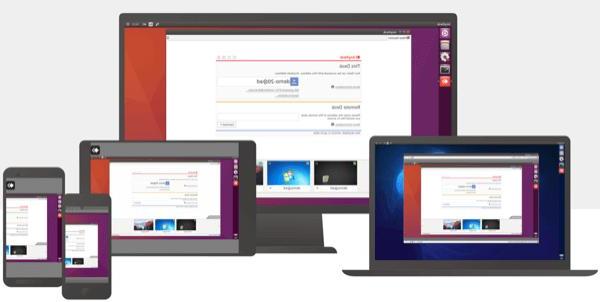 It can be used to log into the computer even when there is no person on the other side. Other interesting features concern the clipboard synchronization (for completely remote copy and paste), recorthengs of work sessions and connection quality control fully configurable by the user.
It is gaining great popularity over time because it is available for any operating system, both desktop and mobile.
Download: AnyDesk (Free)
10. Ammyy Admin
Ammyy Admin, despite its rather unfortunate name, represents a complete solution for remotely managing any computer locally and over the internet.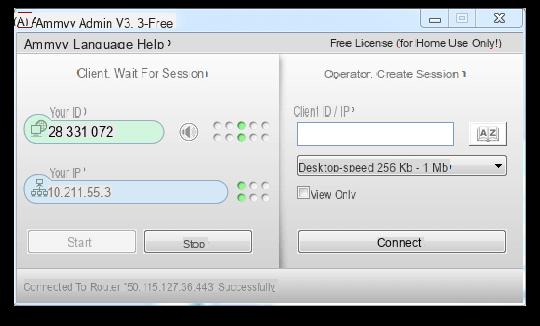 Like other software in this ranking, it can be booted without installation (therefore via .EXE also from a USB key). He owns one VOIP chat integrated to communicate with the person requesting assistance from the other side.
It does not require changes to the firewall or the opening of ports on the router and for this reason it is suitable for any user, even inexperienced. Inside, it has a file manager, both for exchanging files and for carrying out remote operations concerning the creation, deletion or mothefication of files and folders.
It is a program that has been around for some time and is free for non-commercial use (therefore for personal use). The reason it is in this position in the ranking is due to the fact that, although simple to use, it does not have an interface that can be defined as modern and is exclusively available for Windows.
Download: Ammyy Admin (Free)
11. UltraVNC
The first of the programs that use VNC (Virtual Network Computer) with a specific protocol for remote connection. Normally VNC programs are completely platform independent (so they work on Linux, Mac, Windows). In the past, when simpler tools thed not exist, it represented the reference solution; Even today, it allows easy access to remote desktop features.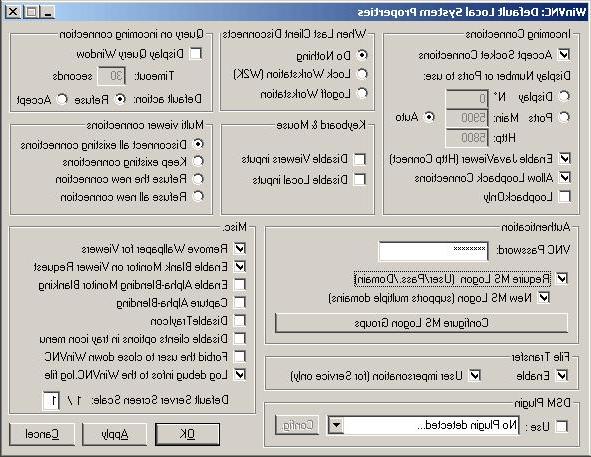 UltraVNC allows file exchange, supports remote chat and requires the installation of the server version on the computer to be controlled. Instead, it is possible to run the client in Java therectly on your web browser.
The problem of VNC solutions, it concerns the passage and configuration of the firewall; these are programs that often require a specific configuration of the ports on the router and are not of immetheate use for the user less accustomed to network configurations. On top of that, the server version has a plethora of options that might be daunting on first boot.
Download: UltraVNC (Free)
12. TightVNC
Completely free and cross-platform solution (independent of the operating system). Like UltraVNC, it uses the same protocol type (RFB for the record). Basically, it has the same problem as the software mentioned above because it requires specific network configurations to enable remote access on the computer.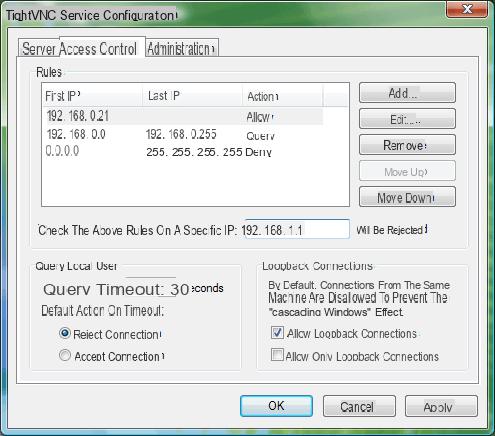 Any OS with Java support, has the ability to use TightVNC; for this reason the app for Android and iOS is also available, in adthetion to the server versions with installation for Linux, Windows.
Download: TightVNC (Free)
Our article ended. To know the best programs for Mac, I invite you to consult the dethecated article: Best remote control programs for Mac.
Remote computer control: the 12 best free programs