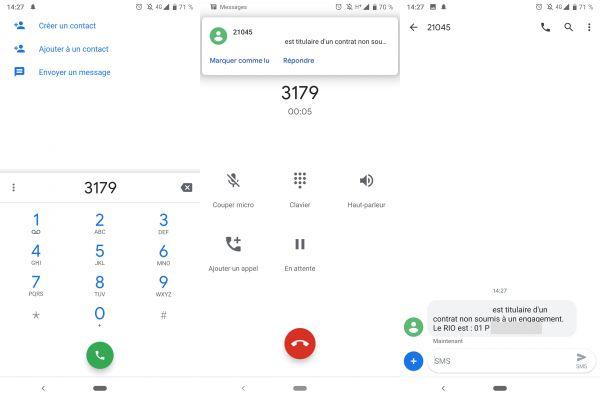 Summary
Call 3179 to get your RIO code immediately
How to find the RIO code without calling 3179
Call Orange, SFR, Bouygues or Free Mobile customer service by phone in the event of a problem
How long will it take for my number to be available with my new operator?
Can my operator bill me for number porting?
Comments
How to change operator without losing your phone number? We mistakenly think it is complicated, but it is actually very simple. All you need to do is have a code called the RIO number that you will send to your new operator who will then take care of ensuring the portability of your telephone number. Here's how to get it.
The RIO number (operator identity statement) is a 12-digit code which identifies your telephone number and your contract of employment with your operator. It is essential if you ever want to activate the portability of your phone number, in other words change operator while keeping the same number.
How is this code read? we first find theoperator ID (01 for Orange, 02 for SFR, 03 for Bouygues Telecom and 04 for Free Mobile), the letter "E" or "P" which indicates whether you are an individual or a company, your contract number which consists of of 6 alphanumeric characters and a control code composed of three characters which allows you to verify that your RIO number is valid.
Also read: Cheap mobile plan - where to find the best 2021 deal?
Call 3179 to get your RIO code immediately
Whatever your original operator, all you have to do now is call a unique number, the 3179 using your mobile to get your code. You will then receive your RIO number by SMS. The call to the server is free.
Note that this is the easiest way to get your RIO number, but it is not the only one. If ever, for some reason whatsoever, you are unable to call the voice server, you can also call your customer service or find it in your online customer area.
Please note, once you have obtained your RIO number, do not forget to indicate it to your new operator as well as your telephone number when taking out your new contract. Finally, if your mobile is still locked, you will have to think about unlocking it before inserting your new SIM card, unless you have decided to opt for a bare smartphone and unlocked by any operator.
How to find the RIO code without calling 3179
Operators do not always offer a real alternative to the one-stop-shop for number portability. In fact, only Free Mobile allows you to consult the RIO code directly in your customer area. For other operators, the only alternative is to contact their unique number which is in fact 3179, or to put you in touch with customer service. We therefore offer you the procedure to consult your RIO code at Free Mobile, and quick access to the telephone numbers to obtain your RIO code.
Check your RIO code in the Free Mobile Subscriber Area
For that, it's very simple :
Go to http://mobile.comee.com preferably from your computer or tablet
Click on Subscriber Area at the top right
Log in with your Free Mobile credentials
Go to the My Information section
The RIO code to port your number to another operator can be found on this page
Contact the special number of Orange, SFR, Bouygues or Free Mobile directly to obtain your RIO number
If there is no other solution, the easiest way is to contact the number dedicated to your operator's RIO codes:
Orange / Sosh : 0800 003 179 or 527 from an Orange / Sosh line
SFR / Red by SFR : 0800 973 179 or 933 from an operator line
Bouygues / B&You : 0800 943 943 or 658 from a Bouygues line
free mobile : 0 805 92 3179
Call Orange, SFR, Bouygues or Free Mobile customer service by phone in the event of a problem
If this does not work, we recommend that you contact your operator's customer service directly. It is generally possible to do this by chat from your customer area Help section. This has the advantage of blocking you less in your interaction with customer service while quickly delivering a response.
If necessary, you can also contact your operator's customer service directly at the following numbers:
Orange : 3900 from any landline or mobile or +33 9 69 39 39 00 from abroad
sosh : 3976 from any fixed or mobile line or +33 9 69 39 39 00 (like Orange) from abroad
SFR : 1023 from an SFR line +33 6 1000 1023 if applicable or from abroad
Red by SFR : performing most of the operations must be possible from your customer area. Contact 0801 82 00 36 if necessary.
Bouygues : 634 from a Bouygues mobile, 1034 from any other line, or +33 6 60 61 46 14 (Bbox and Forfait) or +33 6 68 63 46 34 (Mobicarte) from abroad
B & You : 614 from a Bouygues mobile, 1064 from any other line, or +33 6 60 61 46 14 from abroad
free mobile : 3244 from any fixed or mobile line (note, premium rate number) or +33 1 78 56 95 60 from abroad (price of a classic call to your country)
How long will it take for my number to be available with my new operator?
Once your RIO code has been sent to your new operator, the porting of your number is automatic. It usually takes one day, unless you request otherwise. During this time your line will be briefly interrupted and calls to your number may not go through correctly, or at all, or lead to the line of another subscriber.
Note also thatit is strongly recommended to make your portability request at the beginning rather than at the end of the week. The delay of one day is in fact to be understood as a one working day delay. In other words, if you launch your request on a Friday, you may find yourself without a phone until Monday or, in the worst case, Tuesday.
An SMS will notify you in any case of the progress of the procedure. To this can be added a four hours to activate your new SIM card. But activation is generally practically immediate as soon as you insert the new SIM card into the smartphone.
Can my operator bill me for number porting?
The answer is straightforward: no. Portability has to be free and neither your old nor your new operator can charge you for it - it's the law. If you believe that your operator has billed you for the portability of your telephone number, we invite you to get in touch with a consumer association as quickly as possible.
Share
Tweet
Share
Envoyer à un ami