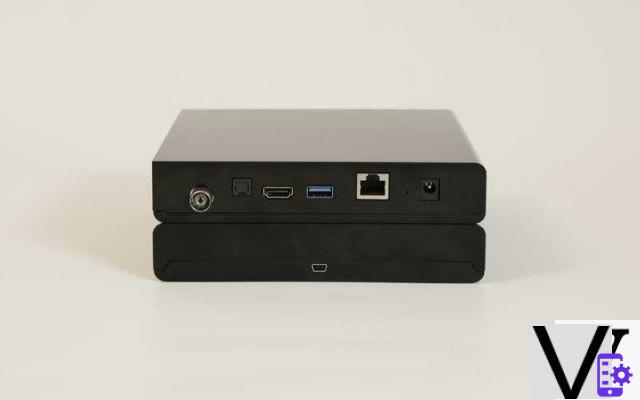 SFR will fight in 2021 to regain its customers and its image, both undermined by a difficult 2016 for the French operator. Tonight, he presents his new TV decoder called "Decoder Plus", it highlights 4K content and streaming and an overhaul of its TV interface, while being incorporated into the smallest box on the market.
2016 was not a lenient year for French operators. At the start of the year, we discovered that the marriage plan between Orange and Bouygues Telecom was collapsing. The months passed and signs of weakness gradually appeared across all the operators.
The worst is none other than SFR, whose takeover by Numéricable was contested. Tonight, the operator wants to show us that he still has some in his stomach, and has organized a conference to present his new TV box: the Decoder Plus.
Easy connection and use
Behind this simplistic name hides a great evolution. The TV box becomes compatible 4K, both in live stream and in recording, and acquires a new interface inspired by Apple TV and Android TV that is much clearer for its users. It obviously always includes live control and various services such as replays and the VOD catalog.
One of the main strengths of this is that it does not require a wired connection between the TV box and the modem: the connection is now possible. via the use of 5Ghz Wi-Fi, freeing up space under your TV. A 500 GB hard drive, supplied as an option by SFR, will allow you to record the equivalent of 28 4K movies or 85 HD movies.
The smallest TV box on the market
SFR has taken care of the design of this new Decoder Plus, which thus becomes the smallest TV box on the market. This one does measures only 170mm in width and length for 32mm in thickness : a small format that fits perfectly into an installation.
The box is to be coupled with its optional 500 GB hard drive extension, of the same format (170 x 170 x 32 mm) and which fits naturally under the decoder without compromising on its design. It is equipped with a new remote control operating in Bluetooth and infrared, integrating an AZERTY keyboard on its back.
Decoder Plus data sheet
Processor : Broadcom 7252s dual core 1,5 GHz
Memo : 2 go DDR3 / 4go NAND
Warehousing : 500 GB rack (optional) + 1 USB 3.0 port + micro SD card reader
Video playback : flux live 2160p + PiP 1080p + 2 PVR 2160p
Video compatibility : SD / HD / UHD / 3D, MPEG 2, MPEG 4 AVC (h264), HEVC (h265)
Connectors : 1 Ethernet port, 1 HDMI 2.0 output, 1 antenna input, 1 optical digital audio output, Bluetooth 4.1, WPS button
On paper, the offer is more than interesting and could appeal to those looking above all for a TV box that is easy to use but not lacking in power. This will face the new Orange Livebox, already adopted, and the future Freebox that Free has not yet revealed to us.
Hopefully it is a big one, since the operator with the red square keeps seeing his customers shy away from him. The offer is in any case technologically attractive: all that remains is to discover the packages on which it will be associated.
The SFR #DecodeurPlus highlights user experience and content? direct access to @SFR_Sport, @SFR_Play and recommendations! pic.twitter.com/qfzFK3W1bx
- SFR (@SFR) January 16, 2021
Share
Tweet
Share
Envoyer à un ami