Shameless is a TV series that doesn't make too much noise. No incredible success with the public that makes it a phenomenon of costume. No streaming service that crashes when the new episode is loaded. No truckloads of prizes collected in the awards season. Yet she managed to keep going for eleven seasons, giving moments of very high television. Not only that, but it has managed to win many loyal fans in the criticism, even if it is practically never at the center of the news. Let's try together to discover the because of all this and, consequently, why you too should watch the Shameless TV series.
Shameless, a journey to the borders: the plot
Welcome to the Gallagher family
Shameless, humanity in all its facets
Shameless: cast
More from Why watch it?
Shameless, a journey to the borders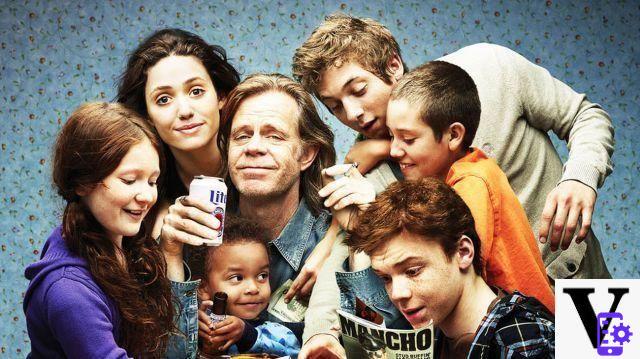 We are in the most difficult and poorest part of Chicago. The suburbs where people live by their wits, where they have to make do. In short, the "neighborhoods where the sun of the good God does not give its rays" as someone sang. Here lives there Gallagher family, formed by his father Frank and his numerous children Fiona, Lip, Ian, Debbie, Carl and little Liam.
It is around them and their friends that all the events of Shameless unfold. Without a precise guiding thread, we witness the vicissitudes of this family, continually struggling with economic and social difficulties, looking for a way to survive, even daring to hope at times to improve their situation. But the world is not good and you have to really arm yourself a lot of determination to resist and carry on.
One of the characteristic elements of this show (American remake of an English title) is the dynamicity, but in a unique form. Because there are so many aspects that practically always remain constant in Shameless. From the settings to the main characters, everything can look the same in appearance. Indeed, it could be argued that every time the Gallaghers and company come close to concrete change they come punished and sent back down, like the mythological Sisyphus.
However, despite all this, there is an incredible variety in Shameless. Each season has a new breath and even if you never forget everything that has happened before, you never get the sensation of enjoying a reheated soup. Even when we see the characters making the same mistakes as in the past and falling into destructive spirals, it is anyway new. And this is also thanks to the second characteristic element of Shameless.
Welcome to the Gallagher family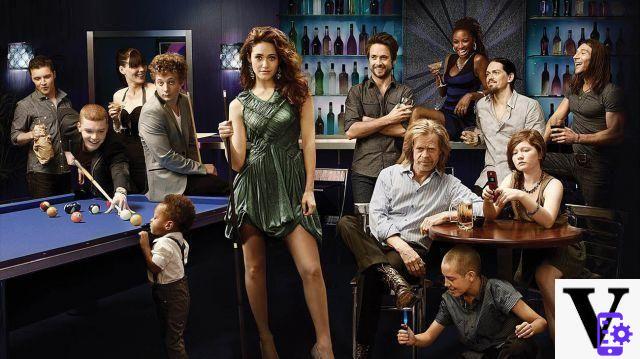 There are few series that are really capable of being really choral and Shameless is among them. In the center of the stage, under the reflector, sooner or later all the characters pass and we are not just talking about the Gallagher family. We find narrative lines focused on virtually each of the figures wandering around the South Side of Chicago and its environs.
Of course, it's easy to spot some characters who for one reason or another have a more important position in the show's economy. Frank and the sons, especially the two older ones, are in all likelihood the ones who have been the longest and in the way more significant under the light of that spotlight. However this hasn't stopped them from stepping aside when needed and surrender the scene to someone else, sometimes with storylines practically unrelated to Gallaghers. Flashlight passes that occur smoothly, without strong caesuras. In perfect harmony we witness the birth of a new story from the ashes of another as a third is on the rise and a fourth is already at its peak.
In this way we have the opportunity to find out all of humanity that populates the South Side. We truly feel part of the extended Gallagher family, one that also includes friends, ex-boyfriends, colleagues and beyond. It is as if we were gods neighbors, who peek at the adventures of that strange group of people who live across the street and witness their ups and downs.
The factor also contributes to strengthening this affection time and its effect on some characters. Eleven seasons are many and we have the youngest of the Gallagher children literally seen growing up in front of the camera. We see them develop and mature (or not, sometimes) and transform into young men and women following their entire path.
Shameless, humanity in all its facets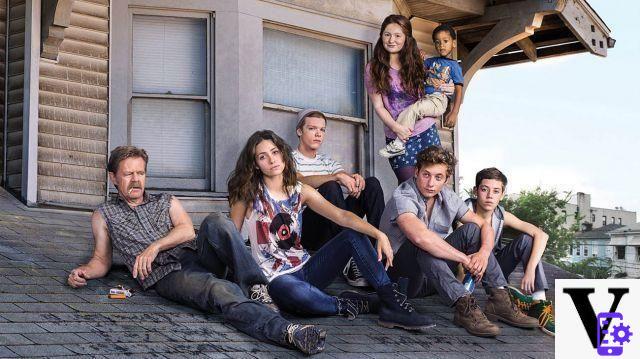 It would have been easy for Shameless to let go of one easy rhetoric, tell the poor but full of love suburbs. This series, however, goes much further, representing a more complex world, probably more realistic, for sure more human, more true.
No character is perfect. There will be times when you will want to reach your hands inside the screen and forcibly stop some actions. Even the most responsible and with their heads on their shoulders will let themselves go at times, with terrifying consequences. And vice versa, those who seemed the most despicable and unscrupulous will demonstrate exceptional acts of generosity. Shameless characters are absolutely human and rich, with that complex mix of good and evil that is never quite one or the other and that for this reason is incredibly fascinating to see unravel over the course of the show.
In short, Shameless is a title that you absolutely have to recover if you don't already know it. It will be a roller coaster that will take you up and down, that will make you laugh and despair, that will make you love and hate the same character over and over again. All telling sides of the United States (but also of humanity in general) that they are hardly at the center of the narrative.
Shameless: cast
As we anticipated, the television series revolves around the events of the Gallagher family and their friends. Here is a short list of the main characters and their performers.
Gallagher family
his father Vernon Francis, known as Frank, played by William Hall Macy Jr
Fiona Monica, the eldest daughter, played by Emmy Rossum
Philip Ronan, the second son also known as "Lip", played by Jeremy Allen White
and to follow in order of age:
Ian Clayton interpretato da Cameron Monaghan
Deborah, this Debbie, interpreted by Emma Kenney
Carl Francis played by Ethan Cutkosky
and little Liam Wyatt played, in his various ages, by: Brennan and Blake Johnson, Brenden Sims and Brandon Sims, Christian Isaiah.
among other family members:
Monica Ann played by Chloe Webb
Samantha "Sammi" Charlotte Slott interpreted by Emily Bergl
The other characters and performers of Shameless:
Justin Chatwin as Steve Wilton / Jimmy Lishman
Shanola Hampton as Veronica Fisher
Steve Howey as Kevin Ball
Joan Cusack as Sheila Jackson
Laura Slade Wiggins as Karen Jackson
Zach McGowan as Jody Silverman
Emma Greenwell in the role of Mandy Milkovich
Noel Fisher in the roll of Mikhail Aleksandr Milkovich
Jake McDorman as Mike Pratt
Isidora Goreshter in the role of Svetlana Yevgenivna Fisher
Richard Flood as Ford Kellogg
Kate Miner in the role of Tami Tammietti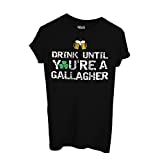 MUSH T-Shirt Drink Until You're A Gallagher-Shameless -...
T-shirt made of 100% organic Ring Spun Cotton, printed with ecological inks directly on the cotton, without ...
Available in men's, women's and children's sizes - Compare the size chart to determine your exact fit
Incredible softness to the touch, modern cut with a perfect fit and resistant to washing up to 30 ° ...
19,90 EUR Buy on Amazon
More from Why watch it?
For other suggestions on TV series, series and drama to watch, visit our column now Why look at it?.
And if you have any recommendations on TV series worth watching, write us on Facebook, Instagram, Twitch or wherever you want. You can find direct links to our social channels in the footer.
TagsSerie TV Shameless Shameless: What Doesn't Work at Home, Works on TV - Why Watch It?