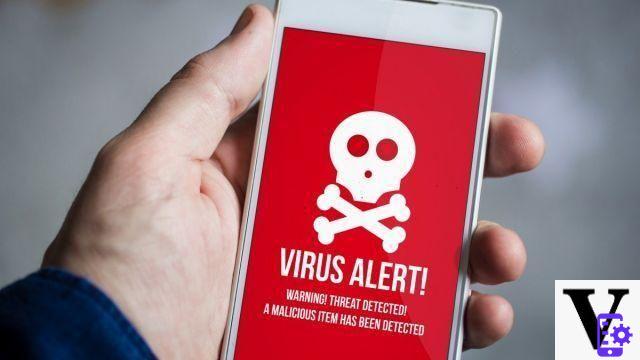 Should you install an antivirus on your Android smartphone? Security has become very important in recent years, especially since the revelations of Edward Snowden which caused a real awareness on issues of privacy and security. But is installing an antivirus on your smartphone really essential? Is Android less secure than iOS? What is the risk for the user if they do not install one? Here are our responses.
Do you need an antivirus for Android: what are the risks?
The problem with viruses is that not all of them manifest as a smartphone malfunction. So most of the time, viruses and malware discretely attack your personal data : usernames, passwords, addresses, and sometimes banking information… The amount of personal data in a smartphone is unimaginable. Our smartphones have become our everyday companions and they store much more information than any other connected device.
Obviously, once this personal information has been retrieved, the door opens to your bank accounts in certain cases: calls to premium rate destinations, purchases after theft of your credit card information, etc. Surprises can be really scary sometimes, so be careful.
How do you catch a virus in Android?
That's kind of the basic question, and while a lot of users think they know the answer, they're not always right. The first thing to know is that from the moment a device is connected to the internet, it is vulnerable. And since he is vulnerable, the user must exercise the utmost vigilance. Because it is his actions that will cause the infection of the smartphone. This also applies to tablets and PCs.
It is also recommended that you pay close attention to the different wireless networks you connect to. Viruses can for example be sent if a Wifi network is not secure, and even by bluetooth. At a minimum, your data may be intercepted. Finally, pay close attention to your emails and the apps you download. Because anything that isn't in the Play Store is likely to be a threat.
Are Play Store apps safe?
Since we're talking about it, is the Play Store safe? If at a certain time developers managed to bypass the barriers put in place by Google to distribute a lot of malware, the Mountain View firm has worked hard to secure its application store.
Now, it is almost impossible to find an infected app in the Play Store. Google has set up a permanent scan of applications from its store, but not only that. Even applications from external sources, therefore absolutely not controlled by Google, are scanned to check if they contain viruses or malware.
Otherwise, since Android Lollipop many improvements in terms of security have been made. We think, for example, of the default encryption which protects users' personal data. This is one of the steps that were taken after Edward Snowden's revelations.
However, sometimes malicious developers still manage to slip through the cracks. This is why it is recommended as always to check the reputation of an application before installing it - without necessarily relying only on its opinions and comments, but more on serious external sources like.
Is Android less secure than iOS?
It's a bit of a war on this ground between the two OSs. Everyone defends of course their piece of fat, but what about the users? Some people have the misconception that Android is far too vulnerable compared to iOS. This is because the Google OS is open while iOS is closed. But in fact, Apple's OS is not necessarily more secure than Android.
The idea of ​​openness is frightening and suggests that all doors are open and that there is no security. This is totally wrong. Conversely, we think that iOS is ultra secure because it is completely closed and controlled by Apple. This did not prevent a famous American actress from seeing her most intimate photos stored in her iPhone unveiled in the public square.
That was the part of falsehood. But how much is true? iOS can indeed boast more regular updates than Android smartphones. The impossibility of using anything other than the App Store to install third-party applications, the absence of root (the jailbreak exists, but is becoming increasingly rare), contribute to reinforce this feeling of security: no application of the store cannot spy on what someone else is doing, or access sensitive system files.
However, and even if they are quickly corrected, the flaws also exist in iOS. And are traded very expensive on the dark web. This means that groups of hackers know how to break into Apple-branded devices if necessary. In short, whatever happens, from the moment a device is connected to the Internet, it must be assumed that it is vulnerable. It is then what the user will do that will cause or name an infection of the device.
Are Android Antiviruses Really Effective?
Do not go four ways, antiviruses are absolutely not essential. You can therefore use your Android smartphone without installing an antivirus. You will not take more risks than a user who would have installed an antivirus. And just because the Google Play Store is full of antiviruses doesn't mean they're important. There are also many applications that imitate the noises of farts, we know their great utility.
The speeches of the security giants necessarily reinforce this idea that an antivirus is needed. Kaspersky, Avast! and so many others do not hesitate to justify the usefulness of the antivirus. However, not only are they not essential but they are sometimes dangerous. Some antiviruses, which are not among the big names, are sometimes scams, software whose sole purpose is to recover your personal information.
Others are a real disaster for the autonomy of the smartphone. Finally, some antivirus applications slow down performance dramatically. Nevertheless, some users are reassured by installing an antivirus. Again, why not. But on condition of opting for quality and renowned antivirus.
Which antivirus to choose?
Looking antivirus for your android ? We will advise you as said previously, to direct you to the most famous titles. Also remember to consult the comments of other users, the number of downloads and be very attentive to the permissions it requests.
Their experience will often be essential when it comes to defining which antivirus is the most effective and which consumes the least battery. Keep in mind that an application constantly scanning your phone will necessarily affect the autonomy of the device. Among the big names in the genre, we find AVG, Avast Mobile Security, Avira, Norton, Kaspersky, McAfee… we offer you a list of the best free antiviruses here.
In some cases you should prefer the paid version to the free version if it exists - think that the development costs are important, and that if it is free, the funding comes from somewhere (for example via the personal data with some thirds…).
What alternatives to antivirus?
Antivirus does not necessarily protect against the number one security flaw: the user. Be wary on your smartphone of links, attachments, and applications outside the Google Play Store. Or install them but being well aware of the risks, and limiting as much as possible the number of accounts connected to the device in question.
If you experience any slowdowns or strange behavior of your device, don't hesitate to back up your data well and do a factory reset of the device as well. Finally, for more security, avoid keeping the root of your smartphone active if you are not really using it. This can already prevent a number of applications from gaining access to sensitive system files. We advise you to read this article to best secure your Android smartphone.
Conclusion: antivirus is not mandatory!
Safety may be at the heart of our concerns, it is not the antivirus that will solve the problems. While psychologically they tend to reassure users, they shouldn't make people forget that the greatest danger is the user himself. It is therefore necessary to pay attention to what you click on, what you install, what permissions the application asks you ...
These are all things against which an antivirus will not necessarily protect you. You won't be able to say that you weren't warned.
Share
Tweet
Share
Envoyer à un ami