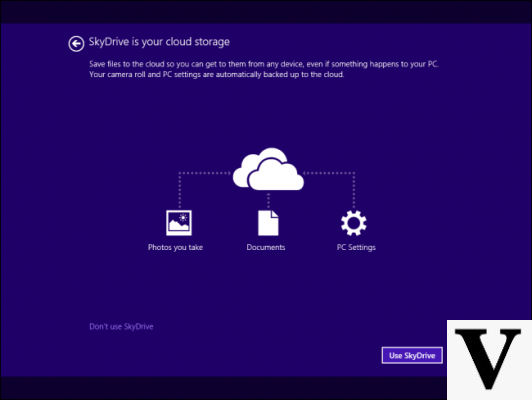 ---
The SkyDrive app was created using the same technologies applied to the renewed SkyDrive.com (JavaScript, CSS and HTML5 languages). "Over time, we expect the functions of the Metro app and SkyDrive.com to converge. [â € ¦] When you use Windows 8, the SkyDrive Metro app will be the best way to navigate and manage SkyDrive ".
One of the most powerful features of Windows is the ability to integrate SkyDrive on different applications through so-called contracts. "From any app, you'll be able to open a file or save it to your SkyDrive," says Microsoft, noting that this feature won't require a single line of additional code from developers, who will just have to implement the ability to open and save content.
SkyDrive will also be available through Share, which will allow to send documents or photos through the Mail application on Windows 8. With one tap, you can choose to share files through SkyDrive, instead of sending them as attachments, which means you won't have multiple copies of your files, each with their own set of edits.
SkyDrive will also be accessible from Windows Explorer and desktop applications such as Office. Microsoft will also make available a desktop application (also on Windows Vita and 7, but rumors also speak of OS X and perhaps Android), which will allow the drag-and-drop of content and access to data anywhere - even offline. In short, a solution along the lines of Dropbox.
The application, the company points out, has an installer of less than 5MB and takes 10 seconds to install. Once launched, the application will start synchronizing with your profile. The changes made to the files will be synchronized immediately between different devices and through Explorer it will be possible to upload files up to 2 GB (it is rumored that the maximum will be 300 MB from the web interface).
Finally, Microsoft also has worked on the web service, which will allow you to go over the Internet to access any file, stream video or view photo albums from a remote PC. You can create yourself a sort of private cloud accessible from SkyDrive.com.
Protecting this link will not only be the account, but also a second level of authentication there will ask you to enter a code which will be sent to your phone or alternate email address to log into your account - this whenever you need to log into a PC that has already been used for this.
The Redmond company has not talked about prices, but rumors of these hours say that in addition to the standard 25 GB free, Microsoft will offer tariff plans to add 20, 50, or 100 GB of space to your SkyDrive. Annual prices are rumored to be $ 10, $ 25, or $ 50, respectively, but take this information with caution.
SkyDrive and Windows 8 more united than ever, the world in the cloud