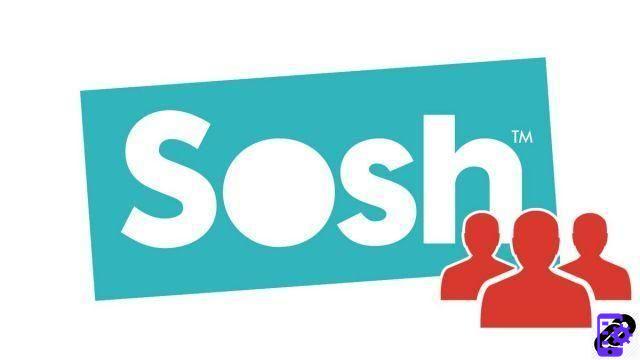 Sosh offers a referral program which is quite attractive apart from the regular promotional offers. Let's find out together how Sosh sponsorship works and what its advantages are.


Benefits and operation of Sosh sponsorship
Competition obliges on the low-cost mobile telephony market, the Orange subsidiary multiplies promotional offers and other good plans, during key periods such as Black Friday and Christmas, but also more and more throughout year.
These offers are often very attractive for newcomers with low prices and inflated data envelopes. Despite everything, apart from these promotional offers Sosh has set up a sponsorship program which rewards both the godchild and the sponsor, a way of rewarding the loyalty of its subscribers and giving future customers a nice reduction, even if the latter would not have had the chance to subscribe to a mobile plan with Sosh via a promotional offer.
Before presenting the operation and the advantages of this program, however, we insist on these words "outside the promotional offers". As stated above, Sosh tends to multiply promotional offers throughout the year, but the sponsorship program is not compatible with the subscription of a package during a promotional operation. It is still an important detail to keep in mind: these two advantages cannot be combined.
Sponsorship by Sosh: what do we gain?
The advantage of the Sosh sponsorship program is that it rewards both the sponsor and the godchild with the same reward. Sosh thus offers 1 month of package on the sponsor's mobile contract and 1 month on the Sosh package chosen by the godchild.
The sponsor can thus sponsor and receive up to 6 months of package offered over 12 rolling months. This indicates that it is possible to sponsor more than 6 people in the year, but with this limitation of 12 rolling months.
Regarding the other sponsorship conditions, it is good to know that the sponsor can hold a Sosh mobile offer with or without Livebox. His contract must have started at least 1 month before the sponsorship.
The sponsored child must not hold a Sosh or Orange mobile offer, and this in the two months preceding the sponsorship request.
To sum up, the restrictive conditions of this referral program are relatively flexible. As we have seen, the period of time to have the possibility of being a sponsor is quite short; the same goes for the godchild, he must imperatively be a new customer but with a limit of only 2 months compared to a previous contract with Sosh or Orange.
How to benefit from Sosh sponsorship?
It is the sponsor who must initiate the sponsorship request. The operation is very simple to perform. All you have to do is connect to the parrainage.sosh.com page with your login details and then send sponsorship requests to your contacts, by email or via social networks, in particular Twitter and Facebook.
The godchild then receives an invitation which allows him to retrieve a promo code. This code is unique and personal, it allows Sosh to know who the sponsor is in order to be able to apply the discount on both contracts. Once the code has been used to subscribe to a Sosh mobile plan, the sponsorship will be validated as soon as the offer is put into service. The godchild then receives his free month on his first invoice, while the period is extended to two months so that the godfather also benefits from his month of free package.
If you ever wish to subscribe to a plan with Sosh mobile, but no promotional offer is in progress and you have not found a sponsor, it is possible to search for a sponsorship code directly on the internet, via Google or on social networks !
Useful information from Sosh:
Sosh mobile network: what is the Orange network coverage worth in Spain?
Sosh mobile network: what 4G, 3G and 2G speeds for the telephone operator?
Expertsconnecting accompanies you during your steps at Sosh:
How to connect to your Sosh customer area and manage your account?
How to configure your Sosh answering machine?
How to unlock a smartphone at Sosh?
How to migrate from Orange to Sosh?
Comment configurer l'APN Sosh sur son smartphone ?
How to enable Wi-Fi Calling at Sosh?
How to activate call forwarding at Sosh?
How to retrieve your RIO code from Sosh?
How do I contact Sosh customer service?
How to activate your Sosh SIM card?
How to cancel your Sosh mobile plan?