Streamlabs OBS: everything you need to know
A while ago we told you about Streamyard, a platform for social media characterized by a large ease of use and usable without having to download anything. However convenient, however, this tool can, for certain uses, be inflexible, not counting the cost if you want to overcome the 20 hours of streaming per month. For this reason today we want to talk to you about OBS Streamlabs, probably the software for live broadcasts par excellence: a lot powerful e full of features, It is available free of charge and is supported by a huge one community of users and developers. So let's find out together what is it? e how it works.
What is Streamlabs OBS
As anticipated, Streamlabs OBS is free software for broadcast live video to other platforms. It is used a lot especially by those who stream on Twitch, but can also be used to broadcast on Facebook, Youtube e mixer (the streaming platform of Microsoft).
READ ALSO: The right webcam to revolutionize your live and video calls
Among the features that make this program very popular is the ability to customize (graphically but not only) their own direct. From theme animations for notifications and interactions with their direct, every aspect can be treated in detail.
Another much appreciated thing is the fact that it is a totally free program: you can download and use it from either computer (the version for MacOS) that gives phone, thanks to the applications for Android e iOS.
This is not to say that Streamlabs OBS hasn't found a way to monetize your business: a version is in fact available Premium of the service (12 $ a month with annual payment or 19 $ a month), which offers several advantages especially to whoever is one professional streamer. In addition to being able to choose themes e widget dedicated to Prime users, the restrictions on the creation of a site that you host our streams in a complementary way to social media and a Online shop for their merchandising, all with the support of the platform.
How Streamlabs works
But now let's take a look at this program and what you will find in front of you if you decide to download it. We want to get hands-on first about the fact that using Streamlabs OBS, at least in the beginning, it is not intuitive. In this article we will give an overview of the various features and potential, but to learn how to use it you need a little practice and some tutorials on Youtube.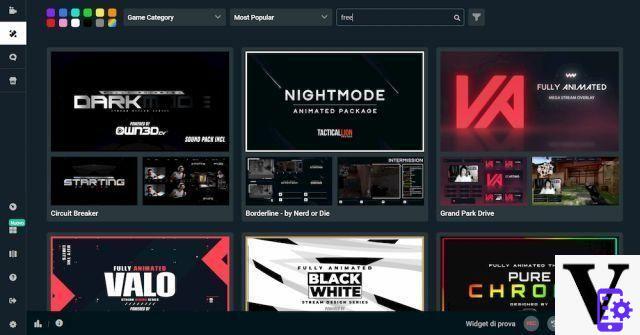 After downloading the program, you will be asked two things: first of all log in with the main account to be used for live broadcasts. If you are still unsure which platform to use, you can still skip this step and log in later. You will then be asked to choose a theme among those made available free of charge. Here too, the initial choice is not essential, as you can then download other themes at any time and use the one you like best. In the same section dedicated to the themes you can also find the graphics for the widget (i.e. on-screen notifications for user interactions). Themes come with many scenes and sources already pre-set, and are therefore ready to use after only a few adjustments.
The main screen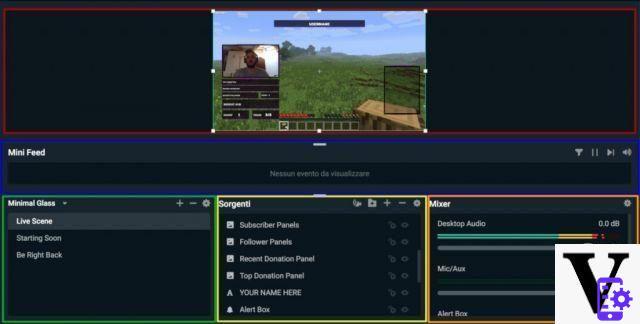 We now come to the main screen, which is divided into several blocks. The main one is theEditor Display, from which you can see the preview of our video e move and resize the various elements, like the box with the live chat or ours shot. The elements present on the display and their overlap is determined by the regard Source selector, where one can set, to name just a few, Images, written, sources multimedia or other applications, such as the browser. Immediately below the Editor you will find the Mini Feed, with all notifications and interactions from viewers collected to be managed.

Since setting up a scene is laborious and must be done before going live, there are more than one scene in each theme. The most common set of scenes are:
One of anticipation to be kept between the start of the connection and the actual start of the live.
A main one with actually our video feed
One of break if we have to stop for example to go to the bathroom or in any case take a break (useful if you stream for several hours)
A closing to put at the end.
Obviously, however, you can create other predefined scenes, for example to switch from a scene with only you talking to one with you and a browser page. To switch from one scene to another you can simply select it from the Scene selector or, if you want a preview, you can use the Studio mode to better manage the transition.
Finally, in the section Audio Mixer it is indeed possible to manage the various audio sources, which by default are theinternal computer audio (useful for example to transmit the audio of a game or music while still holding the headphones), the microphone and widget notification sounds.
Streamlabs OBS vs StreamYard
There would be other more advanced aspects of Streamlabs OBS, such as the Cloudbot for the automatic management of chat or l 'App Store to customize your live streams even more with tools for create animations and graphics and for insert music. It is a truly vast world, which is unthinkable to be able to assimilate everything with a single article. So let's try to understand, before you go to download and play a bit with this program, if it can actually be for you, comparing it with the aforementioned Streamyard.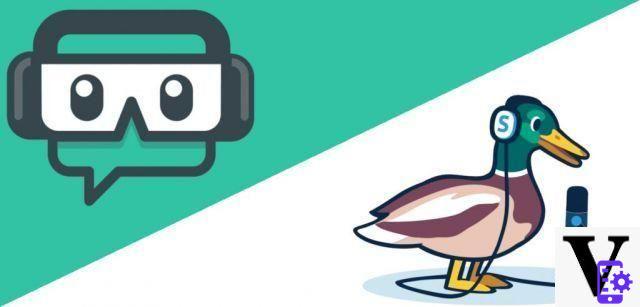 Let's start with what should now be obvious: Streamlabs it is not immediate to use. StreamYard, on the other hand, is much more intuitive, although decidedly more limited in terms of scene preparation, source management and in general the personalization of the experience.
If your idea is to direct with some guests, it is possible to do this with both of these platforms. If with StreamYard, however, it is sufficient to send the link to other people, in Streamlabs you have to switch between apps such as Skype o Zoom, then incorporating the call into the direct. Feasible, but certainly more complicated.
If your dream is to do instead direct of your gaming sessions, Streamlabs is the perfect program, also preferred by professionals for both its own low impact on the CPU and for the ability to easily manage it even in the game.
Even from an economic point of view, the advantage of Streamlabs is clear: if the free version of StreamYard guarantees you only 20 hours of streaming per month and the ability to transmit only to one platform at a time, with Streamlabs there are no limits to streaming and it is immediately possible to transmit both to Twitch e Facebook than to Youtube e Facebook. If you're willing to pay, however, StreamYard at least has the advantage of being able to broadcast to the two o five destinations at the same time, including Twitch and Youtube together.
Then?
The differences obviously do not end here, but they always remain on this tone: StreamYard is a much more platform easy e immediate to use, and is therefore suitable to start and try to see if the content you want to propose works. When fully operational though he gets paid for this simplicity, and it remains anyway little flexible e customizable. Streamlabs, on the other hand, is an extremely tool complete e free, approachable by almost everyone but that it takes some time to master and adapt to your needs.
If this guide has prompted you to want to learn more about the topic, you can start by downloading Streamlabs OBS at this link. Good streaming!
OfferBestseller No. 1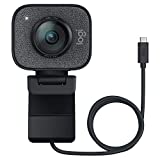 Logitech StreamCam for Live Streaming and Creating ...
Logitech Capture, this video recording and streaming software makes content creation with ...
Full HD 1080p at 60fps, give your fans an ultra-smooth, high-quality streaming experience with motion ...
Intelligent autofocus and exposure, give all your attention to the details that make the difference ...
161,84 EUR −38% 99,99 EUR Buy on Amazon OfferBestseller No. 2
Logitech C922 Pro Stream Webcam, Streaming Veloce HD...
Full HD Streaming: Stream professional quality videos on websites like Twitch and YouTube. Full HD 1080p at 30 ...
Auto Lighting Corrections: Full HD streaming via Wi-Fi, autofocus and instant light correction, for ...
Premium Stereo Audio: Your voice is transmitted clearly and naturally with two omnidirectional microphones, which ...
103,99 EUR −31% 71,40 EUR Acquista su Amazon Tagsdirette live streaming Streamlabs Streamlabs OBS StreamYard Stream like a pro with Streamlabs OBS