Since a few weeks Tiscali provides, to all those who subscribe to the offer Ultrainternet Fibra FTTH, the modem AVM FRITZ!Box 7530. Why is this important news? What changes? Let's try to clarify and explain what are the advantages and peculiarities of the modem-router produced by the German company.
The Tiscali modem is supplied by AVM, so what?
Last month Tiscali and AVM announced a partnership that allows new subscribers to receive the AVM FRITZ! Box 7530 modem. This is an agreement that does not involve all customers but only those who subscribe to the Ultrainternet Fiber FTTH offer on the Open network. Fiber.
At this point you will already have a lot of questions:
What does the offer include?
What does FTTH mean?
Who is Open Fiber?
First things first.
Ultrainternet Fibra is the fixed telephony offer of the Sardinian operator that allows you to reach the speed of 1 Gbps (Gigabit per second), provided, however, that it is a connection FTTH, namely Fiber To The Home.
In fact, many fiber subscriptions currently include technology FTTC, Fiber To The Cabinet. This means that the fiber optic cable reaches the cabin that we normally see on the street but then a copper cable is used from the cabin to the house. The latter, by its nature, limits the connection speed to 100/200 Mbps (Megabits per second).
The FTTH connection, on the other hand, only involves the use of fiber optic cables. This means that the technicians must come inside your home and connect the fiber optic cable that will arrive directly at your home and will allow you to reach the coveted Giga.
To carry out this work for Tiscali is Open Fiber, Italian telecommunications company that has been involved in wiring our country for years to allow as many people as possible to take advantage of ultra-broadband in FTTH mode.
So, in summary: Tiscali is the service provider, while Open Fiber takes care of the infrastructure and cabling. The latter are responsible for installing the FTTH fiber in your home, as long as you are covered by the service.
Once this operation is complete, the Open Fiber specialists will also take care of delivering and connecting the new modem: AVM's Fritz! Box 7530.
It might seem like a small thing but in reality most operators deliver branded modems, remotely controllable and equipped with extremely simplified software. This limits your possibilities because, if necessary, you would not actually be able to intervene on parameters and functionality. You should be content with what is offered by default. Or, alternatively, buy a second router that allows you to customize your home network.
The change is therefore evident: Tiscali puts the connectivity of the home in the hands of those who use it and pay for it.
AVM Fritz! Box 7530: what does it offer?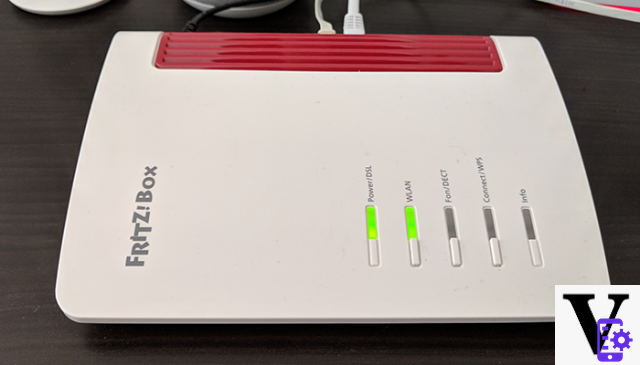 The Fritz! Box 7530 landed on the market in 2018 but it's by no means old. The policy of AVM - a leading German company in the sector of broadband devices for DSL, cable, LTE and fiber - provides in fact constant updates for any product, which allows you to take advantage of the latest features even on older modems.
But before understanding what Fritz! Box 7530 offers, let's try to understand how it is made.
The AVM modem is characterized by a contemporary look, with soft, clean lines and a candidate body, interrupted only by a red stripe. On the front it also has 5 LEDs that indicate the status of the network, while on the back we have all the inputs you need: the power supply, a DSL / VDSL port, an a / b for an analog telephone or an answering machine and finally 4 Gigabit Ethernet. On the left side you will find instead a USB port which anticipates one of the most useful features of Fritz! Box 7530. By connecting a hard disk or key to this input, you can access its content directly online. This means you can have one place to put your multimedia content - photos, videos and even music - to tap into from any device, such as a smart TV, and at any time.
The mesh network
The possibility of having a small personal Media Center is just one of the advantages offered by the Fritz! Box 7530.
Each modem, as we anticipated before, has an operating system that allows you to control its functions. AVM's has Fritz!OS, a software designed to be simple, intuitive and complete. To appreciate it, you don't have to be an expert in the sector. Standard mode, for example, lets you have a complete overview of the home network. In seconds you will know if everything is working well, which devices are connected to the Internet and even what the current power consumption of the modem is.
Do you want to know the services offered by Tiscali? Click here to discover them all
Fritz! Box 7530 also thinks of those who have very large homes or who need to connect appliances that are several meters away from the main router. Like? With the mesh network.
I'll give you a practical example.
Imagine you have a two story house. The AVM modem offers powerful WiFi but the signal still disperses and therefore you will not have the same speed upstairs.
Or again, think of having a very large apartment - about 200 square meters - and having to connect a PC that is on the other side of the house from the modem.
These problems can be solved with a powerline or a repeater.
In this case, the mesh technology will recognize these devices and allow them to connect you - in total autonomy - to the device which, at that moment, can guarantee you the best connection. Basically you will switch from the modem connection, to that of the powerline or that of the repeater without noticing anything.
In addition, Fritz! OS will allow you to always know which technological objects are connected to the different elements of your network.
Control is therefore total.
Guests and family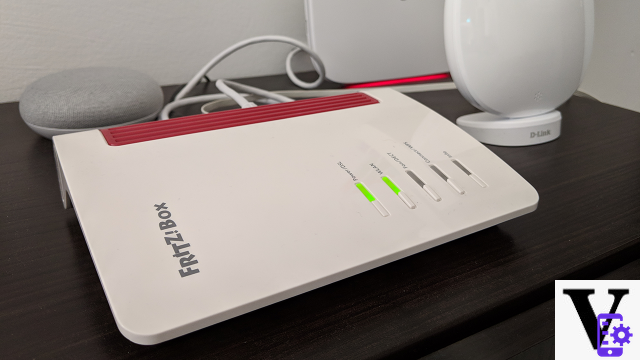 The features don't end there. You have the ability to create one or more guest networks, that is a connection dedicated to guests, separate from yours. The utility? Keep your data safe, whether you are at home or in an office.
You can also use this function to separate the PC and smartphone network from the one you use for your smart home. Or again, if you usually work at home, you can create a network to use only for work.
AVM also thinks of the little ones. Fritz! OS integrates parental control, so you can block adult sites or any other services necessary to protect your children. It is also possible to limit the time spent online with each device, granting an extension when you want.
Finally, I remind you that AVM Fritz! Box 7530 can be transformed into a real switchboard. A function that will come in handy considering that Ultrainternet Fibra includes free calls to national numbers. What am I talking about? The modem allows you to use the DECT base to connect up to 6 cordless phones and to opt for the integrated answering machine which can save messages and then email them to you.
Discover all Tiscali offers, from fiber to mobile rates
The modem from Tiscali and AVM: why want it
Let's go back to the original question: why would I want the AVM modem? Why is this partnership important?
There are two main reasons: freedom and versatility.
Freedom because Tiscali puts the connection in your hands so you can manage it better. Versatility because the Fritz! Box 7530 is equipped with a ton of useful functions: the media center, the mesh network, the parental control, the DECT base and much more. Features difficult to find on the usual modems provided by operators.
TagsAVM AVM Fritz! Box 7530 modem Tiscali tiscali Tiscali Utrainternet Fibra The AVM FRITZ! Box 7530 modem for Tiscali customers: why you should want it