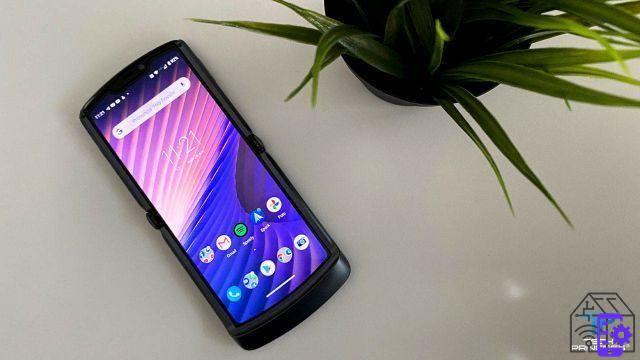 Motorola Razr 5G review
Motorola Razr 5G intimidates you. You spend the first few hours in her company thinking that yes, it is a foldout but you have read everywhere that it is always better to keep them open to avoid damaging the display. So do this. You use it at home, open, like a normal smartphone until you necessarily have to go out. At that point you are forced to fold it. And it is there, in that moment, that something clicks. At least if you are of the right age, the one that allowed you to use a startac at least once in your life.
Motorola Razr 5G takes you back in time and no, that's not a bad thing.
A gesture that we had missed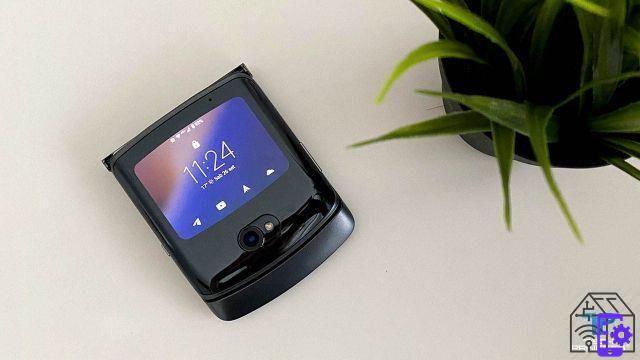 Closed it is really compact. Class 5G, with its 16 mm thickness, it can be kept in your pocket without difficulty. The display OLED esterno, 2,7 inches and with a resolution of 800 x 600 pixels, it allows you to quickly check timetable and notifications without having to open the device. Thanks to Motorcycle Display in fact, not only do you see the icons that signal the arrival of calls, emails or messages but just press on one of them to have a small preview of the content. Nothing revolutionary, mind you. After all, the ambient display of Motorola smartphones has been doing this for some time but here it gives an added advantage.
The functionality of the external display does not end there. There are in fact applications that support it and that you can therefore use without opening the device. It won't always be worth it, mind you, but it's a nice convenience.
We also point out the possibility of taking selfies using this display. A nice "trick" the first few times after which you will miss the large internal screen.
Before discovering how it is once opened, allow us some further considerations on its appearance when closed. Motorola Razr 5G indeed it looks a lot like the early 3s Razr V2000. Sure, revised and updated but the similarity is evident.
The materials here are definitely premium: steel, aluminum and glass come together to give life to a folding that is solid and elegant. On the back then we find a very fast fingerprint reader, which allows you to unlock the device both closed and open.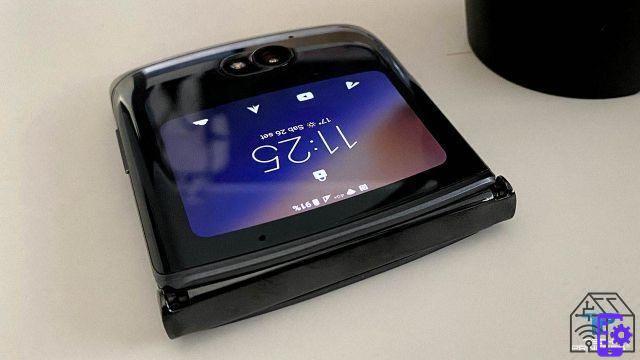 So let's get to magical moment of opening. The one that catapults you back 16 years. Once the initial fears have been put aside, it will become a natural and satisfying gesture again, especially when you have to answer a call.
For a moment you will feel like you have gone back in time or that you have never really separated from the startacs.
The hinge is sturdy and there are no squeaks or weird noises when you open / close it. However, there are no intermediate positions, so there can be only two solutions: open and closed.
Open is an almost normal smartphone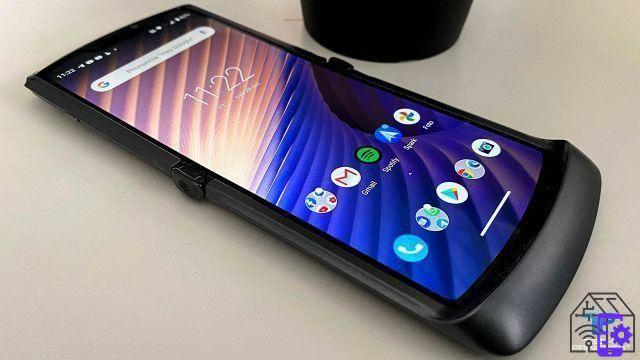 Open Motorola Razr 5G is practically a traditional smartphone. It weighs 192 grams, is only 7,9 mm thick (at the highest point) and only two buttons: the volume rocker on the right and the power rocker on the left. They are probably the least successful part from an aesthetic point of view because they are really very thin and uncomfortable to press.
The main display instead is from 6,2 inches, a P-OLED with a resolution of 2142 x 876 pixels, good brightness and an aspect ratio of 21: 9. The crease is barely noticeable during use and the finger does not sink into the screen.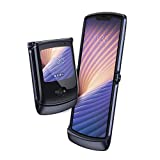 Motorola RAZR 5G Smartphone Display OLED flessibile 6.2",...
Operating System: Android 10
Camera: 48 MP + Tof, laser autofocus.
Battery 2800 mAh
963,97 EUR Buy on Amazon
Motorola Razr 5G review: performance and autonomy
The processor Snapdragon 765G, combined with 8 GB of RAM, it allows you to do just about anything. But be careful: warms up a little when you find yourself doing prolonged activities.
We also have available 256 GB of internal memory (not expandable), dual band WiFi, Bluetooth 5.1 and NFC. No audio jack instead but in the package you will find comfortable USB-C headphones in addition, of course, to the charger.
For those who prefer speakers for listening to music, know that there is only one that offers decent quality and average volume.
On the bottom we have then the slot per nanoSIM which has not completely convinced us. In fact it was a bit uncomfortable but it is still a good alternative for those who do not want to switch to an eSIM.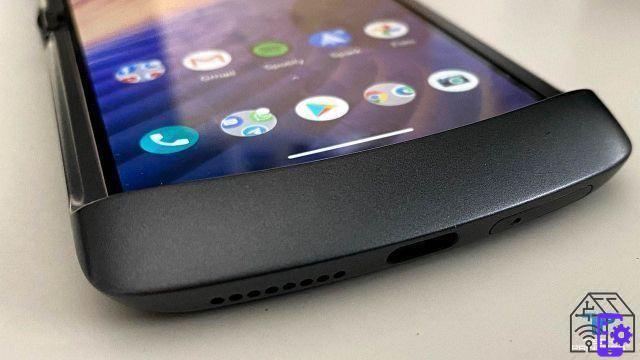 On the software front we find Android 10 with the security patches updated to August 2020. Overall it is very similar to the stock version of the Google operating system but there are a series of improvements such as the gestures, the aforementioned Moto Display and Retro Razr, which allows you to have the screen main practically the same as that of Razr V3.
Finally, we come to autonomy. Although the battery is only 2800 mAh we arrived in the evening even during the most intense days. A real surprise.
The photographic sector
Razr 5G ha a discreet camera with a wide f/1,7 aperture and equipped with a laser autofocus system that guarantees good reactivity and precision.
Unlike most modern smartphones it offers a single 48MP camera that through the now well-known pixel binning processes the photos to offer more details and better brightness in shots of 12 million total pixels.
The images we made are rich in details and with neutral colors. This is certainly a positive aspect compared to what is often seen with other smartphones that tend to increase saturation and vividness excessively.
In the photograph of the dice we can also see good depth of field management although perhaps the result is just underexposed. This tendency to underexposure we also find it when Razr 5G independently tries to balance even outdoor scenes with great contrasts. The example we show you is overall a good result, but to have details in the sky the darkest areas are slightly dark.
Performance at night is also good. By setting the focus point on a light source it will be perfectly exposed and the rest less. But it's inevitable so that's okay. The same scene left to the automation of Razr 5G is well lit, clearly lacks detail and you can also notice a lot of noise. The suggestion is to always try to expose for the highlights and then try to recover what is possible in the shadows with some post-production app.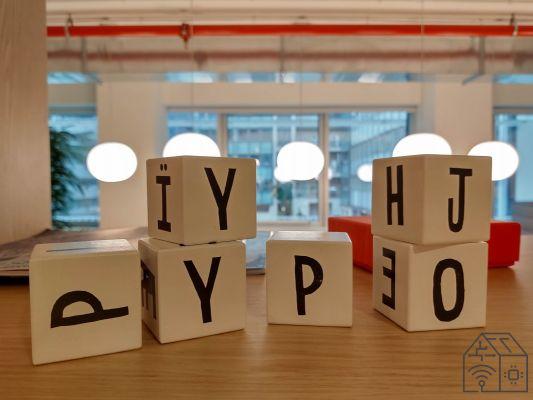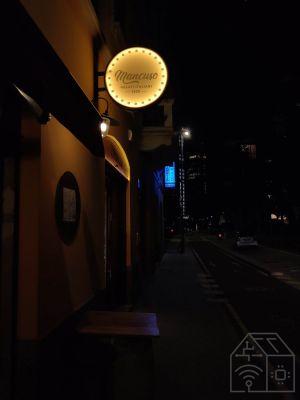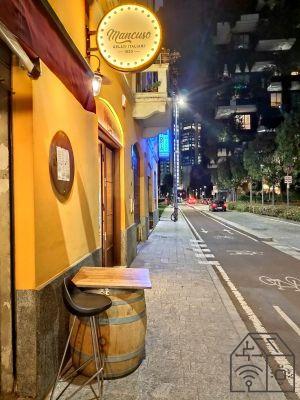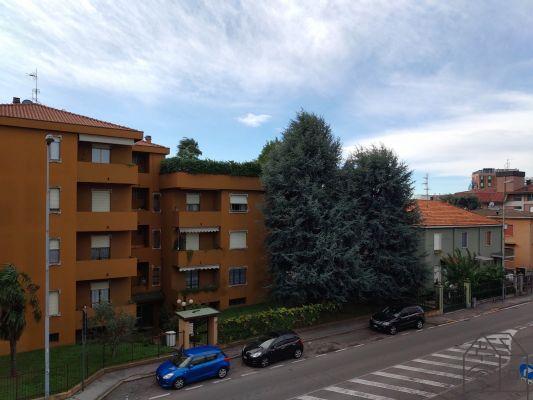 Mororola Razr 5G technical data sheet
Before drawing the appropriate conclusions, let's review the Motorola Razr 5G data sheet.
Dimensions:: 169,2 x 72,6 x 7,9 mm
Weight: 192 g
External display: 2,7 ″ OLED - 800 x 600 pixels
Internal display: 6,2″ P-OLED – 876 x 2142 pixel
CPU: Qualcomm Snapdragon 765G
RAM: 8 GB
Memory: 256 GB
Network: 5G Dual SIM (NanoSIM + eSIM)
Connectivity: Wi-Fi 802.11 a/b/g/n/ac, Bluetooth 5.1, USB-C, GPS, NFC
Battery: 2.800 mAh
Rear camera: 48 MP
Front Camera: 20 MP
Videos: 4K @ 30fps
Operating system: Android 10
Motorola Razr 5G review: buy it or not?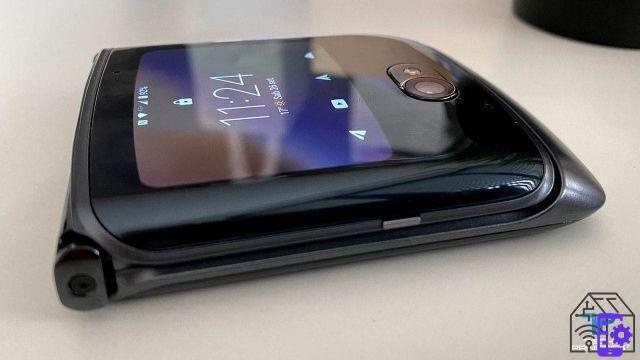 Motorola Razr 5G is not for everyone. Not just for the price - 1.599 € - but also for its peculiar characteristics. For now, the leaflets are only suitable for true enthusiasts, for those who want to stand out and for those who adored startacs. You can do pretty much anything with it, sure, but take into account the slightly subdued camera, the low-powered audio, the uncomfortable keys and the occasional overheating.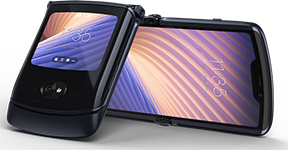 Motorola Razr 5G
Pro
Original design
robust sieve
Convenient external display
You can use nanoSIM
Cons
Not exciting audio
Undertone camera
Challenging price