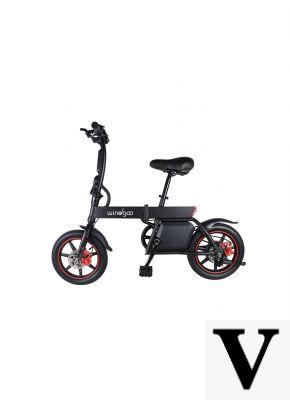 The Swiss startup United City Bikes has opened pre-orders on the crowdfunding platform Indiegogo to The One, the lightest folding electric bike in the world.
READ ALSO: Harley-Davidson: the first fully electric motorcycle unveiled
The One: only 10 seconds to fold it
United City Bikes wanted to create the ultimate experience for cyclists and commuters by making a bicycle light, compact, flexible and affordable. With his 12,5 kg of weight, The One is the lightest folding electric bike on the market, thanks to its body in magnesium alloy. Another key feature is his compactness: when closed it is only 25 centimeters thick, a result obtained through the use of magnets that hold the two wheels firmly together. The saddle è ergonomic and will allow you to face long rides in comfort.
The engine brushless engine ad high speed and by '95% energy efficiency will allow you to tackle a maximum path 60 kilometers us one charge. The version European can reach a maximum speed of 25 km/h us pedal assisted. The version US, on the other hand, it will be able to reach i 32 km/h in full mode electric with accelerator. Gods have also been incorporated disk brakes to allow cyclists to stop more quickly and therefore move more safely.
Il minimal design of this bicycle was achieved by integrating the gear transmission system and the battery inside the body and saddle respectively. Despite its small and refined look, The One is very sturdy and can hold up up to 100 kg in weight. All the cables have been hidden inside the structure, thus making the bike water and weather resistant.
United City Bikes' goal was not just to create the perfect folding electric bike for revolutionize urban mobility, but also make this a means of transportation accessible for all. After facing a series of technological challenges, the company managed to offer The One for the price of 627 euros for the first supporters of the crowdfunding campaign.
The latter it will be active for 35 days starting from April 25th and the first bicycles will be shipped this summer.
[amazon_link asins='B07D7M65F9,B07FGPBFYH,B07DQYDMH7′ template='ProductCarousel' store='gamspri02-21′ marketplace='IT' link_id='2b6c6962-187e-4f94-9a9f-1b9e91b8c5a7′] Tagsbicicletta elettrica The One United City Bikes The One, the lightest folding electric bicycle