New week and new wave of free games on the Epic Games Store. Yes, you read that right (as usual). Starting from today and until next September 24th you will have the possibility to download Watchdogs 2 free, and more. Also F e Stick it to the Man! they can be redeemed for free in the Windows PC version. Consider that the entire promotion started at 17.00, and already the official page of the Epic Games store records an error due to the obvious overload on the servers. It is quite evident that gamers enjoyed the new free redeemable titles. On the other hand, how can you blame him ?! And in the meantime that the site gets back to working properly, let's see how to redeem the games in the coming days.
Watch Dogs 2 free: how to redeem it on the Epic Games Store
By now you should be used to redeeming the titles available on the Epic Games Store for free, but repeating how to do it never hurts. Clearly, Watch Dogs 2 doesn't need any introduction, so we're pretty sure you can't wait to have it on your PC for the most fun. So, all you have to do is open the store page for free games and redeem securities you prefer. This way, the games will appear forever in your library and you can install them whenever you like, even once the promotion has already ended.
To install Football Manager 2020, Watch Dogs 2 or who knows what else, it will be enough download the official Epic Games launcher on your computer, access your library and install the title you prefer. Nothing simpler. The only problem is that you will have to wait for the servers to start working properly again. And given the influx of users that has been seen in the latter hour, it is not certain that you will be able to redeem your Watch Dogs 2 for free today. But don't worry, you still have time to spare.
Discount
Watch Dogs - Hits - PlayStation 4
Play as Aiden Pearce, a brilliant hacker whose criminal past has caused a violent family tragedy
Access ubiquitous security cameras, download confidential information to locate a target, take the ...
Use the city of Chicago as your deadliest weapon and complete your revenge
20,33 EUR −12% 17,99 EUR Buy on Amazon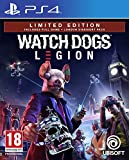 Watch Dogs Legion - Limited [Esclusiva Amazon] - PlayStation...
Discover a game innovation never seen before. You Can Recruit Anyone You See To Your Team.
Use London's Technological Infrastructure As A Weapon.
Hack Armed Drones, Use Stealth Spider-Bots And Take Down Enemies With The Augmented Reality Cloak.
39,00 EUR Buy on Amazon Watch Dogs 2 for free on the Epic Games Store, but only until September 24th