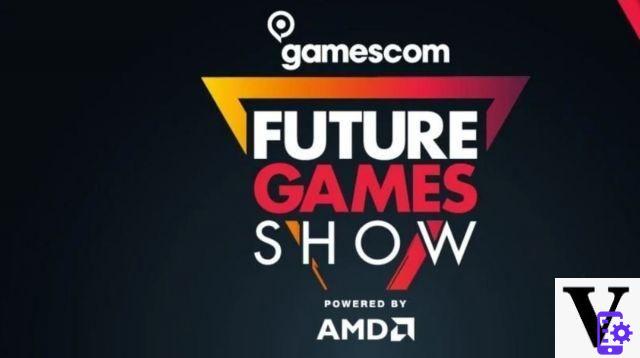 The Future Games Show 2021 (FGS), la showcase of flagship digital games of GamesRadar with its first Spring Showcase of the year: here are all the news presented. The Spring Showcase was the first of three special events: the second and third will be held respectively a June e August of 2021.
All the news of the Future Games Show 2021
There were first-class presenters at the event - we're talking about Jeff Schine e Nicole Tompkins who played Carlos Oliveira and Jill Valentine in Resident Evil 3 Remake. Together with them there were also Nolan North ed Emily Rose (Nathan Drake ed Elena Fisher in Uncharted) e D us Debi Mae West (Solid Snake e Meryl Silverburgh in Metal Gear Solid).
Lots of games were featured during the event and we're here to list them all for you. Daedalic Entertainment kicked off the event with the pre-show and announced that Shadow Tactics: Aiko's Choice, a standalone expansion, will arrive in 2021. It later showed a short teaser of a side-scrolling title titled Hidden Deep. , coming to PC via Steam.
The software house also showed a new point and click set in a post-apocalyptic world with a nice little robot as the protagonist. The title, called Life of Delta, appears to feature numerous puzzles and will arrive on PC via Steam next year.
The software house Daedalic Entertainment at the end of the pre-show showed a preview of an unreleased video of The Lord of the Rings: Gollum, the title coming in 2022.
Let the Future Games Show: Spring Showcase begin
The Spring Showcase officially begins at 23:00 Italian and the first title to open the dance is Artic Awakening, a title ad first person episodes set in the mountains which will arrive on PC and consoles in the 2022. It is a story of survival and friendship set in 2062.
Players will take on the role of a man who is in an unknown location along with a little drone, with whom he can communicate whenever he prefers.
The official developer of the title has revealed some more details about the title.
Returnal is a Sony exclusive, coming to PlayStation 5
After showing himself in a new trailer, at the Future Games Show we announce that return will officially be a 'Sony exclusive, coming to PlayStation 5. Last summer we had the opportunity to preview the title.
Naraka BladePoint, a multiplayer with a Japanese tone
Hell Blade Point it's a title multiplayer of type action battle royale for 60 players which offers users insane mobility powered by parkour and grappling hook, a vast arsenal of melee and ranged weapons, and a character roaster with powerful abilities. Players will also be able to transform into Vajra warriors and crush enemies.
The title is set in Japan and during the event it was announced that the PC demo will be available on April 23 2021.
Future Games Show news: Quantum Error is shown in another video
Quantum error is shown in a new unreleased video during the Future Games Show. The video game features a first person view but the gameplay shows us that players can safely switch to third viewif they prefer. The title will be available on PlayStation 4, PlayStation 5, Xbox Series X | S and Xbox One.
Back 4 Blood is shown in a new trailer
Back 4 Blood is a first-person multiplayer survival horror game coming on October 12 2021. Over the course of their adventure, players will find weapons in game and will be able to develop and unlock skills, in the form of cards, that will help the entire team. The title will be available on console and PC.
The gameplay of Back 4 Blood is largely similar to Left 4 Dead, both are cooperative games a 4 players e 8 players in PvP mode with focus on multiplayer replayability. One of the main features of the title are the carte.
At the start of each level, players must build their deck with cards that govern various elements of the game, how to modify the player's health, damage and stamina. Along with player cards, the AI ​​director will also use Corruption cards against players to hinder their progress. AI can generate extra enemies, activate a fog effect e increase the size of the horde.
Green Hell, the new survival coming in June
Green Hell is the new survival game coming to consoles in June. It is a title in first person characterized by single player mode e multiplayer. It's about a open world simulation where players must do what they can to survive by collecting raw materials and food. They will also have to build objects and huts to live in.
The game environment dynamically changes e affects the physical state e psychological of the character, for example in the form of hallucinations. Also, players need to be careful and follow a certain diet through the use of a smartwatch. On top of that, players need to get enough sleep, avoid contact with poisonous animals or unpleasant food, and also pay attention to injuries. To restore health, players can craft medicine or use bandages.
During the game they will also have to use a compass to move around the place.
Lost Words: Beyond the Page
A new narrative adventure characterized by a quiet and relaxing atmosphere, written by Rhianna Pratchett. Lost Words: Beyond the Page is set between ppage of a diary and tells a fictional story in which players run over words and use them to interact with the world around them.
The title will arrive on PC and consoles on April 6 2021.
Life is Strange: True Colors is shown in a new trailer
Life is Strange: True Colors, the third installment of the series is shown in a new trailer. The protagonist of the new title is Alex, a young girl who arrives in Haven Springs, a remote town in the middle of the mountains, a place of peace and serenity. His move to this heavenly place is his chance for start over e find peace which he had been looking for for some time.
Here Alex has to reconnect with Gabe, the brother who has not seen for 8 years. The girl, like any self-respecting protagonist of the saga, has a power: his is that ofempathy. Alex does indeed manage to feel the feelings of others, around people he sees a kind of aura that represents their mood. Moreover, if the young woman concentrates carefully she can also understand why? people feel that way.
But the world collapses on her when her brother Gabe suddenly dies in strange circumstances. It will be Alex's job to figure out what happened to his brother. The girl will have to learn to control her unstable power to discover the truth and the dark secrets of that small town. The title was made by Nine Deck which describes True Colors as a story of empathy, supernatural powers and mystery.
Square Enix also announced the arrival of a Remastered collection contenente Life is Strange e Life is Strange Before The Storm, in arrivo nell'autumn of the 2021. The Collection will offer the public improved graphics and animations: moreover it will soon be included in the Ultimate Edition di Life is Strange: True Colors and will also be sold separately. Life is Strange: True Colors is currently available for pre-order.
Life is Strange: True Colors the 10 September 2021 on PlayStation 5, PlayStation 4, Xbox One, Xbox Series X | S, PC Steam and Google Stadia. For the first time in the history of the series there will therefore be no waiting for the next episodes and it will be possible to play Life is Strange: True Colors in one breath.
Future Games Show news: Humankind, coming in August
humankind is shown in a new trailer and among others news of the Future Games Show it has been revealed that the title will be released in August. The title allows players to guide their civilization through six great eras of human civilization, starting with the nomadic age and defining how to expand borders, develop cities, research new technologies, control the army and much more.
A peculiarity of the game is that the players, at each new epoch reached, can select one of the ten types of civilization based on historical social relations, each with its own advantages and disadvantages.
Kena: Bridge of Spirits shows up in an exciting new trailer
The game is a dynamic third person adventure and allows players to control the character of Kena, a young girl known as the Spirit Guide, charged with gathering little fellow spirits known as Rot. The title will be available on PlayStation 4 and PlayStation 5 starting in August 24th, 2021.
The new psychological thriller Martha is Dead is shown in the first trailer
Wired Productions is thrilled to show the new trailer showing more details on Martha Is Dead, the new psychological thriller coming to consul e PC during 2021.
Developed by LKA, the studio behind the hit psychological adventure The Town of Light, Martha is Dead is based on the studio's signature style deep narratives multi-layered, combining real-world locations and links to historical events with superstition, folklore and deep psychological distress.
Further details on Martha Is Dead will be revealed at Wired Direct live stream at 21:00 CEST on Monday 29 March 2021.
Other news presented at the Spring Showcase
Cris Tales, coming to PC and consoles in July 2021.
Axiom Verge 2 e Savior.
Of Bird and Cage, coming May 20, 2021 on consoles and PC.
GameDec, coming to PC via Steam on September 16, 2021. The demo is available starting March 26.
Kathy Rain: Director's Cut, a point and click coming to Steam in the course of 2021.
Team 17 shows its new titles on the way.
Warhammer Tempestfall, coming to consoles and VR.
Various independent studios have announced their titles, coming in the course of 2021. For more information, you can watch the presentation trailer.
The Longest Road on Earth, coming to PC and mobile devices.
Serial Cleaners, coming to Steam and the Epic Games Store.
Haunted Space, a science fiction title.
READ ALSO: All you need to know about the FGS: Spring Showcase event
TagsFuture Games Show 2021 humankind Life is Strange: True Colors The Lord of the Rings: Gollum What was presented at the Future Games Show 2021?