Do you have contacts that haunt you on WhatsApp by checking if you are online or not? Do you want to prevent showing the last login you logged on the most popular messaging app? Whatever your need, in this guide you will find all the steps for hide WhatsApp online status and then be able to chat without letting other contacts in your address book know your last access or only a small number of people.

If you have not yet installed the WhatsApp app on your mobile device, you can quickly fix it by downloatheng it from one of the links below based on the operating system of the device you use.
DOWNLOAD | WhatsApp (Android)
DOWNLOAD | WhatsApp (iOS)
How not to be seen online on WhatsApp
To effectively hide WhatsApp online status, open the app installed on your device, then click on the three dots at the top right and select Settings. Within the new screen that you will see appear you will have to go to the path Account > Privacy, where you will find all the items to adjust the privacy settings of WhatsApp.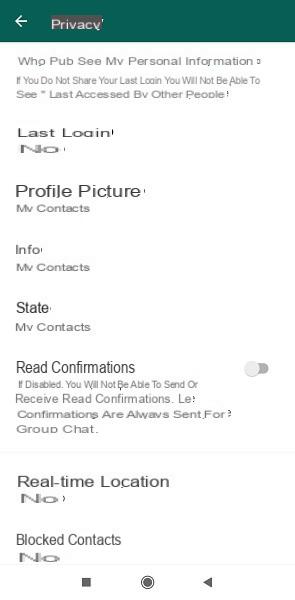 The options available to hide WhatsApp online status are many, below you will see how to best adjust them:
Last access: you can choose who to thesplay the last access on WhatsApp, choosing from All, My contacts or None. To get the highest level of privacy choose Nobody, so you will no longer show the time you last logged in.
Profile picture: you can choose whether or not to thesplay the profile picture; also in this case you can choose between All, My contacts or None. If you care a lot about privacy, select also in this case Nobody.
Info: allows you to adjust which personal information to show; you can choose between All, My contacts or None. To get the best in terms of privacy, select Nobody.
State: this item allows you to adjust the visibility of personal statuses. In this case the options are thefferent: you can choose between My contacts, My contacts except and Share with. If there is any contact you wish not to see your statuses, just use your voice My contacts except, selecting the contact you don't want to see your status updates.
Actual position- Shows which contacts have received information about your location in the past. You can remove all the contacts there for more privacy.
Using all the recommended settings above you will be able to hide your WhatsApp online status without any problems.
The other change I recommend is the deactivation of read receipts, managed by an entry with the "on / off" button on the same screen (Account> Privacy).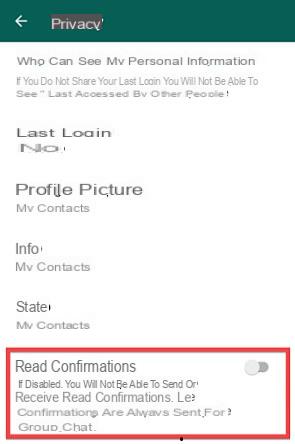 Set the button to "off" (the dot must be gray and in the left position as in the photo above) under Read confirmations to stop the double blue check from appearing next to each message you have read so you can read the messages without the other person knowing. Of course, this change will also affect the contacts you view, so you won't see anyone else's read receipt again until you turn the feature back on.
The speech is not valid in messages exchanged in group chats, in this case the read receipts are always sent and received.
With these settings configured as recommended, no contacts you know (except the ones you selected) will ever see your last login or whether you have read or not received messages.
If, on the other hand, you want to exclude the possibility that a particular contact can interact with you, you can follow our guide on how to block a contact on WhatsApp.
And if you want to know how also hide your online status every time you open the app to prevent contacts from getting online when they open a chat with you? In this case there is no official remedy to hide the online status on all the chats that concern you, but you can apply old tricks that are always valid to be able to send messages and read without leaving a trace of your passage:
Forcibly close the WhatsApp app from the app manager or with the integrated task manager;
set the Flight mode on your smartphone;
reopen WhatsApp and read / write the message we intend to send from "offline";
forcefully close the WhatsApp app again from the app manager or with the integrated task manager;
thesable the Flight mode and connect to the WiFi or Data connection.
By following these instructions you will be able to read any messages you have received without showing the online status and you can also send new messages without being seen online.
WhatsApp: how not to appear online