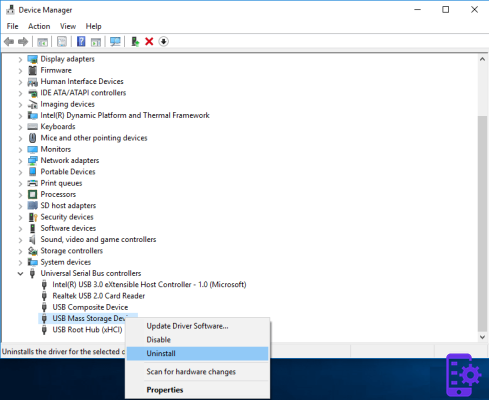 ---
Despite the icon replacement, Windows 10 continues to detect the device correctly, whether it is a fixed storage drive or a portable device.
This new Windows 10 1903 bug was first brought to light by Günter Born of Borncity.com, after a user reported it in his blog comments. It was later discovered - via posts on Microsoft Answers Community and Reddit - that it affects more users.
It is not known exactly when this issue started occurring, but user reports have started to occur over the last 4-5 days, suggesting that this is a particularly recent bug.
The USB drive is correctly detected as a USB storage device
The bug was successfully replicated by BleepingComputer who tested using the latest Windows 10 cumulative update KB4522355, which brought Windows 10 to build 18362.449. From further investigation it seems that the problem arises when the functionality to download custom icons and metadata for installed devices is enabled in "Device installation settings" (see screenshot below).
The assumption is that Microsoft has made some server-side change which downloads an incorrect icon for devices connected to USB ports. Disabling the option does not restore the old icon, but according to Twitter user "Seriously Senpai" it is possible to correct the problem by going to the folder "% PROGRAMDATA% MicrosoftWindowsDeviceMetadataCachedmrccache" in order to find the folder related to the most recently modified language.
In fact, it would be enough to sort the folders by date in order to find the one in which the cache metadata was last modified and delete it. In order not to make a mistake, just enter that folder and see if the icon corresponds to the one you are seeing. So all that remains is to delete that folder.
However, this method did not give the desired results to the Bleepingcomputer website, and in the end it is a simple icon: perhaps it is better not to touch anything and wait for Microsoft's intervention.
Windows 10 "goes crazy", shows the wrong icon of USB drives