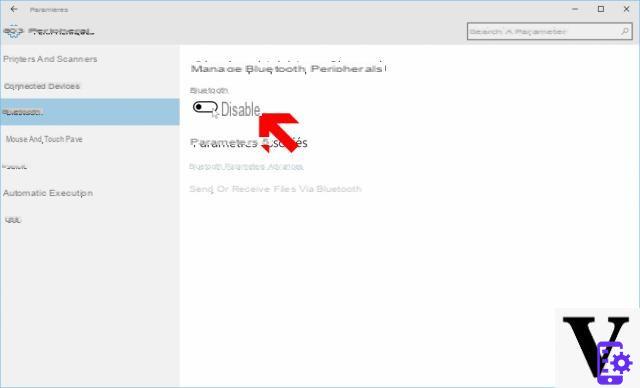 Bluetooth on PC is useful in many ways. You can send or receive files from a smartphone or pair the computer with a Bluetooth speaker to listen to music. If you are here it is because you do not know how to activate it and pair it with other devices. Here's how it works on Windows 10.
All laptops and even most desktops come with hardware support for Bluetooth. And even for those who do not have one, it is still possible to take advantage of this connectivity thanks to a Bluetooth USB dongle. The process for activate bluetooth on Windows 10 is very simple and there is a shortcut to do it even faster.
Activate Bluetooth on a PC running Windows 10
Before activating Bluetooth. If you are using an old model laptop or desktop, you can check if it has one. To do this, just go to the device manager. Right click on the Start menu> device manager in Windows 10. Look for a Bluetooth device in the list. If the item is present, hardware support is available on your computer. And if there is no exclamation or question mark, you can assume the driver is installed.
There are two options available to enable Bluetooth in Windows 10, if you haven't already:
Go to Settings (Windows key + I)> Peripherals. In the left menu, click on Bluetooth. On the page that opens, toggle the switch to Enable.
Alternatively, it is possible to activate Bluetooth on a Windows 10 PC from the action center. To do this, click on the icon to the right of the clock in the task bar, then on Bluetooth to activate it.
Bluetooth: pair the PC with another device
Make sure Bluetooth is turned on on the other device and that the device is visible.
On your PC, go to Settings> Peripherals> Bluetooth. Click on add bluetooth device then Bluetooth.
The PC searches for nearby devices. Select the smartphone or device with which you want to exchange files. Click on Connecter and follow the steps.
Transfer data via Bluetooth between a PC and a smartphone
This method is quick and is useful in cases where you do not have a USB cable at hand. Here's how to pair a PC via Bluetooth with any other device, with the ability to exchange streams or files.
Upload files
On the right of the taskbar, click on the icon with an arrow pointing upwards
Right click on the Bluetooth icon then select Send a file
In the window that opens, select the device with which you want to share files
Choose the file (s) to send. Click on Open> Next> Finish
On the receiving device, accept receipt of the files as soon as a notification is displayed.
Receive files
To receive a file via Bluetooth on PC, follow the same process described above. In step 2, choose Receive a file in the window that opens. Windows 10 will wait for reception. As soon as a file is sent from a smartphone, tablet or any other device, a window appears on the screen with the option Save.