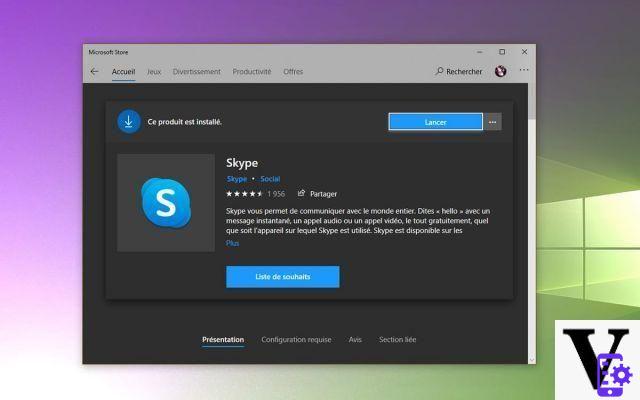 Microsoft is resetting the counters: until now there have been two editions of Skype for Windows, one for the desktop, the other in the form of an app for Windows 10 and downloadable from the Microsoft Store. If they shared a very distinct development cycle and functionalities, and if both will survive, they will now benefit from the same core and the same advances.
As of June 23, 2021, "Skype for Windows 10 and Skype for Desktops are One, in order to provide a consistent experience ". This is the message that can be found on the Microsoft support page. That doesn't mean, however, that Microsoft is abandoning one to the detriment of the other.. The application accessible from the Microsoft Store remains, while the executable for the desktop can still be downloaded from the Skype.com site.
All versions of Skype now share the same features
now both versions will benefit from the same kernel, the same options and the same new features. By mentioning the new features, Microsoft is taking advantage of this announcement to detail all the changes in the new version of Skype, which goes from edition 14 to 15.61 in its application version, and in edition 8.61 in its version for the office. It is for example possible to make video calls to up to 9 participants, share files directly from File Explorer, or replace the background. In addition, a new status bar icon informs the user of new messages and reminds him of his presence status (active, absent, do not disturb, etc.).
If some of these features were already present sometimes in one, sometimes in the other of the Skype versions, both editions are now benefiting at the same time. However, two features are missing in Skype for Windows 10 (the Microsoft Store application): synchronization with Outlook contacts on the one hand, and the integration of the sharing window with other services and applications. 'somewhere else.
Skype for Windows 10, which until now used an environment called React Native, is therefore going to the "Electron" version. This standardization should make it easier for developers and simultaneously offer more new features to both versions.
Read also: Skype attacks Zoom, no more need for an account to make calls
Source : neowin
Share
Tweet
Share
Envoyer à un ami