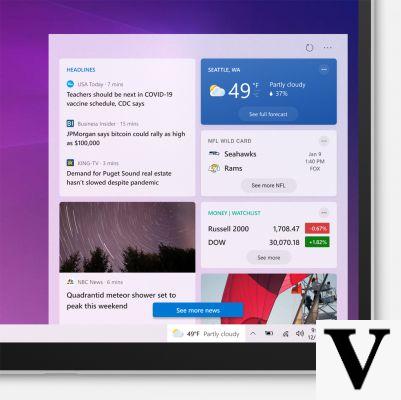 Similar to Google Discover, the News and Interest Windows 10 will build a profile of a user's interests to display corresponding news and articles. The feature will also include various widgets that show weather, sports scores and stock information.
To train the machine learning algorithm of News and Interests, users can click one of the two buttons "More stories like this" or "Fewer stories like this" in order to build an interest profile over time.
Microsoft told BleepingComputer colleagues that initially no advertisements will be shown in this panel, however, the issue may change in the future with attention to user feedback. Despite this, it seems the company wants to allow Windows 10 users anyway complete control over the data collected and privacy options:
"From News and Interest, you can access the Microsoft Privacy Dashboard. From the Microsoft Edge browser options, you can access built-in controls to restrict tracking by advertisers and third parties. And if News and Interest doesn't interest you, you can easily disable it by right-clicking on the taskbar, "Microsoft explained.
Although the press release indicates the need to have Microsoft Edge based on Chromium to use News and Interest, the matter seems to have already been disproved on Twitter.
So the dependency of News and Interests on new Chromium Edge (as mentioned in the official blog post) is nothing but a fat lie, here is the check patched out and the feature loaded fine. The feature's UI uses the Search flyout core which naturally works without new Edge installed pic.twitter.com/cVPdbzphj0
— Albacore (@thebookisclosed) January 6, 2021
Microsoft is slowly extending this feature to Windows Insiders in the UK, Australia and India who are using the Build 21286 Windows 10 from the Dev channel.
HP Chromebook 14-db0500sa with 14 "display, AMD A4-9120 processor, 4GB RAM and 32GB of internal memory eMMC is available on Amazon for only 280 euros, what are you waiting for?
Windows 10, the new feature is inspired by Google Discover