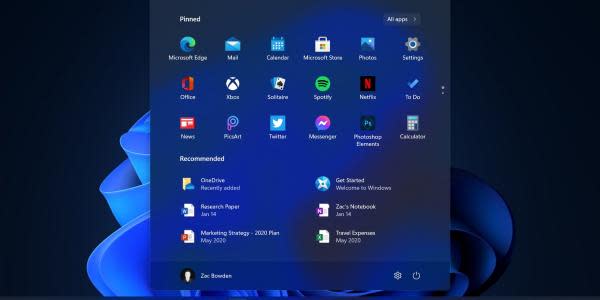 ---
Most likely the live broadcast will also be available on Microsoft YouTube channel, but no reminder has yet been created so you will need to check a few minutes before the event starts. In this case, it would also be possible to easily follow the launch of Windows 11 from any device with the YouTube app, such as consoles or smart TVs.
In case you miss the Windows 11 launch live, definitely it will be possible to retrieve the event later through the Microsoft website or its YouTube channel.
Everything we know about Windows 11
In the last few days, many leaks have come out about the new Windows 11 operating system, including one build leaked which allowed to discover most of the news and features that will characterize the new OS. We got hold of the new ones official Windows 11 wallpapers, later confirmed by an official Microsoft teaser. We know that the start menu and taskbar they will be revisited and placed in the center (but they can also be placed on the left); there will be new icons, the appearance of rounded corners and i will return widget. In case you don't like the redesigned Start menu, you can most likely change it and go back to the classic Windows 10 menu featuring Live Tiles.
It will also be much easier to rearrange the position of the windows thanks to the renewed functionality Window Snap that with a single click allows you to manage windows to be more productive.
Upgrade to Windows 11, always according to the leaks, it will be free for anyone with a valid license of Windows 10, Windows 7 and Windows 8.1. For Windows 10 users, it will appear to install any update via Windows Update, while other users will have to resort to the Media Creation Tool in order to convert their license to one for Windows 11.
Despite the leaks, Microsoft's event will hold many surprises. All that remains is to wait for the launch of Windows 11, which we remind you will take place today 24 June at 17:00 Italian.
Windows 11, how to watch the launch event live