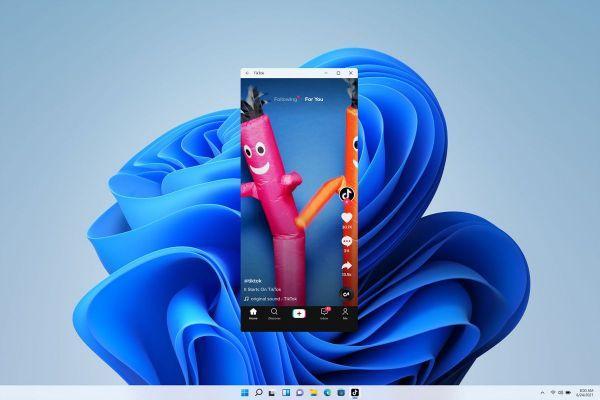 Windows 11 will soon support Android apps. In anticipation of support, an Amazon Appstore client appeared on the Microsoft Store. To install Android apps, you will have to go through the platform of the firm of Jeff Bezos.
Windows 11, the new operating system from Microsoft, has a host of new features, including a brand new Start menu, a revised taskbar and an updated Microsoft Store. Through the store it will be possible to run Android applications and games on a computer running Windows 11. This is one of the most important new features of the update.
Concretely, it will be possible toinstall Android apps from the Microsoft Store by passing through a dedicated portal to the Amazon AppStore, the app store competing with the Google Play Store. Microsoft also leaves the possibility of installing an Android app by going directly through an APK file retrieved from the web.
How will installing Android apps work on Windows 11?
Unfortunately, application support on Windows 11 will not be available until 2022. You should not expect to be able to run Android apps as soon as the final version of Windows 11 is expected to launch. the 5 next october. Unsurprisingly, Windows Insider subscribers will be the first to be able to test this feature in the coming months. Note that no specific date has been disclosed by the American firm.
In anticipation of the arrival of support for Android apps, the Amazon AppStore has just made a noticed appearance on the Microsoft Store. For the moment, the installation of the store is not possible. Microsoft is content to list the preview of the application on its store. In detail, the Amazon app store requires Windows 11 Build 22000 or later version of the operating system.
Obviously, Amazon has developed its own Appstore application for Windows 11. To install Android applications, users will need to log in with their Amazon account. The installation files will be retrieved directly through the Amazon platform.
For its part, the Microsoft Store will be satisfied to relay to the Android store. By going through the search bar of the Microsoft Store, it will however be possible to search for applications available on the Amazon Appstore. But by clicking on the install button, Microsoft will first ask you to install the Amazon client.
Share
Tweet
Share
Envoyer à un ami