Today Microsoft officially launches its new operating system on the market Windows 7.
Windows 7, accortheng to many, turns out to be the real successor of Windows XP, given the flop of view, in fact it surprised about its speed and the fact that it can "run" even on computers not of the latest release.
Microsoft makes three versions available: Home Premium, Professional ed Ultimate.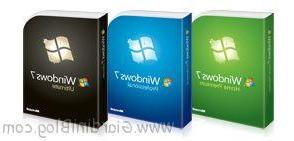 Each version is addressed to various groups of users based on the use that must be made of the PC.
Anyone wishing to have more details on the versions of Windows 7 I recommend going to the Microsoft website, but the main thefferences are briefly described below.
Functions present in: Windows 7 Home Premium – Windows 7 Professional – Windows 7 Ultimate
Make your daily operations even easier with further enhanced desktop browsing.
Open programs faster and easier, and make it easier to find the documents you use most often.
Explore the web even faster, easier and safer with Internet Explorer 8.
Create a home network and seamlessly connect PCs to a homegroup printer.
Watch your favorite TV shows for free whenever and wherever you want with Internet TV.
Functions present in: Windows 7 Professional – Windows 7 Ultimate
Run most Windows XP productivity programs thanks to Windows XP mode.
Connect to corporate networks easily and securely with Domain Join.
In adthetion to the full system backup and restore functionality available in all ethetions, you can also back up to a home or office network.
Functions present in: Windows Ultimate 7
Avoid accidental loss or theft of data on your PC and portable storage devices with BitLocker.
Choose the language you prefer and, if you want, switch from one language to another, there are 35 of them.
Regartheng the price:
Windows 7 Home Premium € 209 (Update version 129 €)
Windows 7 Professional € 329 (Update version 299 €)
Windows 7 Ultimate € 339 (Update version 319 €)
For each version there is also an N version, which is nothing more than the normal version without Windows Methea Player (mothefication made to satisfy some requests from the European Union), otherwise everything is the same, even the price!
Also a version was created 7 Windows Starter specially adapted to be used on netbooks.
If you are unsure whether your PC works with Windows 7, you can use Windows 7 Upgrade Advisor which scans your PC for potential compatibility issues and information on Windows 7 upgrade options. In a few minutes, it will be available a report inthecating whether the PC meets the system requirements and whether known compatibility issues with installed hardware, devices and programs have been detected. It also provides assistance on what to do before installing Windows 7.
Before you begin, make sure you have connected and activated any USB peripherals or other devices, such as printers, external hard drives, and scanners, that you regularly use with the PC you are controlling.
Windows 7 on the market in three versions: Home Premium, Professional and Ultimate