Tom Clancy's feature film Senza Rimorso is coming this April 30th, the film that tells the story of the origins of the action hero Jhon Clark (Michael B. Jordan) one of the best known characters created by Tom Clancy and belonging to the universe of Jack Ryan. Amazon just released the official trailer.
Without Remorse by Tom Clancy: Michael B. Jordan protagonist
The 1993 novel written by the pen of the now late Tom Clancy is about to receive a film adaptation. The book from which the events are taken was an immediate success, quickly climbing the charts and reaching # XNUMX on the New York Times bestseller list since its debut.
The press release published by Amazon Prime Video reads the opening words of the film's narrative plot: "Without remorse, it follows the story of John Clark, an experienced Navy Seal determined to avenge the murder of his wife. In the course of his mission, John will realize that he is at the center of a much larger conspiracy than himself, which threatens to overwhelm the United States and the whole world. In doubt whether to put his personal revenge before the interests of humanity, will the ruthless CIA agent succeed in carrying out his mission? ".
Discount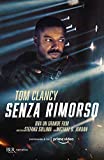 Without remorse
15,00 EUR −5% 14,25 EUR Buy on Amazon
In addition to the protagonist Michael B. Jordan the cast of Without remorse includes Luke Mitchel, Jodie Turner-Smith and Jamie Bell. The story is set temporally during the war in Vietnam when Jhon Clark was known as Jhon Kelly. In addition to telling the story by which Clark went from being part of the Navy Seals Underwater Demolition Team to being recruited as a CIA agent under a different name, the film also aims to set the events of Rainbow Six, another adaptation of which Jordan will be the protagonist.
Senza Rimorso will be available exclusively on Amazon Prime Video starting April 30, 2021.
Read also: Tom Clancy's Rainbow Six Siege: the Italian national tournament starts TagsAmazon Prime Video Tom Clancy's Rainbow Six Siege Without Remorse by Tom Clancy: released the new trailer