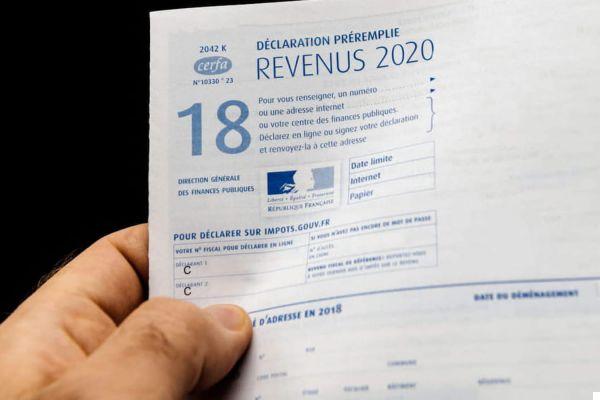 Online tax declaration is mandatory in 2021 and this can be confusing for some users who are not used to going online. What is the procedure, what is the deadline, what are the advantages, can I still send my declaration by mail… these are all questions that we answer here.
The moment dreaded by so many of the country people arrives, it will be time to send their tax return. In 2021, it is now mandatory to do this online. Don't understand how it works? Deadlines, how to access your account and make your declaration… we explain all that to you.
How to file your 2021 taxes online
If the declaration procedure tends to simplify over time, it is not necessarily easy to navigate, especially if this is your first time using the internet (or if it is your very first statement). Here are the steps you need to follow:
Go to the website impots.gouv.com
At the top right, click Your particular space
Indicate your Tax number 13 digits to log in (or create your account). This number is available at the top of the first page of your paper tax return or on your last tax notice
Fill in your Internet declaration number (access number) with 7 digits. This is on the first page of your last tax return
Enter your benchmark tax income, which can be viewed on your last tax notice
Mark your email address and choose a password. The latter will be used to connect you to the service more easily the next time. Then, only the password and your tax number will be requested, without the need to hand over the remote declarant number and the reference tax income.
You can now validate your tax return as usual (your RIB is required as part of the withholding tax)
If you are unable to find any of the information required to complete the declaration (tax number, access number, etc.), do not hesitate to contact your tax office.
The advantages of online declaration
Filing your taxes online is above all simplifying your life and avoiding logistics that can be cumbersome, for the administration as well as for the users. This makes it possible in particular to make corrections in the event of an error, even if the declaration has already been validated. To do this, return to your space and select Correct my 2021 online declaration. Note that this also allows you to receive your tax notice more quickly.
Another advantage is that it allows you to prepare for withholding tax. When your declaration is validated, the tool informs you of your future tax rate with a new system and offers you the various options available to you. But this you can always take care of later.
Deadlines for online tax filing
To avoid problems, it is better to respect the dates imposed by the tax authorities. The deadlines are longer for remote declarations than by mail (May 16, 2021). Please note, the calendar varies depending on the department in which you reside.
April 8, 2021: Opening of the online tax return
20 May 2021 to 23: 59 : Deadline for derogatory paper declarations (elderly or without internet)
May 26th to 23: 59 : Deadline for remote declarations for zone 1 (departments 1 to 19 and non-residents)
June 1, 2021 at 23:59 PM : Deadline for remote declarations for zone 2 (departments 20 to 54)
8 June 2021 at 23:59: Deadline for remote declarations for zone 3 (departments 55 to 976)
Continue to declare taxes by mail
If you are reading this article, you are certainly not affected, but be aware that there is an exception that allows you to continue to send your tax return in paper format. If your main residence does not have internet access, you can continue to fill out your forms as before, but it is better then to justify the absence of connection to avoid trouble. Note that computers are available to the public in the public finance centers in charge of taxes, allowing them to make their declaration online. Refer to the overriding deadline for this case.
Share
Tweet
Share
Envoyer à un ami