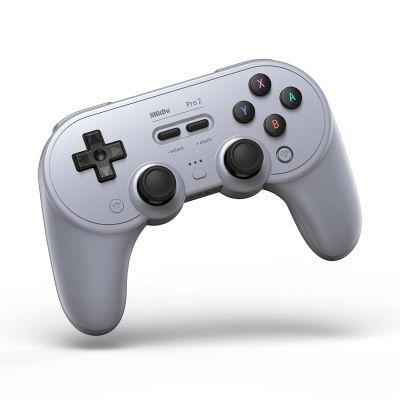 The 8BitDo brand has just unveiled the Pro 2 controller, the evolution of its flagship SN30 Pro + controller. Operating wirelessly thanks to Bluetooth, this new edition will be available from April at 49,99 dollars excluding taxes.
Are you looking for a new controller for your Nintendo Switch, to play on your smartphone or retro games on the PC? We have good news for you. The brand 8BitDo just unveiled the Pro 2, a new controller compatible with Android, iOS, macOS, Nintendo Switch, Raspberry Pie and Windows, destined to establish itself on the market as the benchmark multi-platform controller.
The Pro 2, "the most advanced controller ever designed" by 8BitDo
While the DualSense controller joysticks have an appalling 400-hour lifespan and the buttons on some Xbox Series X controllers are unresponsive, here is what 8bitDo presents his Pro 2, a promising new controller. The brand announces that it will offer compatibility with a wide range of devices and software, like Raspberry Pie or Steam.
La new 2BitDo Pro 8 controller adopts the same form as the old one, the SN30 Pro+. Except for a few cows, since the engravings A, B, X and Y now appear on the buttons. Also, the back of the controller receives two new buttons called P1 and P2 which will, like the Steam Controller, avoid touching the analog sticks. The coating of the latter also differs, offering more grip.
See also: Nintendo Switch: how to connect wireless headphones?
Note that a new button located under Select and Start will allow you to select three configurable profiles upstream through the Ultimate Software app available for free on Android, iOS and Windows. A carrying case is also sold separately.
At a time when Europe and the UFC-Que Choisir are uniting against Nintendo to fight against the Joy-Con Drift, the Pro 2 is described as an "evolution" vis-à-vis controllers of the same kind. 8bitDo obviously has the Nintendo Switch Pro Controller in the viewfinder, but not that. It will be available from April for $ 49,99 in the United States. For now, the Pro 2 has no price or official release date in Europe, although we can expect a similar price and an equivalent release date.
Source