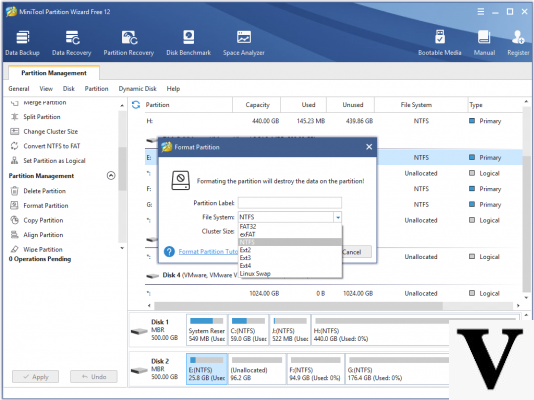 The major limitation of FAT32 concerns the inability to manage singles files larger than 4GB, and considering any .ISO files or multimedia content we can well understand how this limit has practical implications. A FAT32 partition can also have a maximum size of 8TB, a limitation that can create problems in the use of recent hard drives with capacities exceeding this limit.
FAT32 is also anachronistic due to the lack of support for some security options and technologies, such as technologies available on NTFS. Therefore, if we want to find a conclusion, we can say that FAT32 may be suitable for use on an external drive; this file system is not recommended for installing an operating system (some versions of the Windows operating system do not even allow it).
FAT32 In summary:
High compatibility with all versions of Windows, MAC OS, game consoles etc.
Maximum limit of 4GB per single file and 8TB per partition
NTFS File System
The file system NTFS can be defined as that of default per Windows: giving a historical reference we add that it was introduced starting from Windows XP and is used by the system every time you proceed to format and reinstall Windows. The limits in terms of size for single file and for single partition remain at the moment theoretical and far from troubling in the daily use of the system.
Apart from these limitations, the NTFS file system offers a series of very useful and interesting functions: NTFS for example, supports the definition of permissions for file access, the setting of disk quotas, shadow copy options useful for backup operations and other encryption functions. It is therefore a package of strategic functions for the operating system and other tools and technologies are based on these options.
However, NTFS has some limitations in terms of compatibility. Remaining in the Windows environment, the problems are almost absent, but OS X can only read NTFS, but don't write. Within Linux ed NTFS the scenario is quite varied with some distributions guaranteeing read only while others also write. There are also difficulties between the game console: Sony's home PlayStation do not offer NTFS support, same as Xbox 360 while the latest Xbox One solves this problem.
Wanting to find a rule and a summary for NTFS we can say that this file system is suitable for installing a Windows operating system, but it is also recommended for formatting other partitions on which applications will be installed. NTFS has compatibility limitations in case it is needed share partitions with other operating systems.
File System NTFS In sintesi:
Ideal for Windows installation or for partitions used for application installation.
It has no realistic limitations in terms of the size of the single file or the entire partition
Difficulty in compatibility with other operating systems
File System exFAT
The file system exFAT was developed with the desire to create a solution suitable for use on flash drive that it wasn't "heavy" like NTFS - because of the many built-in features. The introduction of exFAT dates back to 2006 and support on Windows XP and Vista was introduced through dedicated system updates.
We can define exFAT as the successor to FAT32in fact, compared to the old file system it has fewer limitations and lends itself to a more modern use. With exFAT, for example, the maximum size limit for a single file of 4GB disappears, a feature that is well suited to multimedia uses with SD cards.
exFAT also offers a good level of compatibility: in addition to this file system from Windows, it is also possible to read and write access from Mac OS X and Linux by installing the appropriate applications. However, there are accounting limits at the gaming console level: exFAT is not supported by Xbox One and PS3 for example.
File System exFAT In sintesi:
ideal for the management of USB drives or storage devices used in conjunction with recent Windows or Mac OS X systems
it has no plausible limitations in terms of single file or partition size
In combination with gaming consoles or Linux systems, compatibility problems may arise
With this quick overview of the main file systems available we have provided the main features for each of them. And it is precisely these elements that will have to suggest our choices when we are going to format any storage device.
We have indeed described that the NTFS file system is the most suitable for Windows for partitions on which the operating system will be installed, even if there are problems in terms of compatibility. exFAT is instead a modern systyem file suitable for the management of USB pen drives, SD cards and storage devices used for data transfer from one device to another; however, this file system has some compatibility limitations, especially with older devices. And finally, FAT32 represents the oldest solution, with better compatibility but at the same time with severe limitations in terms of size of the stored files.
FAT32, NTFS and exFat, how to format the hard disk