You are in possession of a smartphone Android and you can't stand it anymore YouTube's ADS, but click on them, that keep appearing as you browse the internet via the device itself? In this article we will look at all the ways to prevent these advertisements from appearing and we will also see which applications come to the rescue.
Before installing applications on Android to block advertisements, it is advisable to check the settings of the device itself a little. Here are some settings to check.
A) GOOGLE Personalized Ads Settings
From your Android phone go to SETTINGS -> ACCOUNT -> GOOGLE and search and click on the option "Announcements setting". A web page will open where you can disable the "Ads Personalization"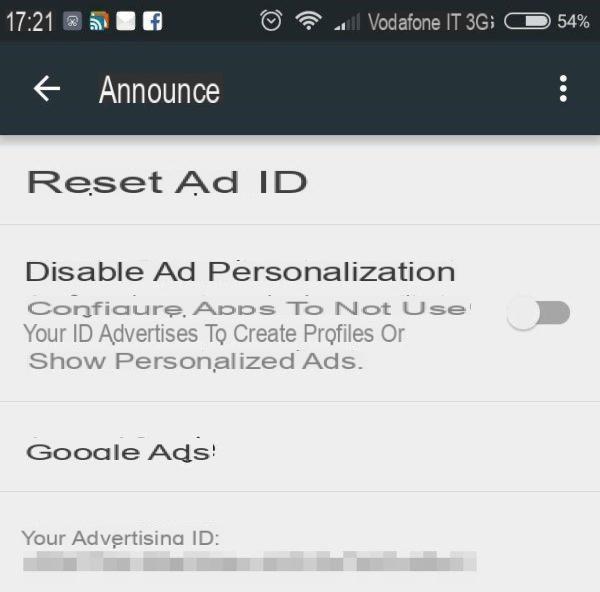 B) Disable Advertising pop-ups on your browser
As described in the following guide, another configuration to do to prevent advertising popups from opening is to disable them directly from the browser.
It was used Google Chrome you will have to open the browser and go to Settings -> Contents / Site settings and click the box dedicated to blocking popups.
If you use the browser Dolphin instead go to Settings -> Advanced -> Web Content and check the Block pop-up windows box
It was used Firefox instead you have to write this in the address bar: about: config. In the window that opens you will see this command: dom.disable_open_during_load and set the function to False
C) Check which App brings up the advertisements
Access the Google Play Store app via your phone and search for the app called "airpush detector". Install the application and start the scan. With this application you will be able to see who is sending the notifications (advertisements) and you can then uninstall the offending application.
Advertising Blocking Applications on Android
In addition to the checks and configurations described above, we also recommend using one of the following two applications. Both are great for blocking unwanted advertisements that may appear on your device without your consent.
#1. NOROOT FIREWALL
This app is really well done. This is an application that does NOT need to root the phone and protects the device not only from advertising messages but also from any unauthorized access attempts. It also makes your internet browsing even safer because it creates a real "wall" (firewall) between the internet and your device.
Go to the Play Store and search for "noroot firewall". Once found proceed with the installation and finally open the app.
Click on the button STARTS and from now on your mobile will be 100% protected. Also select the "Automatic Start" box for the app to work even if the device is restarted.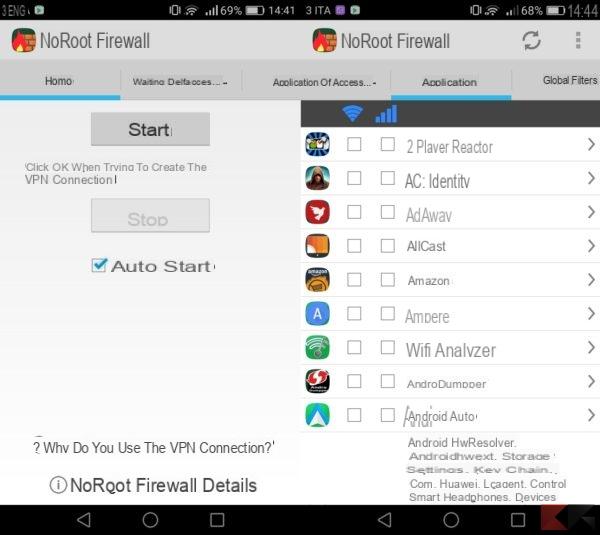 Now the thing you will have to do is to authorize or not, from time to time, the various apps that will be "blocked" by NOROOT FIREWALL when they try to access the internet or send you notifications. You will thus be able to easily authorize access to secure apps such as Whatsapp, Facebook, Google, etc ... e TO DENY instead the attempt to access those apps that you think are suspicious.
For example, in the case of Chinese android phones (such as Doogee, Cubot, etc.), there are system apps (such as com.android.snap) which are responsible for the appearance of the advertising popups. It will be enough TO DENY their access via NoRoot Firewall and you will surely have solved the root problem.
# 2. ADBLOCK PLUS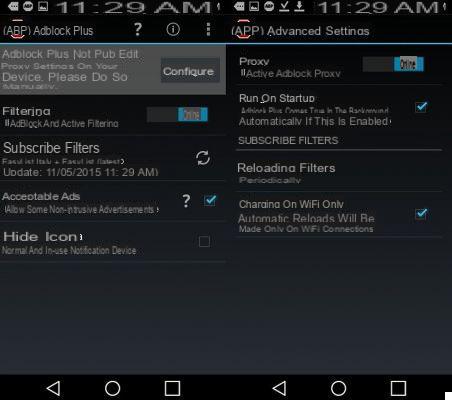 AdBlock Plus is perhaps the most popular and most used app for block ads on Android, even without rooting the system.
This application does nothing but go to insert a filter, that is a block, in the various browsers on the device, and thanks to which every advertisement or pop-up will be blocked automatically. Before installing this app you need to go to the phone Settings, access the Security item and from here activate the option "Unknown Origins ".
After installing Adblock Plus, you will need to log in to Settings -> Mobile Networks -> Access Point Names and change the APN by entering the following values:
Proxy: localhost
Port: 2020
The newly set proxy will go to block not only the advertising that opens from the browser while browsing, but also those integrated into the various apps.
Thanks for your help
I can't find Adblock Plus on Playstore. Search responds with a list of other apps that maybe contain the feature. However, antivirus, antimalvare and similar apps are known.
Always throw away your mobile phone and switch to carrier pigeons you will see that advertising disappear forever!
Hello everyone installed Noroot Firewall it would seem that it works
Good morning and happy Monday everyone. I hope these two methods still work today as I just can't figure out what the hell I installed to get those annoying ads. However, now I start with trying NoRoot Firewall since, as a response to Mrs. Marzia Mazzavillani's comment, you mentioned that app there. Thank you very much for letting me discover these two applications and for your brief but comprehensive description for each of them. I wish everyone a wonderful day. I recommend #iorestoacasa that, in doing so, #andratuttobene.
I'm fed up with advertising
I get too much publicity .. I'm tired damn ..
Hi I have the same problem as Domenico with my new S9, I just activated adblock .. I hope it works because the phone is so unmanageable it is also difficult to answer phone calls because advertisements are opened all the time, without counting the advertising videos (music to words) that are activated by themselves. A scandal! 🙁
I suggest installing the Noroot Firewall app which allows you to permanently block these advertisements

Tutto ok
hi, I have a small problem with my samsung S9, advertising pages of any game are constantly being opened, thank you in advance for the vs. Help.
Hello. Lately, DAZN advertising often appears to me in the most disparate moments. I would like to be able to send the screen but it is not possible. how do i get rid of this "disorder"? A thousand thanks
great post thank you very much you have been really helpful
I don't want commercials anymore