Remember the fidget spinners, those strange toys made up of a body that rotates on ball bearings? It was 2017 when they went viral, and now TikTok has brought something very similar back to the fore, i Pop It - or "Push Popper" -. These are colorful children's toys, made of plastic or silicone, which function identically to the bubble wrap: The soft shapes allow you to push the "bubbles" down, flip the game and start over. And this would already be enough to explain why they have been so successful among adults. After all, which of you has never relaxed by squeezing the bubble wrap? None, we are sure. And now that sort of therapeutic practice can become a daily habit thanks to Pop It. Let's see how.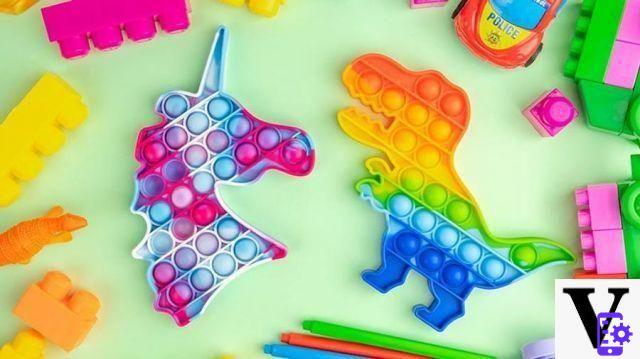 Fidget, from TikTok's trending children's game
Originally used in the treatment of children with autism, as they help them focus on the task at hand, fidgets have also become particularly popular with adults for stress treatment. After all, it is undeniable that these toys have a therapeutic power. "Push poppers are really therapeutic. It's the most important thing for any child right now, but specifically, the reason we're saying this is that they're great for never stopping moving. Many children need to keep their hands busy and release tension so the push popper is great. " So reports Sheila of Sensational Kids, a network that provides support for children with special needs.
But these amazing sensory toys seem to not only have positive effects on children, but also on adults. And we know this thanks to TikTok, where the contents regarding the colorful toys to "blow up" are becoming incredibly popular. Videos with the hashtag #Fidgettoys have over 2.7 million views, and content tagged with The hashtag #popit have been viewed over 3.4 million times on the platform. In short, an incredible success, which denotes that we are facing one of the most extravagant trends of this summer. But not without reason.
READ ALSO: Anxiety in the office? Here are some anti-stress gadgets to take to work
We have spent two difficult and intense years, and we need to release all the accumulated tension. And this probably explains well the success of Pop It even among adults. Squeezing the bubbles of this colorful silhouette, and then flipping it over to start over once they're done, is probably what we need to relax our nerves. So let's see what they are the trendiest fidgets for this summer, so as to put them in your suitcase to really ensure a relaxing holiday.
Fidget: Pop It and other games not to be missed
1. La cover Pop It per iPhone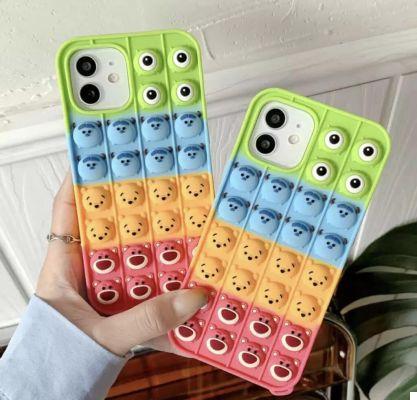 This is probably the coolest fidget of Summer 2021. Una iPhone covers Pop It license plate - also available for Android, of course - which will allow you to relax wherever you are: at home on the sofa, at work, on the subway, under the umbrella or at the checkout line at the supermarket. Made of silicone, the cover allows you to crush bubbles indefinitely. Each time you press a dot down, it will slowly return to its original state, allowing you to relax for as long as you want. A practical fidget, to always have at hand at a price of around € 17. Available on the official Pop It website.
2. Pop It Among Us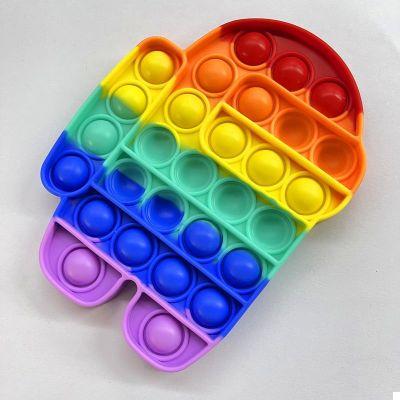 Let's combine business with pleasure with this one fidget Pop It ispirato ad Among Us, one of the most successful video games in recent years. As you can see for yourself, the shape of the toy is unmistakable, and we are sure that this will convince you to take it with you under the umbrella. Colorful and soft, it is the ideal game to have fun even in company. If you want to play as a couple, you can challenge each other to figure out who will be crushing the last pop of the toy. In that case, let us tell you that you have lost.
3. Fidget Pop It Baby Yoda
Well yes, it can happen that two of the most popular trends in the world meet and… BOOM! The result is incredible. And that's actually what happened with this Pop It fidget that depicts Baby Yoda, one of the best known characters from the television series "The Mandalorian". Clearly, this is not one of the officially licensed toys distributed, but it is undoubtedly the ideal item for Star Wars fans who need to better manage stress. The price, then, is really low: alone 7.99€ to crush pop endlessly.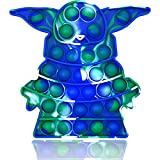 for Baby Yoda PopIt figetttoys, Fidget toys under 10 ...
【High quality】 1 x stress reliever; Made of high quality silicone material, safe and harmless, durable ...
【Squeeze Bubble Toys】 This stress sensitive squeeze toy is suitable for all kinds of people, ...
【Play anywhere and anytime】 can be played in the car, plane, restaurant, camping (washable), in ...
7,99 EUR Buy on Amazon
Clearly, beyond these proposals you will find many other more traditional ones. The fidgets have all kinds of shapes and colors: unicorns, avocados, french fries, pineapples, whales, animals of all kinds and so on. The Net offers everything you need to relax, so now all you have to do is choose the toy that's right for you. Just like when you were a child.
Tagsfidget toys sensory toys Pop It All crazy about Fidget Pop It