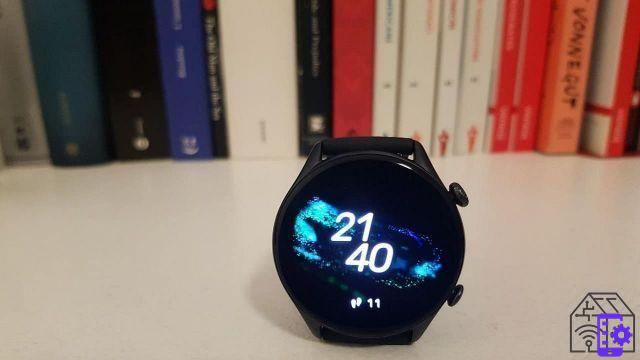 amazfit gtr 3 for review min
Amazfit launched the new smartwatch Amazonfit GTR 3 Pro, which we tested for this review. A truly complete smartwatch, with lots of sports and health functions, voice assistant and the ability to answer calls. And above all one excellent screen and a great battery. We tried it to tell you what we think: it really can compete with Apple Watch, while costing less than half?
Amazfit GTR 3 Pro: our review
A linear but elegant design, a screen that is an explosion of color. Amazfit's new smart watch truly offers a complete package. But is it the right device for you? We try to make you understand by telling you about our experience with this really promising product.
Design and construction quality
Opening the package of Amazonfit GTR 3 Pro (where you can also find the charging cable, long and convenient to use), we were immediately impressed by this smartwatch. The circular design has very thin frames and the slightly curved watch case deceives the eyes, making it seem even more "full display". The two buttons (the top one is a crown that you can rotate) are reminiscent of those of a classic watch. Even with the black silicone strap it is elegant, while remaining usable for sport.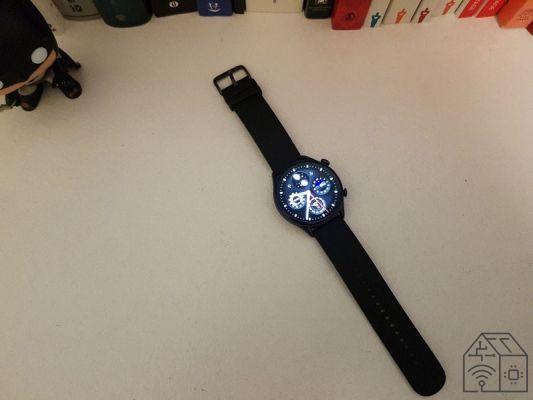 Lifting the clock we were struck by the lightness: only 32 grams of weight for the cashier. Which withstands pressure up to 5 atmospheres (therefore 50 meters below the water level), despite having a speaker and microphone.
The general build quality is therefore really excellent. But it is the screen that will conquer even the most skeptical. In fact you find a really bright AMOLED HD display, which the animations of the various Zepp OS quadrants make shine in every situation. The display from 1,45 inches it allows you to really see everything (even typing phone numbers is all in all comfortable). The screen-to-body ratio is 70,6% but it feels even higher.
With 1000 nits of brightness and well 331 PPI resolution (480 × 480 pixels), you can see the clock in any light conditions and have a majestic image quality. Really: the screen plays with the best in its category, which can even cost twice as much.
Sensors for health and training
This smartwatch got there just as we were going out for a run. So we decided to turn it on and configure it quickly (without doing the first update with the complete Italian language, which those who buy it will find installed immediately). But even without the software update we got it satisfying results and in the following sessions it struck us positively.
GPS is particularly accurateWe held a Fitbit on the wrist and compared it with an app on the smartphone while running, and the variations are very minimal. The app for runners shows everything you need on the big screen. Even the one for swimming and aerobic training seemed to us well done, with results in line with what we expected.
In addition to sports monitoring, there are many health sensors. As the continuous heart rate monitoring, blood oxygenation, stress and sleep control. There is also an app (like the others reachable with a simple touch of the upper crown) for the "One-touch measurement", Which detects different values ​​giving you a truly complete check-up.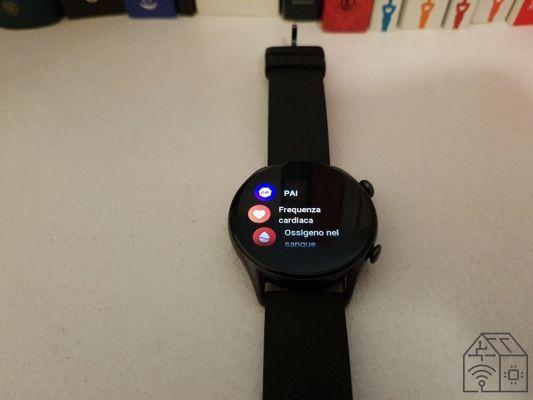 From sport to automatic detection of sleep or moments of rest, a truly rich service. For women there is also the option to keep track of the menstrual cycle. In short, everything you can expect from a smart watch in 2021 is there and works well. Furthermore, for those who do not want to get lost in the details, the PAI score collects in a single score how much you have moved, to provide an overview of how healthy your lifestyle is.
Amazfit GTR 3 Pro review: notifications, calls and voice assistant
If the health features are really excellent, those of a real smartwatch are no less. Not only view notifications it's very simple, (just slide your finger up on the screen), you can also manage the calls. And also do them from the smartwatch, typing the phone number or by searching among your contacts. The quality is not stellar but certainly good, even better than that of some smartphones that cost as much or more than Amazfit GTR 3 Pro, which has never disappointed us during this review.
You can also use Alexa to perform various activities without having to take the smartphone out of your pocket. The software works discreetly, without any slowdowns. In addition to this, you can also use the smartwatch to take pictures from your smartphone remotely. There is also the option to record voice memos and manage your calendar. Also you can charge of music (you have 2,3 GB available, enough for several playlists) and listen to it with headphones connected via Bluetooth. Especially convenient if you want to leave your smartphone at home during a walk or bike ride.
The only flaw we can raise is that, at least with this version of the operating system, you cannot respond to notifications. Although you can get around this by reading the message and asking Alexa to answer for you. And we do not rule out that Amazfit will remedy in the future with a software update: there is space for a small keyboard on the screen and the microphone for speech-to-text as well. At the moment, however, there remains a defect in an otherwise truly complete smartwatch.
The new operating system: Zepp OS
It deserves a special mention Zepp OS. Amazfit GTR 3 Pro is in fact the first smartwatch to mount the new operating system of the Chinese company.
No Wear OS by Google then. Amazfit points to the proprietary system without however revolutionary what has been done by the competition. Zepp OS will therefore seem very familiar to you in functions and usability.
For example, a long press is enough to call back the 15 preset dials. Don't worry, if you don't like it, none would be enough download more from the application.
Scrolling upwards we access the notifications, towards the bottom to the various shortcuts and sideways to the customizable widgets. You can also rely on a screen that includes the latest data collected, so at a glance you will have a summary of the day.
If all this knows of déjà-vù it is because it is. As we said above, Amazfit has chosen familiarity to the detriment of originality but it is not a bad thing: in fact you will immediately find yourself at ease, without spending too much time understanding what to do and how to get the most out of your new smartwatch.
Battery and recharge
Amazfit promises 12 days of battery for average use, 6 with heavy use. If you use your smartwatch to train and turn on GPS, expect to go back to charge it at least once a week (although it must be said that we used the Amazfit GTR 3 Pro a lot for this review).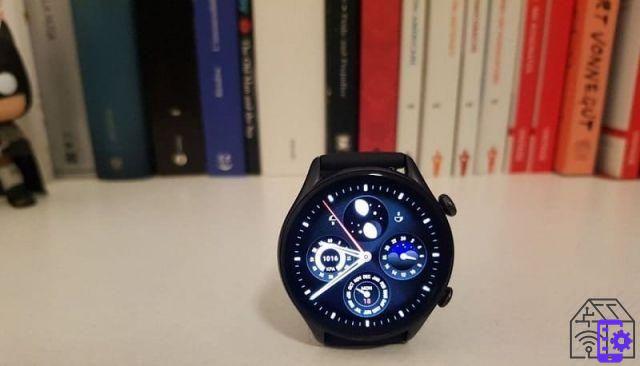 Charging takes place with the supplied cable (no transformer, but the cable has the classic USB), which is long enough to accommodate any socket you have on the wall. The engagement is magnetic and very solid: a detail, but which demonstrates Amazfit's attention to this watch.
Amazfit GTR 3 Pro review: is it worth buying?
At the price of 199,90 €, it is not difficult for us to recommend Amazfit GTR 3 Pro. Usually smartwatches that do not have WearOS from Google or watchOS from Apple limit the functionality to health monitoring, giving up being "really smart". The new Amazzfit watch instead gives up little (although we would have liked the ability to respond to notifications) and then he has one really excellent screen. If the price drops even a little during Black Friday, don't miss it. But even so it has an excellent value for money. It won't beat the new Apple Watch Series 7 in terms of functionality, but it's not worth half as much: if you want to stay under 200 euros it's one of the best options.
PRO
Excellent screen
Continuous beat monitoring
Answers calls
AGAINST
You cannot respond to notifications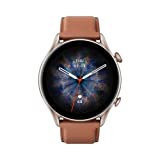 Amazfit GTR 3 Pro Smartwatch Intelligent Watch Alexa ...
【Listen to Your Music and Receive Bluetooth Calls】 When you are out for a walk, exercising or seeing ...
【Free Your Hands with Alexa and Offline Voice Assistant】 Easily set an alarm, ask a question, get ...
【A Fitness Partner with Over 150 Sports Modes】 Whether you are a team player or you prefer ...
199,90 EUR Buy on Amazon