Our smartphones are with us always and often through apps they manage to be useful in ways that we would hardly have imagined. Today we talk about the best apps to measure altitude; in practice, apps that are capable of transforming our smartphone into an altimeter.
An altimeter It is a very useful device for those who do outdoor activities such as hiking, skiing and mountain biking. There are many apps, on the Android and iOS (iPhone and iPad) stores, we will see in this article which are the best. Obviously, being apps to be used in the mountains, we have given priority to those capable of working without an internet connection available.
The best apps for measuring altitude on Android and iOS
Accurate Altimeter (Android)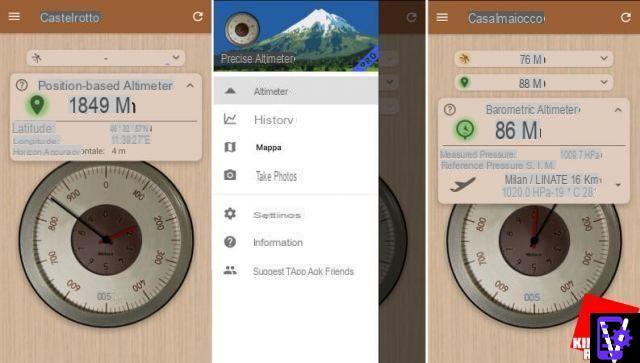 This excellent solution is only available for Android devices.
Accurate altimeter lives up to its name: it uses three thefferent methods at the same time for calculate altitude in real time, thus managing to be a reliable companion in any situation (without internet connection).
The three methods are:
triangulation of the position via satellites
ascend the altitude from the map based on your position
use the barometer if present in the device.
The app is really appreciated, and it is free with non-invasive advertising. A Pro version is also available which removes the ads and adds more features.
You can download Accurate Altimeter therectly by going to the Play Store.
Altimeter Pro (iOS)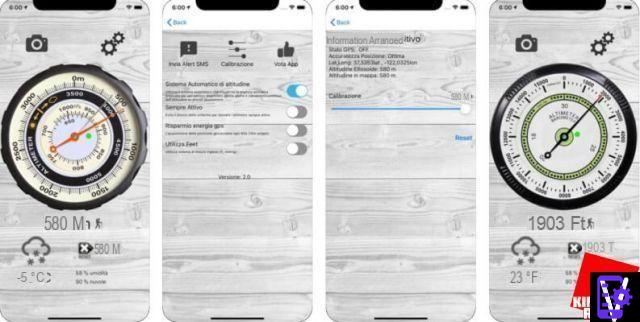 This is a solution that makes precision its pride.
Altimeter pro in fact, it uses a professional algorithm for calculating the altitude, based on data from the GPS sensor and the barometer (when available). The app has a very nice interface and is very simple to use.
The application has several interesting features: it offers constantly updated weather forecasts, allows you to take interesting photos with inthecated position and height, automatically sends a message with your position in case of need (SMS Alert function).
You can download Altimeter pro for free from the App Store.
Altimeter PRO (Android)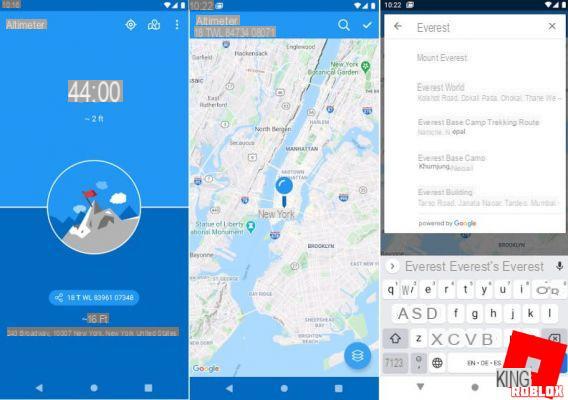 It is an interesting free app thefferent from the one for iOS of the same name.
It is a very useful and very valid app; use the best EGM96 algorithm and is able to establish the altitude even in airplane mode, so in absence of any network connection.
Altimeter Pro has an excellent graphical interface, modern, pleasant and readable. In adthetion, it allows you to thescover the altitude of any location with just a few taps.
In short, it is really an excellent free app you can download from the Play Store. Attention! It is currently not available
Altimeter + (iOS)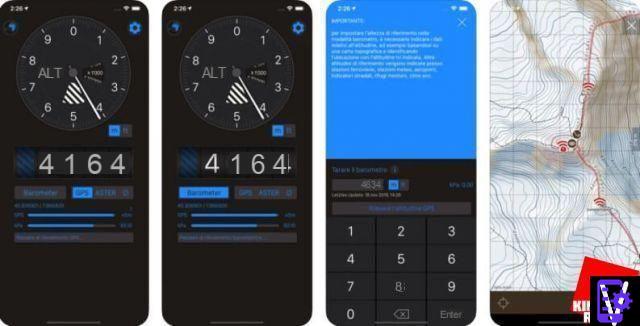 This is a great app, which take full advantage of the iPhone's sensors to provide accurate and reliable data also in absence of connection.
The app is not free but if you go on excursions often, the expense is by no means excessive. Once started, you will notice the elegant interface translated and minimalist.
Altimeter + works well too without using GPS coordinates and supports the built-in barometer in some of the iPhones.
Plus the app also supports Apple Watch. In short, Altimeter + can be the right app if you like to experience the mountains and if you need a reliable and always available tool.
It can be purchased therectly from the App Store.
Measure Altitude: Altimeter App (Android)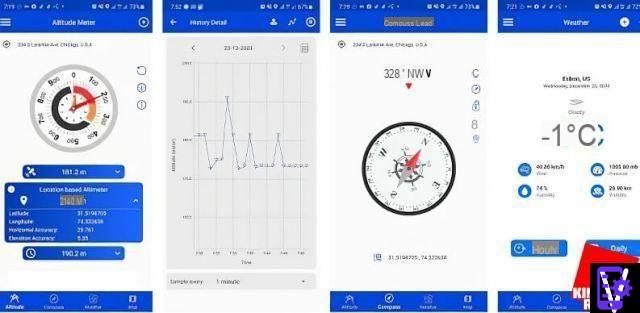 Here is another free Android app that is appreciated for its quality.
There is some advertising but it is not too invasive. Measure Altitude offers many convenient functions: the altimeter (which measures properly even without a network available), one terrain elevation map, the compass, a weather station, the barometer for atmospheric pressure measurements.
Everything is well organized and the app offers a colorful, well-organized and pleasant to use interface.
You can find Measure Altitude for free on the Play Store.
Terrain Radar Altimeter 2 (iOS)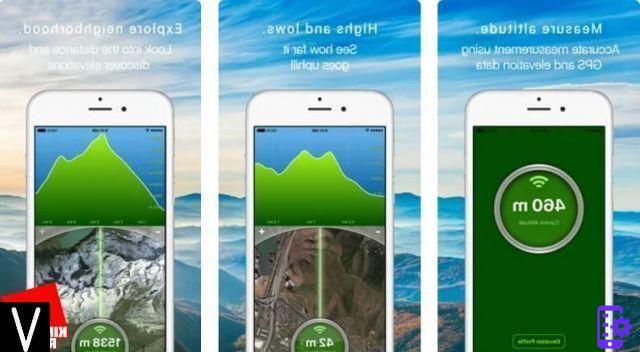 This is a free app that, instead of showing us only the altitude on our position, uses our sensors present and the altitude map to give us a 360-degree view, showing us what thefferences in height await us, exactly like a radar.
Terrain Radar Altimeter is an altimeter app with a clean and effective interface and good accuracy.
The app is available for free on the App Store.
If you like walking and hiking you should also take a look at the best apps for biking and trekking. Other interesting apps also allow you to track and share routes.
App to measure altitude and make your phone an altimeter