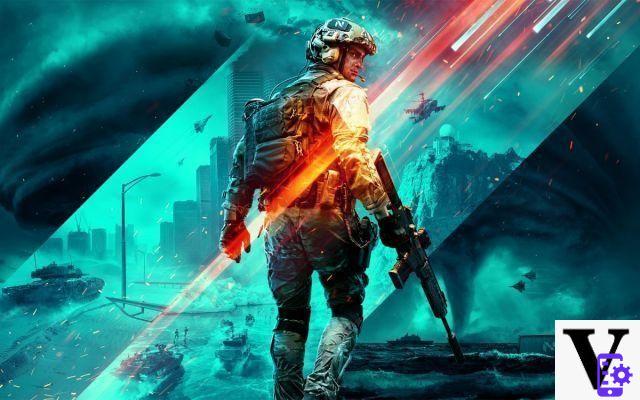 Battlefield 2042 has arrived on PC and on consoles of old and new generations. Gameplay mechanics, release date, game modes, we take stock of everything you need to know about the next FPS from EA and DICE.
A new Battlefield arrived ! Called Battlefield 2042, this opus takes place during a fictitious third world war initiated between Russia and the United States. Battlefield 2042 offers players the opportunity to take part in futuristic clashes where robotics, drones and other high-tech devices have a prominent place.
This new one wants to be a kind of best-of of the whole saga and is only betting on multiplayer. We will take stock of everything there is to know.
CLICK HERE TO BUY IT ON AMAZON
CLICK HERE TO BUY IT ON BOULANGER
CLICK HERE TO BUY IT ON CDISCOUNT
CLICK HERE TO BUY IT ON CULTURA
CLICK HERE TO BUY IT ON FNAC
CLICK HERE TO BUY IT ON MICROMANIA
Namely : Where to buy Battlefied 2042 at the best price
📆 When was Battlefield 2042 released?
Battlefield 2042 is live! The title was indeed released on November 19, 2021. A date expected by fans, since it has been postponed several times (it was initially due out in October).
Note that the game offers 10 hours of free trial. Players can therefore get a very good idea of ​​this before deciding to take out their wallet. It will be necessary to leave aside 42,717 GB storage space on PS5 and 91,42 GB on Xbox to install the title.
🕹 What media is Battlefield 2042 available on?
Battlefield 2042 has been released on almost all existing platforms except the Nintendo Switch. The most ambitious versions are obviously to be found on the side of the PC, the PS5 and the Xbox Series X and S.
Some indiscretions state that two distinct teams have been created for the development of the game: one in charge of the new gen versions and the other in charge of the old gen versions. Enough to have great optimizations for all media (in theory). Note that the old gen versions are confined to clashes with 64 players, and not 128 as on PC, PS5 and Xbox Series. In addition, crossplay is only possible between new generation platforms (PC, PS5 and Xbox Series).
🕰 What is the period of history in Battlefield 2042?
Battlefield V brought us into the midst of World War II, while Battlefield 1 before it brought us through the horrors of the Great War. This time around, Battlefield 2042 tackles a fictional setting, and not a historical conflict as the series has been used to for a few opuses. The game depicts a world ravaged by a World War III between NATO and Russian forces, amid energy crises and widespread famine. Big atmosphere.
🏃🏻‍♂️ Is there a single player mode in Battlefield 2042?
While Battlefield 1 and 5 both offered a single player campaign (which never quite matched those of Call of Duty unfortunately), DICE decided to skip the single player mode with Battlefield 2042. The title is exclusively multi-player. player.
👨‍👦 Battlefield 2042 multiplayer mode
Andrew Wilson has teased maps "on a scale never seen before" and battles "more massive and immersive" as well as with "more players" than ever before. All thanks to the technical capabilities provided by the new generation consoles. Battlefield 2042 therefore offers major clashes with 128 players, at least on PC, PS5 and Xbox Series X and Series S. We have to be content with 64 player battles on old gen consoles.
Here are some examples of modes present in the multi-player:
All-Out Warfare : players rediscover the traditional Battlefield experience here, with a mix between Conquest mode and Breakthrough mode, a particularly popular game mode introduced on Battlefield V. The formula remains unchanged: clashes on large maps, with objectives to be taken or taken away. destroy, and the ability to pilot many vehicles
Hazard Zone : The objective is to put the squad game at the center of the experience. If the latter does not find its audience, it could be replaced by a battle royale mode.
Battlefield portal : this will be a mode that allows you to create games with rules of our choice, even the most wacky. It is possible to draw from old Battlefields (weapons, maps, vehicles, skins) to create custom battles. If, for example, you want to make four modern soldiers face off against 64 soldiers from the Second World War, it is possible. The only limit is your imagination.
🔫The first returns
Battlefield 2042 is available and we can say that the disappointment is at the rendezvous. Players as well as the trade press agree that the game was released far too quickly. He knows indeed a number of annoying bugs as well as optimization concerns that make the experience complicated. Added to this are the somewhat curious gameplay choices and uninspired maps. On the Metacritic site, which compiles all the tests on the net, it posts a score of only 73 out of 100, which is unworthy of the series. The rating of users is more severe, since it obtains a mediocre 2,3 out of 10. Ouch.
The fans are furious and do not hesitate to do review-bombing, ie badly rate the game on the platforms. On Steam, Battlefield 2042 is thus classified as the ninth worst game of the service (which has thousands of them). A situation which undermines the reputation of DICE, which was exemplary until then. The next update could straighten the bar, but the picture is tainted. On November 24, EA comes out of its silence and unveils the studio's roadmap for the coming weeks. The changelog is particularly long and should hopefully fix the main bugs that make the game unbearable.
Share
Tweet
Share
Envoyer à un ami